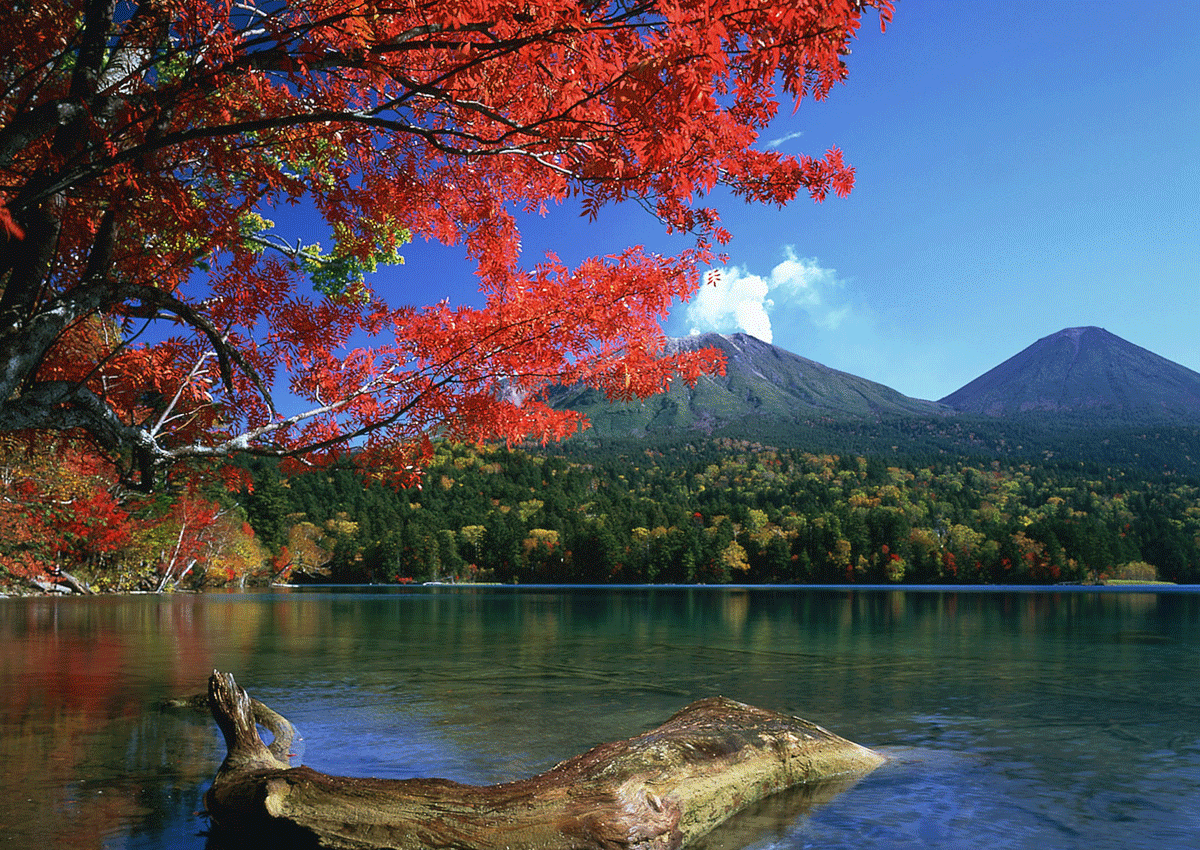 This article first appeared in Skyscanner's Visit the best of Japan in 7 days
The land that is now known as Japan was first formed more than 40,000 years ago from volcanic action. The archipelago is made up of over 6000 islands, four of which - Kyushu, Shikoku, Hokkaido, and Honshu - make up the majority of Japan's land mass. Its long and varied history will fascinate both first-time visitors and seasoned travellers, and there is nothing like visiting and experiencing it all for yourself.
Not sure where to start? We at Skyscanner have put together a guide for the best things to see in Japan if you only have 7 days for a great vacation. We've also covered the best times to visit, what to buy, and visa information.
1. Osaka castle, Osaka city
The looming image of Osaka castle has embedded itself into Japanese culture and history as on of Japan's most famous and recognisable landmarks. Its history dates back to 1496 when it was first built as a small monk's lodge. It slowly grew to become a large temple, until it was burned down in 1582. It was then rebuilt the next year as the castle that you see today. After enduring many attacks, wars, and fires over its 500-year existence, it continues to stand tall with the help of many repairs and restorations. Along with its most recent restoration in 1995, the castle was deemed a Historical Sites Park. Thirteen of its buildings date back to the Edo period, and its main tower houses a modern museum containing many of the castle's ancient artifacts. There's even a full suit of samurai body armour!
The majestic Osaka Castle. Photo Credit: andresumida / Flickr
2. Hiroshima, Honshu island
Hiroshima will always be remembered as the site of the first atomic bombing that led to the end of World War II. The United States dropped Little Boy on Hiroshima in August of 1945, destroying the whole city in a matter of seconds. Since then, Hiroshima has bounced back and is now a thriving city with much to see and do, but its scars will persist forever. Pay a visit to the Hiroshima Peace Memorial Park and Museum to gain a deeper understanding of the impacts of war on this sleepy town, and how the future of Hiroshima - and the world - changed.
The busy Hiroshima City has come a long way since the bombing 70 years ago. Photo Credit: Peter Cartledge / Flickr
3. Giant Torii, Miyajima island
Miyajima island in Hiroshima is home to the Itsukushima Shinto Shrine, a UNESCO World Heritage Site. The Shrine is most well-known for its free-standing Giant Torii gate, which appears to stand (or "float") in the middle of the bay during high tide. When the tide is low, visitors are free to approach the gate on land. Miyajima is located only an hour outside of the city center and can be reached by ferry, but for shutterbugs, plan to be there at sunset for the most gorgeous postcard-worthy photos.
The Giant Torii at sunset and high tide makes a perfect picture. Photo credit: Guwashi999 / Flickr
4. Jigokudani Monkey park, Nagano
Ahh, wouldn't it be great to be reincarnated as a Japanese snow monkey! The monkeys of Nagano come down from the snowy mountains nearby to find a steaming respite in the hot springs of Jigokudani Yaen-Koen. If the sight of their relaxed, red faces isn't already cute enough, come during the summer months and you'll see baby monkeys too. It's possible to make this a day trip from Tokyo, but if you have a day or two to spare, we'd recommend you stay to check out Nagano, or visit one of the many onsens and channel your inner Japanese snow monkey and see what all the fuss is about.
The hot springs serve as a natural spa for these snow monkeys. Photo Credit: SteFou! / Flickr
5. Tokyo, Honshu island
Welcome to Tokyo, one of the world's most iconic and endlessly interesting cities! Filled to the brim with crazy-tall buildings, busy streets, and multi-coloured neon lights, there is never a dull moment. Stuff your face with the best Japanese sushi or ramen in the world, or go shopping for the newest electronic gadgets around. Not that into technology? Head over to Shinjuku and lose yourself in any of Kinokuniya's eight floors of books, magazines, movies, and even a dedicated Manga section to satisfy the biggest of fans.
With an infinite number of things to do, Tokyo never gets boring. Photo Credit: Jaakko Hakulinen / Flickr
6. Toshogu Shrine, Nikko
The fast-paced city life of Tokyo wearing you down? Don't worry, we understand. Escape to nearby Nikko for an easy and peaceful day trip to visit the Toshogu Shrine. The shrine with its Shinto and Buddhist architecture is a mausoleum for Tokugawa Ieyasu, Japan's first shogun (supreme military leader) of the Edo period. His family, the Tokugawa Shogunate, continued to rule Japan for 250 years. Five structures and multiple artifacts at the Shrine are counted among the National Treasures of Japan.
The shrine pays tribute to Japan's first shogun, Tokugawa Ieyasu. Photo credit: Armandas Jarusauskas / Flickr
7. Mount Fuji, Honshu island
No guide to Japan will be complete without recommending a visit to Mount Fuji. The distinctive sloping sides of the volcanic cone and its snowy peak have been central to Japanese art and culture for hundreds of years. Those not satisfied with merely taking pictures from afar are welcome to get close and hike the mountain. Don't be fooled by the well-trodden paths and the elderly Japanese people not even breaking a sweat; beginners and seasoned trekkers alike should still plan their route and know when and where to stop, to acclimatise to the thinning air.
One of the most recognisable icons of Japan. Photo Credit: Reginald Pentinio / Flickr
8. Mount Yoshino, Nara
If you plan to visit Japan in the Spring from mid-March to April, consider visiting Mount Yoshino in Nara for the best views of the 30,000 sakura cherry blossoms planted in its valley. A high vantage point on the mountain grants you picturesque views of a once-green scenery now peppered with pink patches of the blooming flowers. From the Yoshino station, take a short ride on the aerial tramway to Yoshino-yama station for a sight to remember!
The land that is now known as Japan was first formed more than 40,000 years ago from volcanic action. The archipelago is made up of over 6000 islands, four of which - Kyushu, Shikoku, Hokkaido, and Honshu - make up the majority of Japan's land mass. Its long and varied history will fascinate both first-time visitors and seasoned travellers, and there is nothing like visiting and experiencing it all for yourself.
The best time to visit Mount Yoshino is when the sakura are in bloom. Photo Credit: Iasta29 / Flickr
Food in Japan
Japan is no food desert. For those who love getting to know a country through its food, you've certainly come to the right place. There is, of course, the freshest sushi and sashimi you can find. Ramen (try all the different types and styles!) is also available on every corner if you're feeling hungry for something hot. If you love matcha flavoured desserts, you won't be in short supply here either! There are also plenty of options for vegetarians to experience Japanese cuisine, such as pumpkin curry, seaweed pasta, and more.
You can't go wrong with Japanese street food. Photo Credit: Thinkstock
Shopping in Japan
Japan is a shopping haven, full of the cool, the weird and the quirky. You can find everything from cutting-edge electronic gadgets (especially limited Japan-only versions) in Akihabara to the latest in Japanese fashion in Harajuku. Unique made-in-Japan items like kimonos or handcrafted art make great souvenirs for friends and family (or yourself!). Looking for something smaller gifts you can buy in bulk? Try browsing one of the many department stores for snacks, food, and candy that you won't even be able to find in Orchard Road's Takashimaya! And if you still have remaining luggage allowance, Japanese porcelain is known for its high quality, and will make a beautiful and long-lasting token of your visit to Japan.
Take home some of these cute doll keychains as gifts for friends and family. Photo Credit: Per Gosche / Flickr
Best time visit Japan from Singapore:
Visit in mid-March to April during Spring to catch the blooming of the famous cherry blossoms. If you can, try to catch the sakura festival too, but it will be tricky as the trees bloom with changes in temperature and the exact dates may not be consistent with previous years. Be sure to check online forecasts before booking. For those hoping to cool down from Singapore's hot and humid weather, visit in the winter months of December to March for cooler temperatures. If you're the adventurous type, you could also head to the mountains for world-class skiing and snowboarding.
Visit during the Spring to see Japan's famous cherry blossoms in bloom. Photo Credit: coniferconifer / Flickr
Visas for Singaporeans travelling to Japan:
Singaporeans holding a Singapore passport can visit Japan visa-free for 90 days. Enjoy!