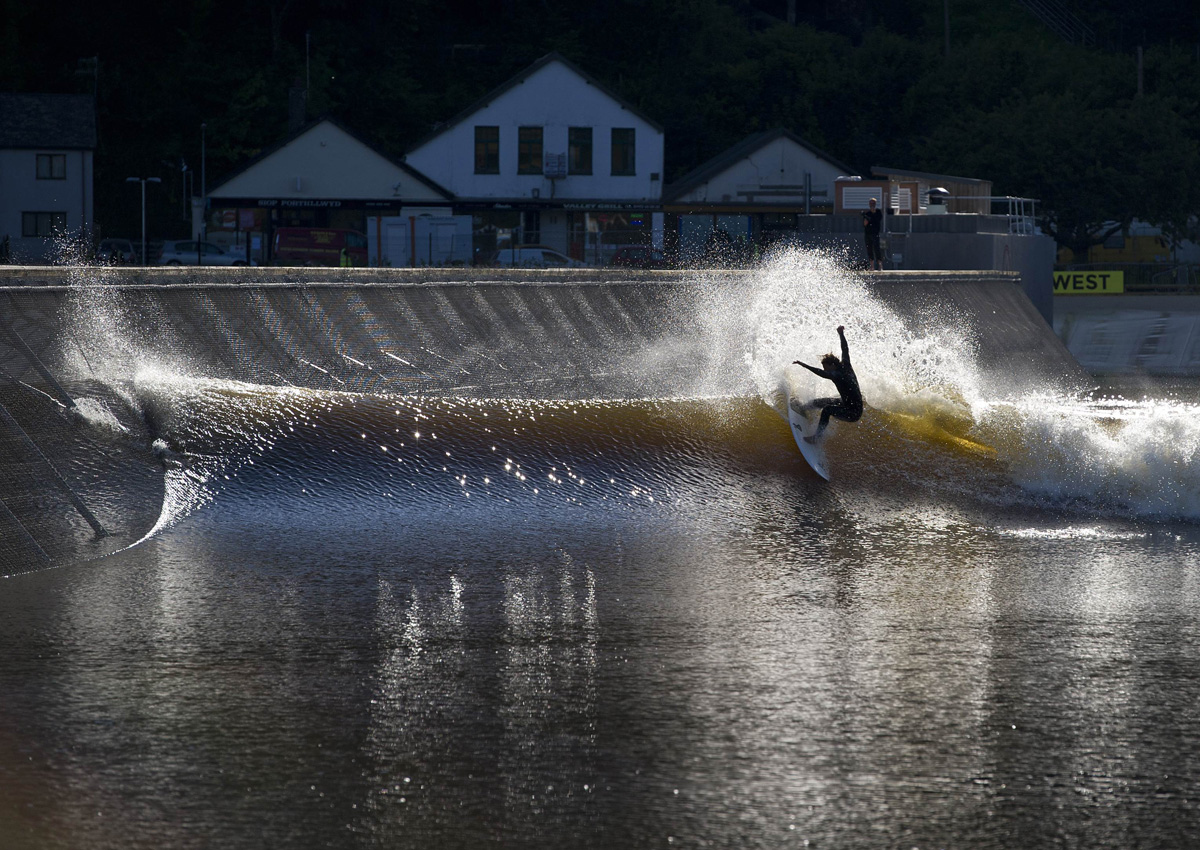 DOLGARROG, United Kingdom - The last giant wave to rock the tiny Welsh village of Dolgarrog struck in 1925 when two overflowing dams gave way, sending a wall of boulder-strewn water down the hillside and killing 16 people.
Now it is a different kind of wave making an impact, with the opening of a first-of-its-kind inland surfing lagoon that promises the longest man-made breakers in the world.
The 12-million pound (S$26) surf park is set to revolutionise the sport, using a Spanish-designed plough and pulley system that runs underwater along a central mesh-encased pier to create a wave a minute crashing back and forth at up to two metres (6.6 feet) high.
It is also one of the growing number of unusual activities around Snowdonia National Park in north Wales harnessing the landscape to revitalise a region hit hard by the decline in mining and industry.
"A giant wave destroyed this place, and a giant wave is going to make us," said local potter Owen Philip.
Adventure tourism
The one-road village, with a little over 300 residents and just three shops, is an unlikely surfers' paradise - not least because Snowdonia receives the most rainfall of any part of Britain.
But Steve Davies, a former army colonel and managing director of the Surf Snowdonia centre, said it was in part the "craziness" of the project that attracted him.
The lagoon itself was built on an aluminium works that closed in 2007 with the loss of 200 jobs, after 100 years of operation. Davies said cleaning up the contaminated land cost nearly £2 million.
The surf centre employs 110 people, including 34 from the valley area, with 13 from the village itself. But the surfing instructors and lifeguards come from as far afield as Australia, Germany and Spain.
"It helps to internationalise it, to emphasise that this is a major destination for UK plc," said Davies, who hopes to attract 75,000 visitors a year.
Outdoor activity tourism is worth about 481 million pounds a year to Wales, creating more than 8,200 jobs, according to a report compiled for the Welsh government, which is promoting 2016 as the Welsh "Year of Adventure".
As well as hiking, climbing and mountain biking, Snowdonia is also home to Zip World, which offers the longest and fastest zipline in Europe and a surreal network of underground trampolines built in an old slate mine.
"There is real momentum in north Wales for adventure tourism," said the businessman responsible, former Royal Marine Sean Taylor, who is expecting a £9-10 million turnover this year, with a 4.5 million pounds net profit.
Town councillor Mandy Williams-Davies emphasised how important it was that the money should stay in the community.
The mine closures had caused a "loss of identity and direction", she said, but new enterprises were reclaiming the landscape and giving young people a renewed sense of pride.
"Coming from an area that is constantly being described as deprived is really a heavy weight for young people to carry, but now if they explain where they come from they can say it proudly, they have a story to tell," she said.
Fuelling Olympic dreams
Surf Snowdonia could further rewrite the north Wales story, by helping propel surfing - already shortlisted for the Tokyo Games in 2020 - into the Olympics.
Casper Steinfath, 21, a two-time stand up paddle surfing world champion and International Surfing Association vice president, said the guaranteed and consistent waves meant competitors would have a "level playing field".
An hour-long session on the advanced two-metre wave costs up to 45 pound and critics have suggested the lagoon could add to the commercialisation of the sport, undermining surfing's free spirit.
But sitting in the waterside restaurant with a window on the barrelling waves, Steinfath disagreed.
"It will share the stoke," he said, referring to the buzz of surfing. "We all get this vibration from surfing that's magical, whether it's out in the ocean or here at the lagoon, it's the same sensation." Many locals also appear "stoked", by the prospect of new business in town - and the chance to ride a wave themselves.
"I'm going to have a go, I was a dinghy sailor when I was a lad," said the 68-year-old Philip, who stopped on his bicycle to watch the surfers alongside other curious locals.
"And there will be 75,000 tourists waiting on my doorstep. I'm going to make a bloody fortune."