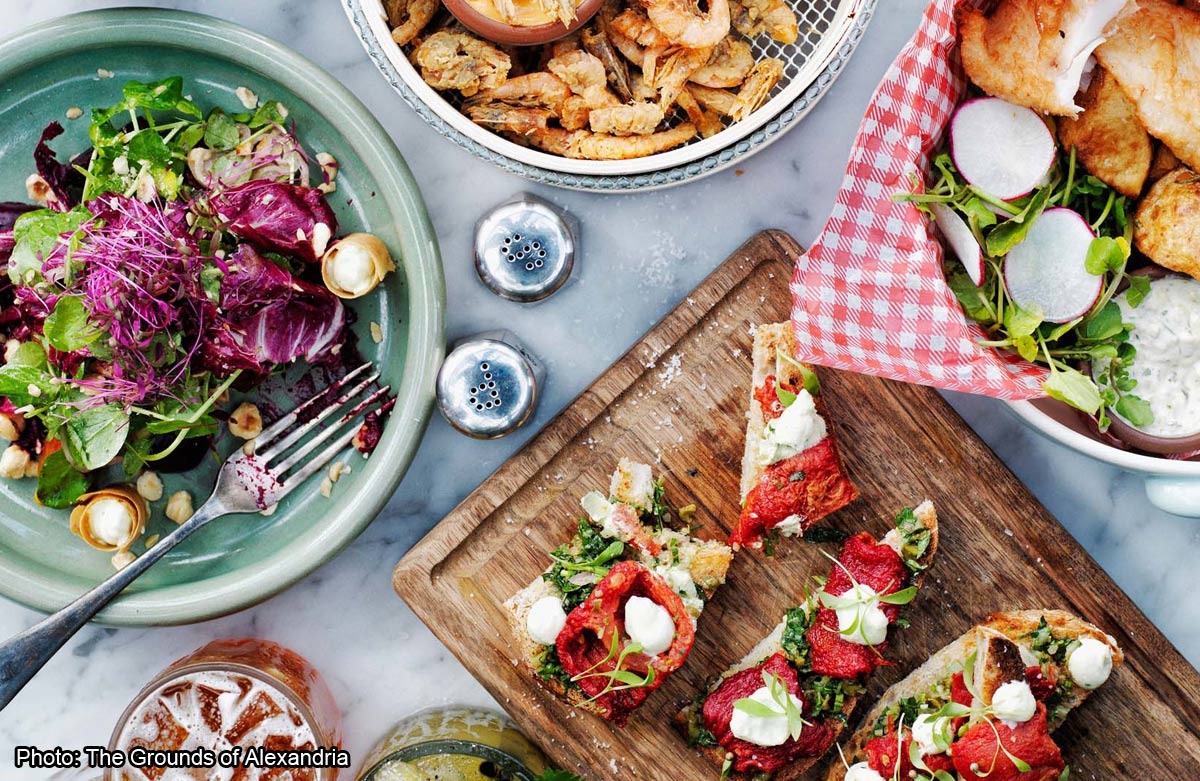 The Great Outdoors beckoned on a recent trip to Sydney in Australia.
The bright blue skies, glorious sunshine, ocean-washed beaches and green environs were so tempting, it seemed a waste to spend even a minute indoors.
But walking, swimming and exploring sights aside, one had to make time to eat. That's easy enough to do in a city filled with wonderful restaurants serving fresh, delectable and varied cuisine.
Jamie's Italian
www.jamieoliver.com/italian/australia/restaurants/sydney
As an avid viewer of Jamie Oliver's cooking shows, it was wonderful to be able to eat at one of his restaurants. The two-level restaurant has an open kitchen so you can watch the chefs at work. The high-ceilinged casual, even industrial interior ensures that your attention can be focused solely on the food - rustic Italian dishes in a contemporary city setting. Only the freshest seasonal ingredients are used to create delectable dishes. Choose from grilled meats and steak or opt for the silky pasta dishes.
The only thing you will not find on the menu is pizza.
Oh, and don't ask for chilli sauce - my companion did and received an incredulous stare from the server, who fetched a dish of freshcut red chillis with the comment: "This is so much better, isn't it?"
The Grounds of Alexandria
http://thegrounds.com.au
The former industrial precinct from the 1920s has been innovatively transformed into a popular venue with a cafe, bar, eatery and an open garden teeming with heirloom vegetables, fragrant herbs, fresh fruits and flowers.
When we stopped there for lunch, it was already bustling with people enjoying the food and buying drinks and desserts temptingly displayed on pushcarts.
The fresh produce grown on The Grounds and sourced locally makes its way into the rustic, wholesome season-driven menu of the Cafe Roastery, which operates on a garden-to-plate philosophy.
The Ground Burger I had definitely hit all the high points - ground beef brisket, cheese, lettuce, dill cornichon mayo on a toasted brioche bun served with crunchy battered chips - and was juicy and filling.
The cafe is open seven days a week for breakfast and lunch, and if you cannot find seating space or you are in a rush, there is always the takeaway option.
Also don't miss the aromatic coffee, using only the finest ethical coffee beans sourced for their unique flavour profiles.
Sushi e
www.merivale.com.au/sushie
In the heart of Sydney's business district nestles this modern Japanese restaurant. Sit at tables that surround a huge white marble sushi bar and watch chefs headed by Noboyuki Ura turn fresh fish into edible works of art.
Dining here can be as interactive as you wish - allow yourself to be surprised or choose from the menu. Either way, you are assured of the freshest ingredients with flavours that burst in the mouth.
Start with the sashimi and work your way through the menu, which includes tuna ceviche (citrus marinated tuna, baby coriander, jalapeno and teardrop tomatoes), "spider" (lightly fried soft shell crab combined with chilli, garlic,mayo and chives, then dressed with ponzu), Sydney rock oysters, wagyu beef, pork belly… you can spend an entire afternoon indulging yourself, ending with a tangy yuzu mousse or a matcha parfait.
China Doll
www.chinadoll.com.au
There's nothing coy about the bold flavours at this popular restaurant, which was awarded a prized Chefs Hat last year (Good Food Guide 2014).
On the historic Finger Wharf at Woolloomaloo, it is a romantic setting by the water with flickering torchlights casting a gentle glow and views of the Sydney skyline.
China Doll is helmed by Chef Frank Shek, who creates aromatic modern Asian cuisine that still stays true to its roots, exhibiting a delightful synergy of flavours, enhanced by the fresh, locally grown produce.
FURTHER AFIELD
Great food is not limited to Sydney, of course. Anywhere you go in Australia, the freshness and the abundant variety of produce always promises a great culinary experience.
And so it was in the Blue Mountains region, where I had the opportunity to eat at two very different, but equally wonderful, establishments
Echoes Restaurant
www.echoeshotel.com.au/dining/echoesrestaurant-bar
Perched at the edge of the Blue Mountains National Park, the panoramic views of Jamison Valley from the outdoor seating area are so spectacular that you might not even pay any attention to the food. That would be a pity, though, as the restaurant is renowned for its modern Australian cuisine with an Asian influence, complemented by boutique Australian and imported wines.
With dishes such as Wagyu beef and Guinness Pie, chargrilled tenderloin, mushroom risotto and panroasted barramundi, it is no easy task to pick what to eat.
Leura Garage Cafe Restaurant and Bar
www.leuragarage.com.au
Sharing is the name of the game at this funky eatery, which pays homage to its past as a local garage with piles of tyres on the wall and mechanic tools embedded in the floor.
Locals used to get their cars serviced here; now they enjoy the European influence in the cuisine, which can be best appreciated in shared plates of seafood, meats and poultry, and minimalist pizzas full of flavour.
Also showcased is a range of wines from the Central ranges of New South Wales, such as Mudgee, Orange, Cowra, Canowindra and Bathurst, along with a fine European variety.

This article was first published on April 14, 2015.
Get a copy of The Straits Times or go to straitstimes.com for more stories.