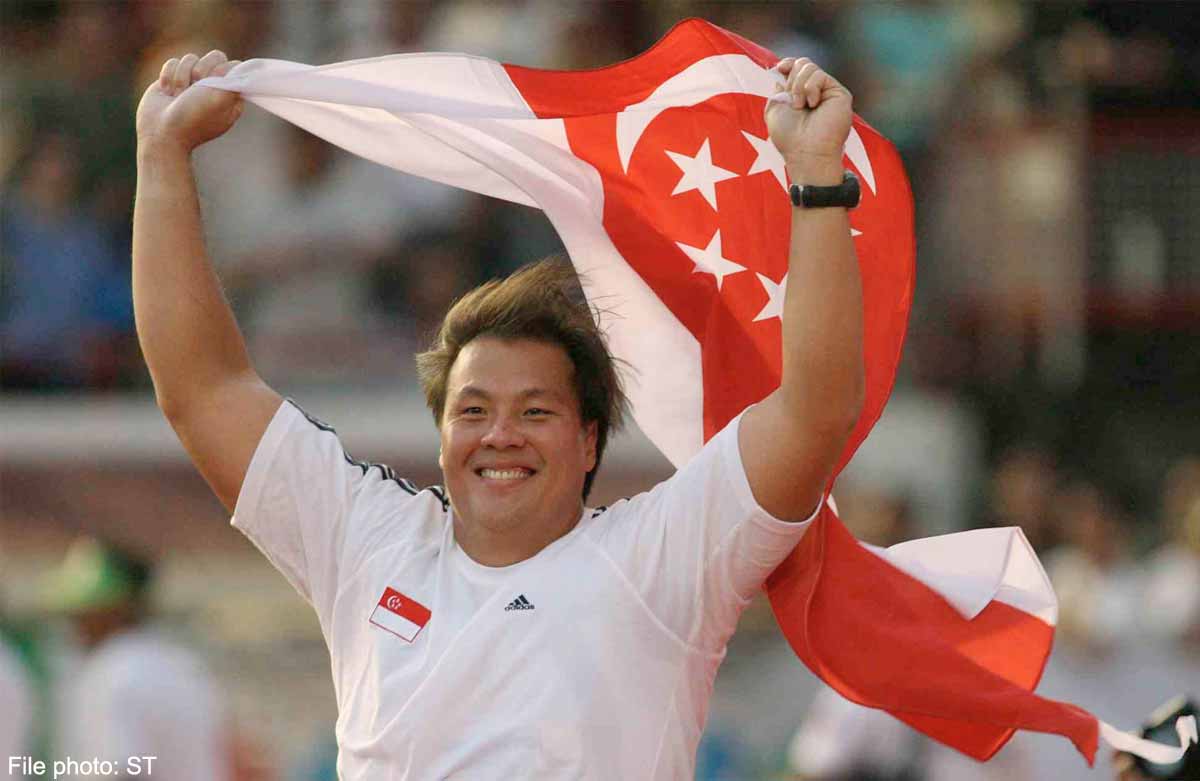 Twelve years later, James Wong can still hear the crowd. Can still remember that December day at the SEA Games in 2003. Can still recollect how he "got excited" when he walked into a packed stadium.
Can still sound happily surprised when he recounts how the crowd went "woooh" when he spun a discus and celebrated when he ran with his flag. A Singaporean hero, hailed in Vietnam.
When athletes perform, it is the roar of recognition they crave, an addiction so powerful that when they retire, it is the silent soundtrack of their lives they find unbearable.
From the crowd's yell comes affirmation, intimidation, hope, energy. When they sing out a name, it sounds like a hymn.
Canadian wrestler Korey Jarvis once spoke of his final at the 2014 Glasgow Commonwealth Games when the crowd began to chant:
"Jarvis, Jarvis, Jarvis."
He was stunned: "Who are these people?" But Jarvis won, partly because of these people.
At the SEA Games, Singapore needs these people. The singers and shouters, even the critics and carpers. If there is pressure on local athletes, then there is a corresponding expectation on local fans. Our stadiums are striking, yet steel and stone cannot cheer. Only when full of humanity do arenas find a distinctive life.
In this town, we hail heroes at midnight on TV from other lands, but will we walk to nearby arenas for our own?
For lesser talents, who strive for smaller prizes, yet who carry equally vital dreams? For Cristiano Ronaldo only a Champions League medal might do; for a Singapore shooter, fifth place is victory. Sometimes only a crowd can carry them there.
This SEA Games, like any other sporting event, will be beset with drama. Yet it is not the result alone that stays with athletes but the response to it. Did we feel the pain of the fallen favourite and recognise the valour of the outsider? Did we cheer only our own and forget the visitor who beat us? Did we create an environment so joyous that it is not our fine food or polished malls that visitors remember, but the fervour that forever echoes down walkways?
Three years after the 2012 London Olympics all medal-table accounting is forgotten but never the enthusiasm of the crowds for their somebodies and the world's nobodies. When Mo Farah won the 5,000m, the sound - reportedly 140 decibels - was equivalent to the noise on an aircraft carrier deck. Here was glorious home advantage, but here also was grace.
When Niger's Hamadou Djibo Issaka, a gardener who took up sculling three months prior to the Games, finished his heat 99 seconds after the winner he was given a rousing ovation.
As Reuters reported, even the announcer yelled "You can do it" and in this expression of spirit a memory was engraved. By cheering for a man not great nor their own was found an appreciation for sport itself.
Crowds give sport its oxygen and athletes a purpose: to see the stocked stadium is to comprehend you are playing for something larger than yourself. It can anxiously still an athlete or lead him to inspired flight.
During the recent cricket World Cup, when India played South Africa in Melbourne, of the 86,876 fans three-quarters were Indians and their collective voice had a muscular power.
Singapore athletes deserve to feel such a Singapore energy and Singapore kids need to also have heroes with Singapore names. No Usain Bolt rests on these shores but there's a Prasad and an Aisyah, a Schooling and a Cheng. They train in anonymity, bleed in private and while we don't owe them the charity of our presence, we will never understand their valour unless we watch.
If nothing else, to visit a SEA Games venue will be a celebration of how great they are compared to our own, uncoordinated, unathletic selves.
To be in the crowd is to participate without playing. A Myanmar triple jumper may ask us to clap to build a rhythm for him; a Malaysian diver may demand a hush as she readies for flight. Our forlorn footballers may simply want a supporting bellow.
By showing up, we're showing off what we believe in. If our aspiration is to be a great sporting nation then we must recognise those who strive to get there in our name. If our advantage is a Games at home then it will only work if we lend it our voice. If our belief is that this Games is a South-east Asian celebration, then it is empty rhetoric unless we demonstrate to visitors that it is, and they are, meaningful to us.
Athletes alone can't make this Games memorable, neither will organisation, nor cheap or free tickets. People will. People are capable of a sound that can raise roofs, hair on the arm and athletes themselves.
People is why Wong tells me he still has pictures from his 2003 day in Hanoi. He mails them to me. In them, he is running, a flag in hand, a full crowd behind him.
The pictures are silent but to Wong they always speak in 40,000 voices.
rohitb@sph.com.sg

This article was first published on April 28, 2015.
Get a copy of The Straits Times or go to straitstimes.com for more stories.