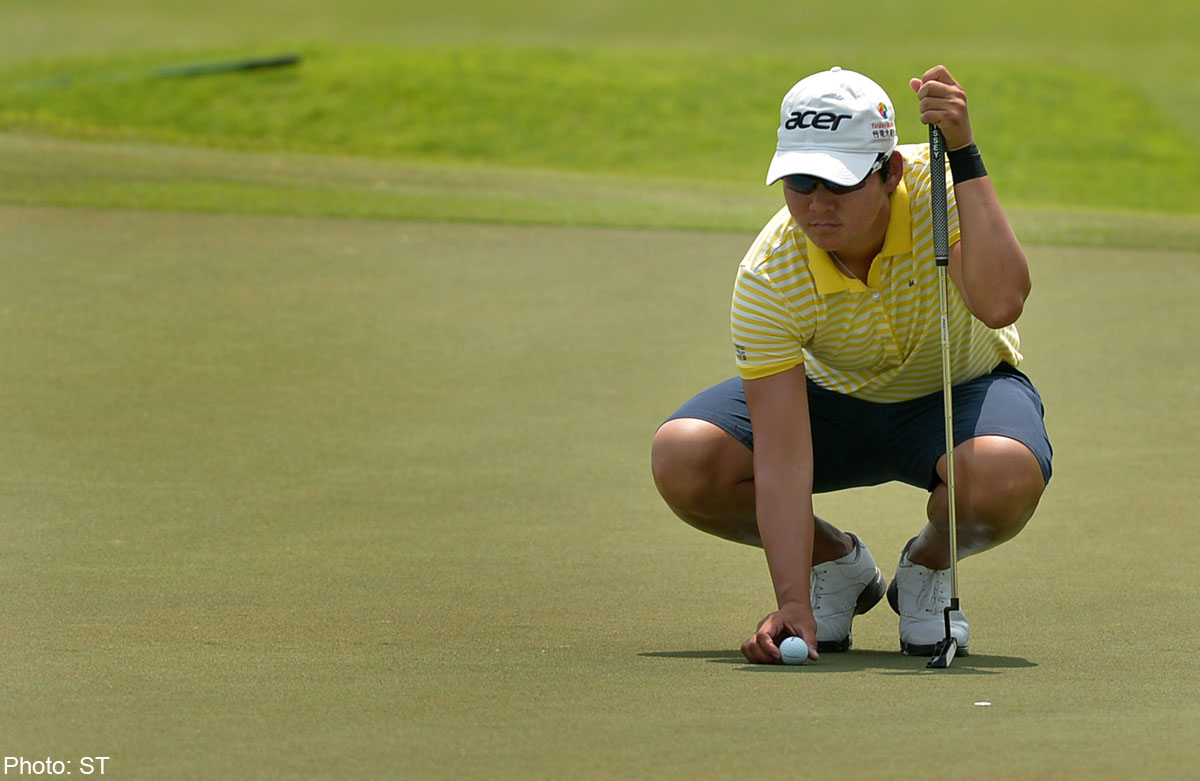 It happens unforgivingly fast, it happens without warning.
Form leaves you, fame abandons you, people forget you. They followed you once, yelled your name, jostled to photograph you, scribbled every word you said.
Now, where are they?
Now, in Singapore, no one even asks you for a press conference.
Now after the first round only two reporters quiz you. Now they're going to ask the same questions.
What happened to you?
No.1 last year, now No.39.
Five Majors won, now cuts missed in the last three.
Thirteen wins in 2010-12, not one last year.
But still you smile. Always, Tseng Ya-ni smiles.
"In the beginning," she says, "(the lack of attention) is hard to manage." But she's a realist: "If you don't play good, no one follows you" and if nothing else this is "motivation" to play better.
Fame's spotlight was hard for her, but it's hell here in the shadows.
This first day of the HSBC Women's Champions has been "disappointing" with a one-over 73. Disappointing because last week, tied fifth in Thailand, gave her confidence, but she hasn't - so far - carried it over. Disappointing because her talent, which released itself effortlessly every day once, now hiccups.
Greatness, we know, is never forever, it's only on loan. Make what you will of it, for it will leave one day.
Often because of age, frequently due to injury and sometimes - as with Tseng - with no precise, reasonable explanation. Was it her swing, in a sport of endless repetitions of fine movements, which turned errant?
Was it just that No.1, this position of eminence yet also of suffocation, didn't fit her personality?
Maybe No.1, this lording over the world, suits the unblinking, cold Tiger Woods whose life was distilled to a single consonant: W. For Win. For him victory was never tiresome, week after month after year, for him expectation was flicked off dismissively like a reporter's question.
But Tseng isn't Woods, she's the free spirit of the fairways, of whom Annika Sorenstam once wrote: "Ya-ni's infectious smile and genuine enthusiasm for golf create an aura that grabs the attention of galleries...People know they're witnessing greatness."
For Tseng - it seemed at least - that the overbearing expectation had dulled the pleasure of golf. As if, unlike Woods, she had not learnt to say "no" to every media request, every autograph, every demand for a piece of her life.
Last year, the top ranking lost, she said: "I feel like world No. 1 is not allowed to make mistakes... I feel like I forgot how to enjoy golf. I forgot what I'm here for. I'm here to play and not because I'm world No. 1."
Tseng, still only 25, became captive to her own genius. The more brilliant she was, the more exaggerated any error became. Last year she spoke of a moment in 2012, when after eight straight top 10s, she finished 12th in an event, and "one of the media... said Ya-ni is playing bad. What is wrong with Ya-ni? Ya-ni is struggling. But I just finished 12th".
This was golf that wasn't fun. Who knows what voices quarrelled in her head, what doubt tightened her wrists, what unwise solutions people offered her, but her slide seemed to accelerate.
Yet champions refuse to be defined by slumps and it is in their struggle that their character is unveiled. They play, they try, they start from zero. The past, they know, is a useless country. "I had to forget everything I achieved," she said on Thursday, but it "takes a little time" for everywhere she goes people remind her of it.
They talk of the old Ya-ni, but she's building a new Tseng. She has a new coach and a new drive. She says after a 2013 of "putting a lot of pressure on myself", she's more "relaxed".
She won't mention No.1 for it's not a number probably that she searches for but a feeling - of fun. Sometimes you need fun to win, sometimes only winning brings it back. From back home in Taiwan, she says, there is "less pressure" and ruefully adds: "They probably now realise how tough golf is. They don't push me to win every week". But it would be nice if she won one of these weeks.
Only because of all sports' varied children, she has a natural, infectious charm that lights up any arena. Like yesterday, when hot and disappointed and asked difficult questions, she stood and spoke and then shook hands and left.
Of course, she was smiling. Of all things lost with Tseng Ya-ni, this has not gone.
rohitb@sph.com.sg 
Get a copy of The Straits Times or go to straitstimes.com for more stories.