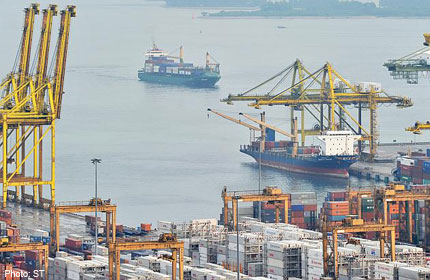 Singapore exports are finally growing again after eight straight months of decline, offering fresh evidence that the overall economy is doing better than expected.
Economists are now even more upbeat that full-year economic growth will beat the upper limit of the official forecast range of a 2.5 per cent to 3.5 per cent expansion.
Figures out on Monday show non-oil domestic exports (Nodx) grew 2.8 per cent last month from the same month last year - the first positive reading since January. The healthy expansion surprised economists who had been expecting a 1.1 per cent decline.
"It has emerged from a long slumber," said Barclays economist Joey Chew.
CIMB economist Song Seng Wun said: "It finally turned the corner, but it's still too early to tell if this will be a decisive turnaround."
Trade agency IE Singapore said on Monday that last month's rise was largely due to a rise in non-electronic shipments which outweighed a slight slip in electronics exports.
Electronics exports fell 1.4 per cent last month, after declining 5.5 per cent the previous month. October's slide was largely the result of a slump in disk media products, telecommunications equipment and PC parts.
Although this was the 15th straight month of decline for electronics shipments, UOB economist Francis Tan said the situation is improving as the contractions are getting smaller.
Non-electronic exports surged 4.9 per cent last month after a 0.8 per cent increase in September, led by pre-fabricated buildings, printed matter and petrochemicals. "This reflects broader industrial production growth," said ANZ economist Daniel Wilson.
Nodx to five of the top 10 markets rose last month.
On Monday's upbeat export data led economist Chua Hak Bin of Bank of America Merrill Lynch to raise his full-year economic growth projection from 3.5 per cent to 3.7 per cent: "Growth was initially led by services but manufacturing is staging a more visible recovery. Export performance is also finally turning the corner."
The bright numbers also set the scene for the release of the preliminary third-quarter economic growth number on Thursday.
Economists expect this to be revised upwards from the advance estimate of 5.1 per cent, largely due to September's surprise jump in manufacturing. "That will be the icing on the cake," said DBS economist Irvin Seah.
alfoo@sph.com.sg

Get a copy of The Straits Times or go to straitstimes.com for more stories.