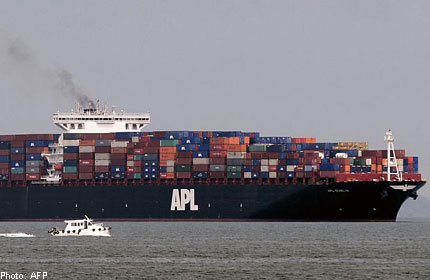 SINGAPORE - The broad-based decline in Singapore's exports last month signals that the sector might remain mired in a rough patch for the rest of this year.
The latest trade data from trade agency IE Singapore yesterday painted a grim picture: Exports dived 8.8 per cent last month, as both electronics and non-electronics shipments sagged.
This marked the fifth straight month of decline for exports and disappointed economists' expectations of a much smaller 5.8 per cent dip.
OCBC Bank economist Selena Ling said the export sector "still faces strong headwinds in terms of tepid global demand conditions".
Exports have now dipped in seven of the last eight months, she noted.
Of particular concern was the prolonged weakness of electronics exports, which have posted frequent double-digit falls so far this year despite the relatively low base of last year, Ms Ling added.
Electronics exports shrank 12.4 per cent in June compared with the previous year, largely due to lower demand for integrated circuits, PC components and disk media products, IE said.
Non-electronics exports dropped 7.1 per cent, led by fewer shipments of pharmaceuticals, structures of ships and boats, and specialised machinery.
Just as disheartening was that exports fell in nine out of Singapore's top 10 markets - China was the only market that registered growth. The worst falls were to Europe, Indonesia and Japan.
But there was a silver lining in last month's figures.
Exports rose 3.2 per cent last month over May on a seasonally adjusted basis, reversing the previous month's 1.1 per cent contraction, as both electronics and non-electronics shipments increased.
On a seasonally adjusted basis, exports climbed to $14.7 billion last month, from $14.3 billion in May.
CIMB economist Song Seng Wun expects exports to "fare much better" in the second half of this year, due to a low-base effect when compared with last year, as well as an expected seasonal rise in factory orders in the second half.
Still, last month's export data has raised concerns that the local economy might have grown more slowly in the April to June period than estimated.
Economists said the disappointing performance might weigh on economic growth in the second quarter, while the outlook for the rest of the year remains uncertain.
Flash estimates last week indicated that Singapore's economy grew a better-than-expected 3.7 per cent in the second quarter over a year ago, although this was based mainly on April and May data, with fuller numbers due next month.
The latest data "reinforces our suspicion that the advance estimates for second-quarter growth... may be trimmed back when the disappointing June manufacturing and export data is factored in", said Ms Ling.
"It is difficult for Singapore's extremely trade-dependent economy to continue to grow at such a robust pace when the global environment remains so subdued," added Barclays economist Joey Chew.
Not all economists agree though.
"We hesitate to read too much into the data for hints of revisions (to the second-quarter economic estimates) which likely already had early indication of today's data," said Citi economist Kit Wei Zheng.
fiochan@sph.com.sg

Get a copy of The Straits Times or go to straitstimes.com for more stories.