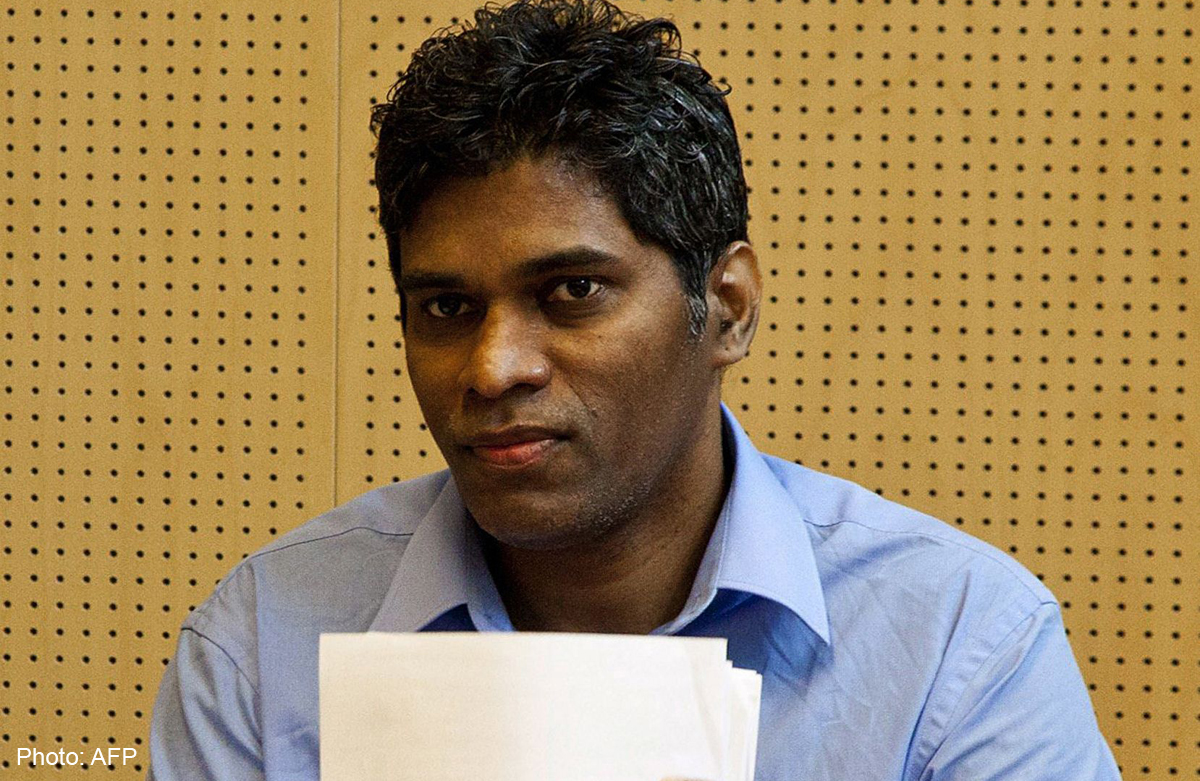 They had one shot to make everyone sit up and take notice of football kelong in the Britain.
To do this SI Sports Intelligence (SI), a sports fraud agency, had to make the exposure shocking and vivid in detail.
It chose to target a group that had alleged links to Wilson Raj for a sting operation and make a secret video of it, said SI officers whose lead led to the UK sting.
It resulted in the arrest of seven men (one of whom is a Singaporean) by Britain's National Crime Agency last week.
SI, a private company with less than five people, revealed details of the investigations and why this particular syndicate was targeted in an exclusive interview.
Said Mr Michael Pride, director of operations at Australia-based SI: "We knew that this major syndicate and its key players had not been properly exposed.
Our aim was to prevent more corrupt acts by some main syndicate members by running this investigation the whole way."
SI's seven-month self-funded probe took it to Britain, said a key investigator at SI, who wanted to be known only as John, 57.
John, who was previously from the Fifa security team, said: "We had no idea where it would end up (in Britain)...
We wanted to have real-time information of a fix from beginning to end."
One of the suspects, Singaporean Chann Sankaran, 33, was an associate of convicted match-fixer Wilson Raj Perumal.
Chann had first appeared on SI's radar in 2011 when he was said to be allegedly linked to one Asia-Pacific nation.
Said John: "We had also been given his (Chann's) name by a second source earlier this year... And so when his name appeared for the third time, we decided to see if we could work on him."
Chann had allegedly boasted to SI investigators that his syndicate could fix matches in Europe, Latin America, South-east Asia and Australia.
He had also claimed that his syndicate could "buy" referees and some African teams, high on Fifa's rankings.
TRAVEL
In the months before his arrest, Chann had travelled to the UK three times to meet his contacts and undercover investigators.
But SI had to act fast.
Said Mr Pride: "They can move very quickly to make fixes happen and all have one common element, the ability to throw money at whoever they are intending to manipulate."
But catching the fixers doing their jobs cost money. They needed to pay the syndicate for its services, which could range from £5,000 (S$10,300) to £50,000.
About two weeks before the end of the probe, SI approached The Telegraph, which agreed to put up the money required, John said.
SI also realised that its probe had reached a point where it was critical to get the British police involved.
John said: "We know we are not police, we do not have the support and resources they do and it is only right that police deal with criminality."
Referring to the successful sting, Mr Pride said: "It signifies that there should be greater cooperation between all stakeholders and that it is possible to prevent match-fixing.
"It needs like-minded people who are not ego-driven... who can gather and share information related to possible threats of football corruption in each region."
TWO CHARGED 
Two of the seven men arrested have been charged with conspiring to "defraud bookmakers by influencing the course of football matches" in UK's Conference League. They have been remanded in custody until Dec 13.
The other five are still being investigated.
Limited Resources, yet big success
From the start, Sports Intelligence faced many challenges, said SI director of operations, Mr Michael Pride.
1 GEOGRAPHY
"We had a number of geographical challenges coordinating efforts from the UK and Australia, as well as maintaining contact with syndicate members in other countries and time zones to make this happen," said Mr Pride, formerly from the Australian Federal Police.
2 FINANCE
SI associate, John, a former British soldier, said: "We needed to raise money and that proved frustrating as it was a large amount initially - too large for ourselves, family or friends - and we didn't want to involve anyone outside..."
3 SECURITY
A constant concern to SI investigators was personal security as people could get hurt especially when their identities have been compromised. As a result of this, face-to-face contacts with the alleged fixers were minimised and observed by SI backup nearby.
4 LEAKS
To avoid leaks, SI kept information tight and employed a small team. When overseas, SI investigators often switched hotels.
Said Mr Pride: "One example is, in the past we have conducted meets in Vietnam with one criminal source, and within minutes, we were surrounded by at least 15 Vietnamese to make sure we were who we said we were.
"We were then followed for days to see who we were talking with. We have also been watched and followed in Singapore."
5 EYE-OPENER
What they have learnt from contact with match-fixers was invaluable. Syndicates are known to place fitness coaches and doctors in football clubs.
Kelong rings would also hold referee training camps and work with corrupt referees on the best ways to fix matches without appearing suspicious. SI saw it crucial to expose the mechanics of a fix because many in the newly-formed sports corruption industry have never seen a fix or met a match-fixer, John said.
Said John: "Many conferences are held and a lot of talking heads dole out third-hand knowledge."

Get The New Paper for more stories.