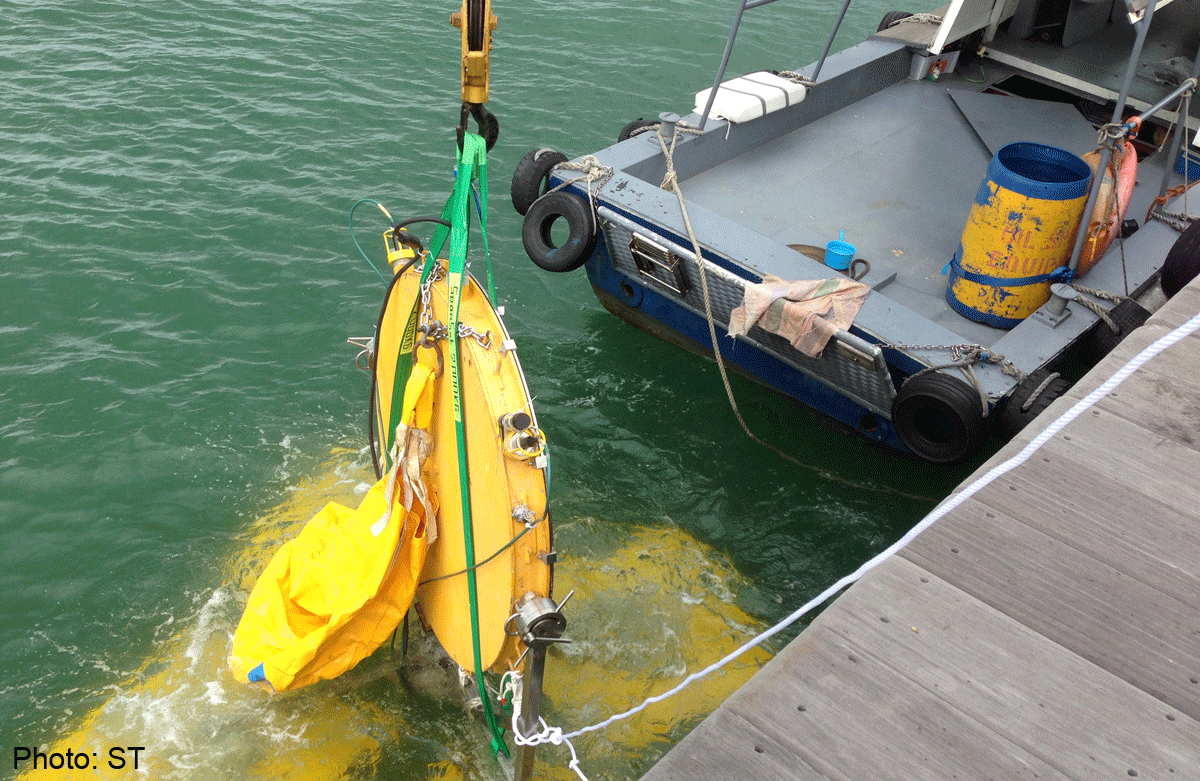 The sea may seem a picture of calm, but that belies what lies beneath.
Beneath a backdrop of rolling waves, the crackle of coral and chitter of fish are among a myriad of sounds made by one of the world's noisiest environments.
The volume of this underwater symphony points to its health, and researchers from the National University of Singapore's Tropical Marine Science Institute (TMSI) have built a camera that could be used to gauge this.
Romanis, the world's second underwater "acoustic ambient noise imaging camera" , can take images of submerged structures by harnessing sound, at a 65m radius. The first camera, Adonis, was built in 1994 at the Scripps Institution of Oceanography in San Diego, in the United States.
Its scope gives Romanis an edge over conventional, light-based cameras. Even in the most pristine waters, it is difficult to see beyond 30m, as light does not travel as well underwater as on land.
Sound is another matter - sound passes far and fast through water, five times faster than through air.
Dr Mandar Chitre, head of the institute's Acoustics Research Laboratory, which built the camera, said that, in water, sound waves can travel up to halfway across the globe.
"The sound in the frequency band that Romanis uses could potentially be detected over a few kilometres, depending on the loudness of the source," he added.
The $2.5 million camera converts sounds - including those made by the snapping shrimp - into images by using mathematical formulas.
The 300kg device, which needs to be lowered onto the seabed with a crane, was used to survey the reefs off the Southern Islands in August last year. The data collected is still being studied. Its work complements the most common type of reef survey, where scuba divers or snorkellers swim around to inspect a reef and identify species, said experts.
And if successful, the information Romanis collects could be a key part of Singapore's efforts to save local coral reefs.
In 2009, academics and conservationists came up with a Blue Plan calling on the Government to conserve the Republic's coastline, conduct a biodiversity survey of reefs and review laws on reef-damaging practices, among others.
Since then, the long-overlooked sea life around the island has received a boost, with conservation efforts being ramped up and the country's first designated marine park around the Sisters' Islands.
Sound is a good indicator of coral reef health.
Just two months ago, researchers from the universities of Essex and Exeter in Britain, studying sound recordings of coral reefs, found that healthy reefs were three times louder than degraded ones. While a healthy reef sounded much like a juicy steak frying on a pan, the sizzle of a threatened reef was much more subdued.
University of Essex marine biologist Julius Piercy, who led the study, told The Sunday Times that healthy reefs have a higher density of snapping shrimp and fish vocalisations, which make them sound louder.
Reef fish usually spawn away from their homes to prevent their eggs from being eaten by other fish, but the larvae use the sound of the reefs as their compass to find their way back.
Noted the university: "With less sound being produced at impacted reefs, the distance over which larvae can detect habitat is 10 times less, impacting the replenishment of future generations needed to build up and maintain healthy population levels.".
The Singapore trial last August saw Romanis deployed in the waters surrounding St John's Island. It was funded by the Acoustics Research Lab and the Singapore-MIT Alliance for Research and Technology (Smart).
More than four terabytes of data was collected and is being analysed. A Smart spokesman said that the images taken by Romanis can be used to identify changes in geometry and structural conditions.
"In the case of a reef, both these features could be used to gauge its health," she said.
This would give conservationists a better idea of which areas to protect or pump resources into.
While acknowledging the potential of Romanis, Dr Piercy pointed out that its use requires expensive equipment, such as cranes, and prior knowledge of the seabed to work reliably.
"However, the technology and algorithms behind the Romanis system are where its real potential lies," he said.
"These advances could be transferred to more simple and less costly systems in the future to monitor reef health."
This article was first published on Feb 15, 2015. Get a copy of The Straits Times or go to straitstimes.com for more stories.