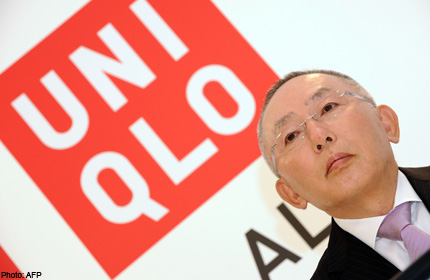 SINGAPORE - The collective wealth of Japan's 50 richest tops US$112 billion (S$139 billion) in the latest Forbes' Japan Rich List.
A weakening yen has made exports cheaper and Japanese stock markets more attractive, boosting the wealth of the country's leading companies and the fortunes of tycoons who have been expanding overseas.
Tadashi Yanai occupies the top spot once again at US$15.5 billion (S$19 billion), a 46 per cent gain from last year.
The founder and CEO of Asia's largest apparel company, Fast Retailing, known for its Uniqlo casual clothing shops, has continued to expand the brand outside of Japan. The company also owns the Theory and Helmut Lang brands.
Other big gainers include Chizuko Matsui and Michio Matsui (No. 21, $1.4 billion) who are benefiting from an increasing interest in day trading; the stock of their securities firm is up 85 per cent over the past year.
Of the five newcomers, social gaming entrepreneurs such as Tomoko Namba (No. 47, net worth $545 million), the founder of DeNA who has run the company for 12 years, has been gaining on the competition with popular games such as Blood Brothers.
Gaming has also propelled the fortunes of Kagemasa Kozuki, one of the list's returnees, to No. 26 with wealth of $1.2 billion, making him Japan's newest billionaire.
Another newcomer is Yoshiko Mori (No.33; $1 billion), chairperson of the Mori Art Museum and a member of the Board of Directors of Mori Building and the wife of the late Minoru Mori.
Minoru's brother, Akira Mori, is ranked No. 6 on the list with $5 billion, as Japan's recovering real estate sector has boosted his fortunes. He is the chief of Mori Trust which operates rental buildings and hotels, and has plans to use his growing wealth to acquire properties overseas.
The minimum net worth to make it to this year's list is $400 million.
The full list of Japan's richest can be found in the April issue of Forbes Asia, which is available on newsstands now.