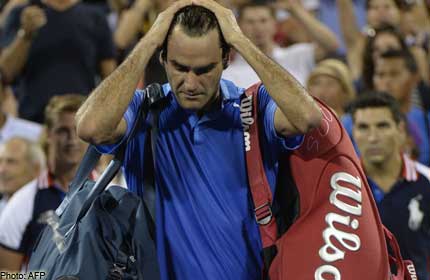 When infallible champions begin to show symptoms of acute fallibility, then you know that sport has played its cruel hand again.
When sport showers legends like Roger Federer with endless gifts, the world rejoices.
Fans marvel at the mastery of his craft.
The smile, the down-to-earth approach, the formidable forehand, the moves on the court which can be the envy of the best of ballet dancers.
Then sport begins to take away all it has given. It is painfully slow, excruciating to watch, but nobody can do anything to stop them.
Nobody can do a damn to stop this tremendous march of time, crushing under its heavy boots even a player of such calibre.
Then fans applaud, they plead, they just want to watch him turn back time, perhaps for one last time.
Even for sportsmen like the 32-year-old Swiss, winner of 17 Grand Slams, it all comes down to this - timing.
Time his exit
He may not have predicted his grand entrance, but he certainly can time his exit.
After years of fine-tuning his game, staying fit, playing many matches, criss-crossing the world, will he be judged by the timing, or the lack of it, of his last game?
Few have matched the skills that he has, and even fewer will as time goes on.
The aura around him stems from his seeming simplicity, his unique talent to conjure up winners from any part of the court.
There was no weakness to speak of, yet there was an earthly mannerism not usually seen among such sportsmen.
He has been an absolute joy to watch, never given to much emotion.
The stoic nature hid a fiercely competitive spirit which earned respect from his opponents. Still he respected his opponents, giving them credit where due.
But even Federer can't stay once the party is over. Now he may be hoping that another one is around the corner.
Like all great sportsmen, he, too, is entitled to think that he has one last tilt at glory.
But this is the autumn of the patriarch. When he made that long, lonely walk through the tunnel and into the locker room after the defeat against Tommy Robredo on Monday night at the US Open, many thoughts would have zipped through his wavering mind.
Most of all, the one question that seems to crop ever so often these days.
But the champion that he is, he will be able to brush that off thinking that it is the handiwork of a tired mind.
Maybe, he still has the belief that he has many more glorious summers left in a career studded with diamonds and precious stones.
There is belief and then there is denial. For ageing champions, it is a very fine line to walk.
Some go on to achieve it - like Federer's idol Pete Sampras.
He went through a two-year Grand Slam drought before claiming the 2002 US Open with a vintage performance over Andre Agassi.
The next year, almost choking on tears, he left it all behind and walked away.
Federer's last Grand Slam success was at last year's Wimbledon. After that, by Federer's exalted standards, it has all been downhill.
Timing became less sweet. Now it has turned sour.
When have you seen him hit forehands as if he had never hit one in his entire life? The fourthround match against Robredo provided a sad testimony to that.
The signs that things aren't that hunky dory came earlier this season when he changed his racket.
He switched to a bigger head from 90 to 98 square inches - just in case it changes his fortunes as well.
Fortunes ebbed and flowed. The Federer of old just didn't return. He reverted to his original racket.
As former Grand Slam champion Jim Courier said, if you switch rackets mid-season, "you are sending a strong signal to the locker room that you are uncertain".
Federer may or may not be grappling with that uncertainty right now.
Surely, he would be desperate to get his touch of yore back. You can't grudge him for wanting to revel in those glory days, at least once more.
Last man standing
He would want to be that last man standing on the second Sunday of a Grand Slam, smiling, the right hand holding the trophy aloft, the left hand waving at the fans, and the gold Rolex watch strapped to his left wrist glistening in the late evening sun.
That scene has been played out 17 times in Melbourne, Paris, London and New York.
But it has now become part of our memory file, stored in our hearts to cherish for the rest of our lives.
He has promised to work hard, fight hard and get back to Grand Slam winning ways.
With a weakening spirit and confidence which is being tossed around like fig in a storm, the question remains: Is it time, even for Federer, to realise that he is mere mortal?
For that smile to return, he needs a second wind.
For the moment, though, he seems to have lost his way in a dark tunnel.
It will one of the sport's most tearful moment if he fails to find a way out of it.

Get The New Paper for more stories.