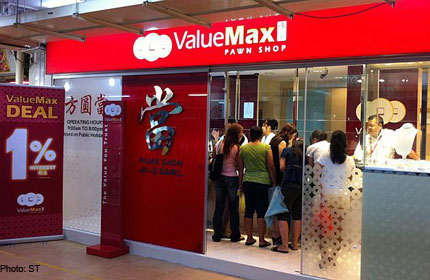 Pawnbrokers ValueMax is the latest player in the industry to move towards a listing on the Singapore Exchange (SGX).
The firm lodged its preliminary prospectus with the Monetary Authority of Singapore about two weeks ago on Sept 30.
No price indication was stated in the 379-page document.
Its quest to go public comes after two others in the pawnbroking business took the same step in the past year or so.
Maxi-Cash Financial Services was the first in the industry to list, in June last year. MoneyMax Financial Services' trading debut was in August this year.
Both stocks are listed on the Catalist board and had the same initial public offering price of 30 cents a share.
ValueMax's net profit grew 11.2 per cent to $14.3 million from 2010 till last year, on the back of a 27.8 per cent rise in revenue to $509 million.
Pawnbroking constituted about 72.6 per cent of its gross profit between 2010 and March 31 this year, according to its prospectus.
While its main business is pawnbroking, ValueMax also has retail stores selling pre-owned jewellery and trading gold.
It has 17 outlets in Singapore, of which 16 are pawn shops which also sell pre-owned jewellery and gold, as well as a stand-alone retail store.
ValueMax also has investments in companies which are involved in the pawnbroking business in Malaysia.
Its prospectus also stated that the firm does not experience significant seasonal patterns in its business. High redemptions, however, can be expected closer to festive periods as its customers redeem their items for use.
The pawnbroking industry is competitive and fragmented - as the major players operate chains while smaller ones run individual stores, stated the prospectus. ValueMax, Maxi-Cash and MoneyMax - the three largest players here - constitute about one-third of local pawnbrokers based on the number of outlets.
Data from the Insolvency and Public Trustee's Office shows that the number of pawn shops rose from 138 in 2009 to 200 as of last month.
ValueMax cites its experienced management team led by managing director and chief executive Yeah Hiang Nam as a competitive advantage. Mr Yeah has been in the pawnbroking industry for more than two decades.
The issue manager and underwriter is Canaccord Genuity Singapore.
United Overseas Bank, OCBC and DBS Bank are the principal bankers for ValueMax.
rjscully@sph.com.sg

Get a copy of The Straits Times or go to straitstimes.com for more stories.