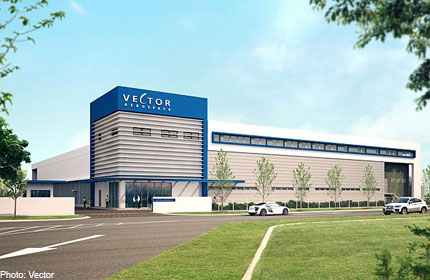 Canadian aircraft maintenance and repair firm Vector Aerospace is building its first Asian facility at Seletar Aerospace Park.
The $50-million investment includes the construction of a 5,200 sq m engine shop, with room for further expansion.
Slated for opening in October next year, the facility will be specially built for Pratt & Whitney's PW150A turboprob engine.
The aim is to hire up to 140 staff within the first three years, said Mr Declan O'Shea, president and chief executive officer of Vector Aerospace.
Speaking to The Straits Times on Monday ahead of the facility's ground breaking, he said the firm had considered several options before picking Singapore as the location for the new engine shop.
He did not name the other countries but Vector Aerospace has sales teams based in Kuala Lumpur and Bangkok.
He said: "Singapore has well-trained people with good language skills... The transport system works, which makes it convenient to get customers and engines in and out. Is it more expensive? Yes it is. The cost per man hour is slightly higher here but on balance, we decided there is more value here."
An Asian presence will enable Vector Aerospace to better serve its customers in the region, Mr O'Shea said.
He did not divulge numbers but said Asia is a growing market for the company.
"In our overall business expansion plan, the South-east Asian market is extremely important to us due to its geographic location, strong projected growth and our customer base. We recognise the immense importance of this market and are taking these steps to expand our presence here with close proximity to our customers."
Vector Aerospace, which employs about 2,700 people in 21 locations, is the latest aerospace firm to set up shop at Seletar which is being developed by JTC Corp.
Engine makers Rolls-Royce and Pratt & Whitney, home-grown ST Aerospace, Jet Aviation, Hawker Pacific, Fokker Services and Eurocopter are among existing tenants.
Mr Lim Kok Kiang, assistant managing director, Economic Development Board, said: "Vector Aerospace's introduction of PW150 engine MRO capabilities here further enhances Singapore's position as a leading engine maintenance, repair and overhaul (MRO) hub."
karam@sph.com.sg

Get a copy of The Straits Times or go to straitstimes.com for more stories.