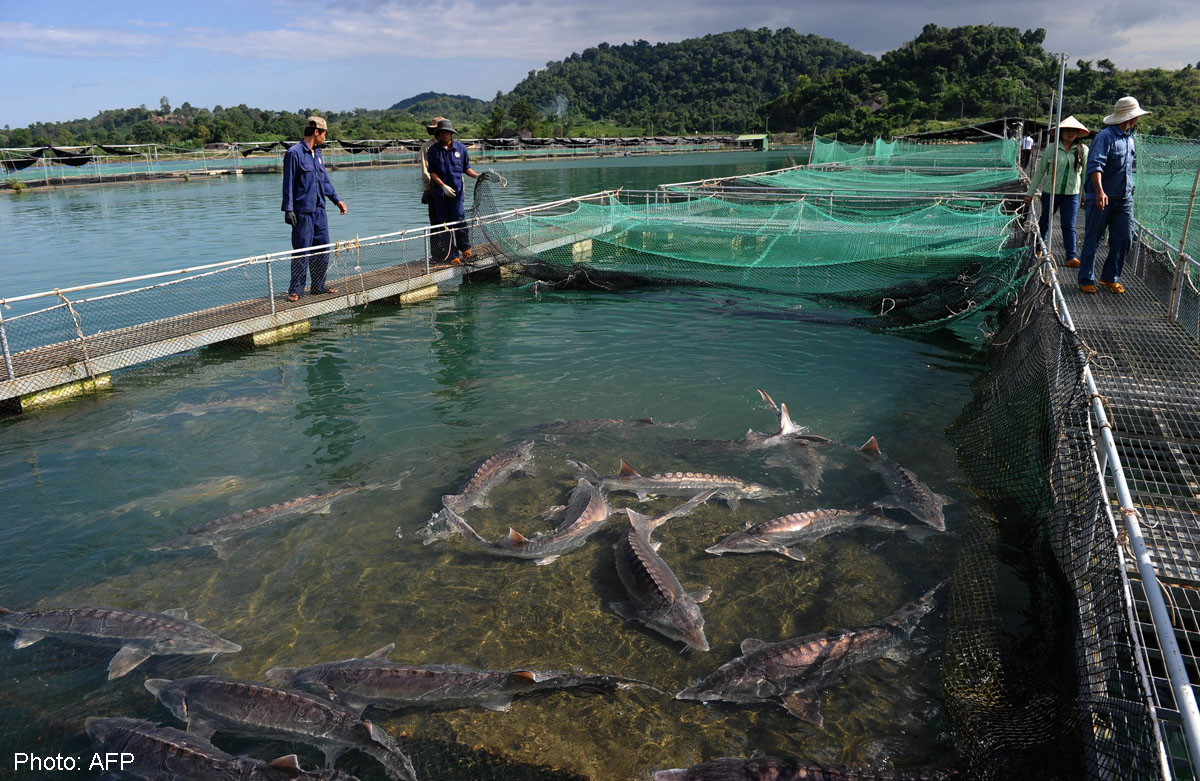 DALAT, Vietnam - At a sturgeon farm on a pristine lake near southern Dalat town, a worker hoists a large white fish out off the water. "It's an albino," says Vietnam's eccentric 'Caviar King' Le Anh Duc adding triumphantly, "Gold eggs!"
Not only are the eggs from the rare sturgeon - Duc has just 40 albinos out of half a million fish - an off-white 'gold' colour but they are also a money-spinner.
Albino caviar can sell for up to US$100,000 (S$131,935) per kilogramme, compared to black Beluga caviar, a snip at just US$5,000 to $10,000 a kilo according to industry figures.
Duc, a jovial Russian-educated businessman with a love of risky ventures, is a man with a mission: to get Made In Vietnam caviar onto dinner tables across the world at a reasonable price - starting with the country best known for its penchant for the salted fish-eggs.
"If we can sell our caviar to Russia - where really, they know about caviar - then people will understand this is a top quality product," said the 36-year-old entrepreneur, who already has a slew of other projects, from real estate to sea planes, under his belt.
His company, Caviar de Duc, has already signed an agreement with a Russian importer to sell between two and four tons of caviar to Russia in 2015 - although some Vietnamese seafood producers are already warning the collapse of the Russian ruble could hit exports.
Long beloved of the rich and famous, caviar is an expensive, high-end delicacy, but one now in crisis - wild caviar production has fallen from a high of some 3,000 tons per year in the 1970s to almost zero.
Rampant over-fishing and pollution in caviar's birthplace, the Caspian Sea, mean the wild beluga sturgeon is now critically endangered.
In 1998, traditional caviar production from natural fisheries was strictly limited by a system of quotas imposed by the United Nations Convention on Endangered Species (CITES), prompting greater interest and investment in sturgeon farming.
Italy, which has been farming sturgeon for decades, is now the world's top farmed caviar producer, and a new generation of newcomers like Vietnam are eyeing a slice of the market.
Duc currently has some 500,000 sturgeon spread across six farms in Vietnam, all in hydroelectric dam reservoirs leased from the communist government.
This year his fish produced some five tons of caviar. Duc wants to more than treble his output by 2017 and is ultimately dreaming of producing 100 tons of high-quality caviar a year.
"Now, caviar is like a hyper-luxury product... but it's also a healthy, delicious product. More people should eat caviar," he told AFP.
Vietnam's natural advantage
Most of the 250-400 tons of caviar on the global market each year now comes from farmed sturgeon, according to World Sturgeon Conservation Society (WSCS) estimates.
In Russia, previously one of the most biggest suppliers, "the natural population (of sturgeon) has practically disappeared," said Paolo Bronzi, vice president of the WSCS.
Despite traditional supplies drying up, demand for caviar is increasing -- spurred by the flood of newly-wealthy consumers in Asia and the Middle East - and there is growing pressure to find a new, sustainable way to feed the industry.
Sturgeon, like salmon, are relatively easy to farm - and the WSCS estimates supply could increase to 500-750 tons a year within the next few years.
Vietnam is well placed to fill the demand.
It already boasts a big aquaculture, with large export-orientated prawn and catfish industries - although these have been sometimes hit by food safety concerns.
Duc is fanatic about quality: he does not use hormones or antibiotics on his fish, and keeps them in large cages with fewer fish to reduce stress levels, as he bids to build a reputation for Vietnamese roe.
He also opposes the use of borex - a standard but toxic preservative used in most caviar - using only salt. His tins of caviar last just two months, but he is looking into Japanese high-tech freezing technology.
He has turned down offers to supply caviar wholesale to the big-name brands that dominate the existing industry, aiming instead to build a reputation for Vietnamese caviar.
Some new producers, in particular China, suffer from perceived food-safety issues, said WSCS's Bronzi, but there is no reason that Vietnamese caviar can't storm into the market.
"I don't think that caviar coming from new countries will be always confined because of its origin... It depends on the new customers, the dealers and obviously on the prices," he said.
'They told me I was crazy'
Duc's sturgeon farming experiment began in 2007 with 50,000 fingerlings after he defied expert advice and decided that sturgeon could live in Vietnam's warmer waters.
But his first caviar harvest was in 2013, as sturgeon take years to mature.
"The scientists they told me I was crazy," he said, adding that the Russian experts he had hired all flew home in disgust when he insisted the fish would thrive in Vietnam's reservoirs, some 10 degrees celsius warmer than the sturgeon's favoured habitat.
Now, he has more customers than he can handle in Vietnam - as the communist country's burgeoning elite develop a taste for global delicacies.
In Vietnam, Duc already supplies many of the country's five star hotels and regularly provides caviar for high-end parties -- from soirees hosted by the French Ambassador in Hanoi to a birthday party for the daughter of Vietnam's Prime Minister Nguyen Tan Dung.
"The quality is very good," said Sakal Phoeung, executive chef at the Sofitel Saigon Plaza, which uses Caviar de Duc.
"Of course the eggs are smaller than caviar we can find in Russia or Iran but in terms of quality, taste, it is really close to that," Sakal said.