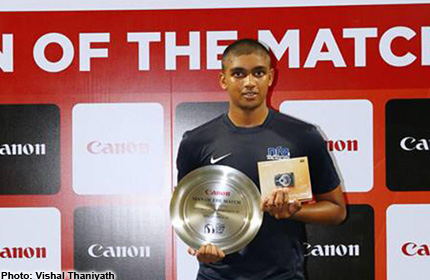 Mahathir Azeman has certainly paved the way for young Singaporeans with big football dreams.
Following in Mahathir's footsteps, National Football Academy (NFA) Under-16 defender Vishal Thaniyath is set to join the U-17 side of Brazil's Boavista, a professional club in Rio de Janeiro.
The 16-year-old centre back, who played this year's Lion City Cup where he bagged the Man-of-the-Match award when the NFA U-16s took on Eintracht Frankfurt, will head to Brazil on a three-month stint, backed by his father T S Rajesh.
He will leave for Rio either on Dec 20 or Jan 5.
Mahathir, who impressed Boavista so much during his five-month stint with their U-17s earlier in the year, has earned a one-year contract with the club's second-string outfit, and will probably leave at the same time.
Vishal's move was arranged by Red Card managing director R Sasikumar and former S-League star Fabio da Silva, who was instrumental in linking up Mahathir with the Brazilian club.
Speaking to The New Paper recently, former Singapore international Sasikumar said: "Vishal's father approached me, wanting to send his son to Europe.
"But, because of passport complications, he didn't want to risk not being able to play official youth matches over there.
"He learnt about Mahathir doing well in Boavista and decided on Brazil, instead. Unlike Mahathir though, Vishal's father will be financing him."
Rajesh, 46, believes his son will have no problems embracing Brazilian culture, as Mahathir will be there to support him.
Vishal, a Singapore Sports School student, will embark on a "through-train programme" next year and will skip the O Levels as he eyes direct admission to Republic Polytechnic.
"Vishal will go (to Boavista) for three months to start with. If the club are interested in him, we might prolong the stint," said Rajesh, who has worked in the banking industry for more than a decade.
BETTER PLAYER
"If not, he can always come back and resume his studies. Either way, Vishal will be a better player when he returns.
"But, of course, I have faith in him doing well there. If not, I would not be sending him."
Vishal is hoping to emulate Mahathir's success.
"I'm not worried about the challenge. As a defender, it will be especially tough but I think I can cope," said the defender, who stands at 1.80 metres.
"I'm happy about going to Brazil rather than Europe because the players in my age group are much better there.
"I definitely noticed that during the Lion City Cup.
"Mahathir has told me a lot of good things about the club.
"He said that over there, I will learn faster and get better for sure."

Get The New Paper for more stories.