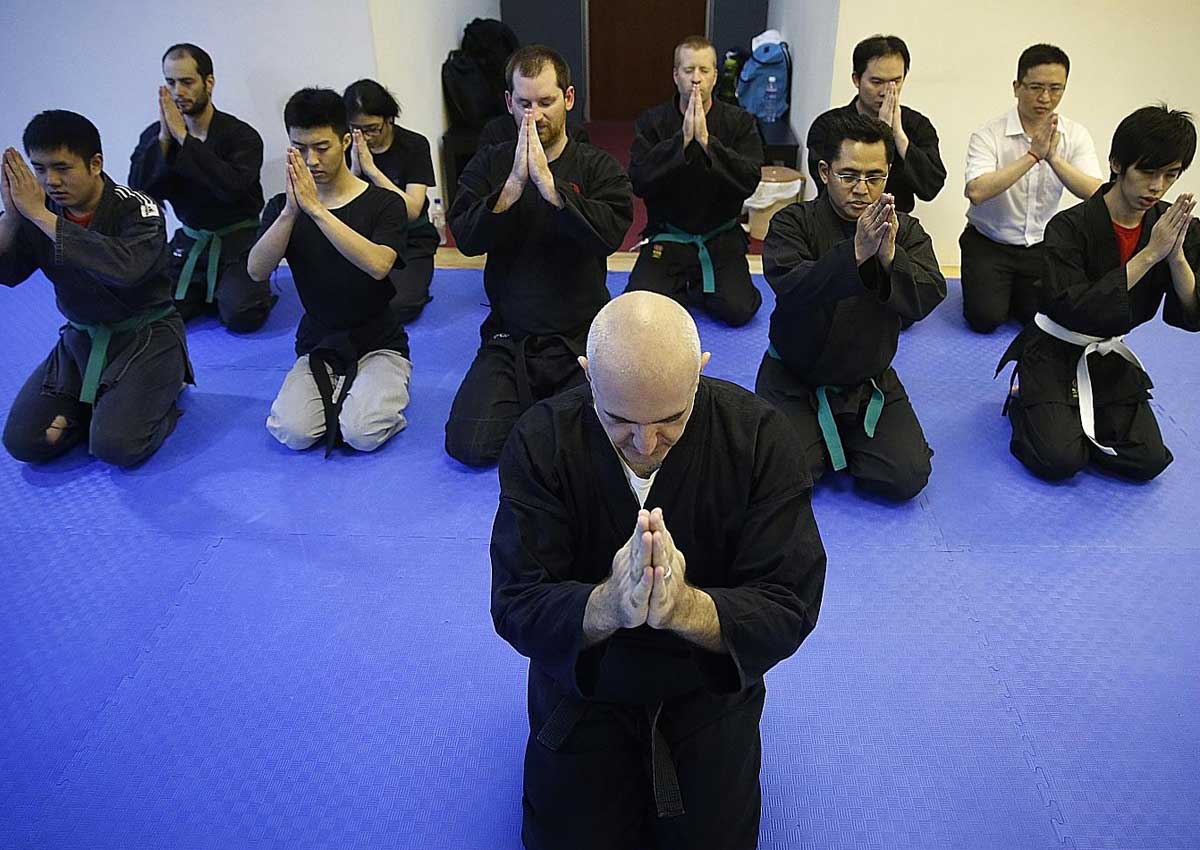 Surrounded by 60 people, ninjutsu practitioner Nachum Kaplan knelt with his eyes closed, too nervous to breathe.
The master stood behind him with a training sword, ready to cut down with killer intent.
The silence was deafening.
"You have to sense the cut is coming and roll out of the way to avoid the cut to pass," explained the 43-year-old, whose day job is as a financial journalist.
As bizarre as it sounds, that was part of the Ninja Godan Test he took in 2012. Done only in Japan, the test, which challenges one's senses and situational awareness, is conducted under the eyes of ninja grandmaster Masaaki Hatsumi.
"I calmed myself and slowed my breathing, and the next thing I knew, everyone was clapping as the cut had come down and I had avoided it," he said.
"I just did it somehow without thinking about it."
Mr Kaplan passed the test to earn a fifth-degree black belt and full instructor's licence.
Unlike martial arts such as judo or taekwon-do, ninjutsu is not a sport, and is not confined by rules.
Ninjutsu includes striking, grappling, locking, choking, throwing, ground fighting and an array of weapon skills.
"We prepare for a situation where there are no rules, no referees, no gloves, where an opponent may be armed or there may be more than one opponent," said Mr Kaplan, who is a Singapore permanent resident.
He founded the Singapore Ninjutsu martial arts school in 2007 as a junior instructor when he came over from Australia. "Ninjutsu is a set of skills to help you survive, not win a tournament," he said.
From a mere one or two students taking private lessons from him in the early days, Mr Kaplan has since established a dojo (martial arts school in Japanese) of almost 50 students in a Telok Blangah shophouse.
There are five evening classes on weekdays and two morning classes on Saturdays.
For Mr Graham Jones, a 33-year-old American reinsurance broker working in Singapore, taking the occasional hit to the face is part and parcel of training.
"It's about not getting shocked by the pain, dealing with it and continuing to stay safe," said Mr Jones, who has been training with the dojo for eight months.
"We're learning how to fight to survive and when someone on the street attacks me, I know how to react," he added.
Besides the motivation of self-preservation and defence, being skilled in ninjutsu has honed the balance of 25-year-old undergraduate Tong Hui Wen, which she puts to use in daily situations.
"Sometimes, the MRT rides can be quite jerky. When the train stops abruptly, most people would lose their balance and fall," said the final-year biological science student from Nanyang Technological University.
"I shift my body weight subtly. Bend my knees, feet hip-width apart and I'm balanced during the ride," added Ms Tong.
Although she has a black belt in taekwon-do, Ms Tong has committed her time to practising only ninjutsu with Mr Kaplan's dojo for the last five years.
"I have friends who do taekwondo to sweat the fats away, but ninjutsu is definitely not a place to sweat a lot because effective techniques are usually effortless."
While ninjutsu is generally defined as unconventional warfare tactics and espionage practised by a ninja in feudal Japan, these students are under no illusion that they will emerge from the dojo to scurry about on rooftops.
cplim@sph.com.sg

This article was first published on August 20, 2015.
Get a copy of The Straits Times or go to straitstimes.com for more stories.