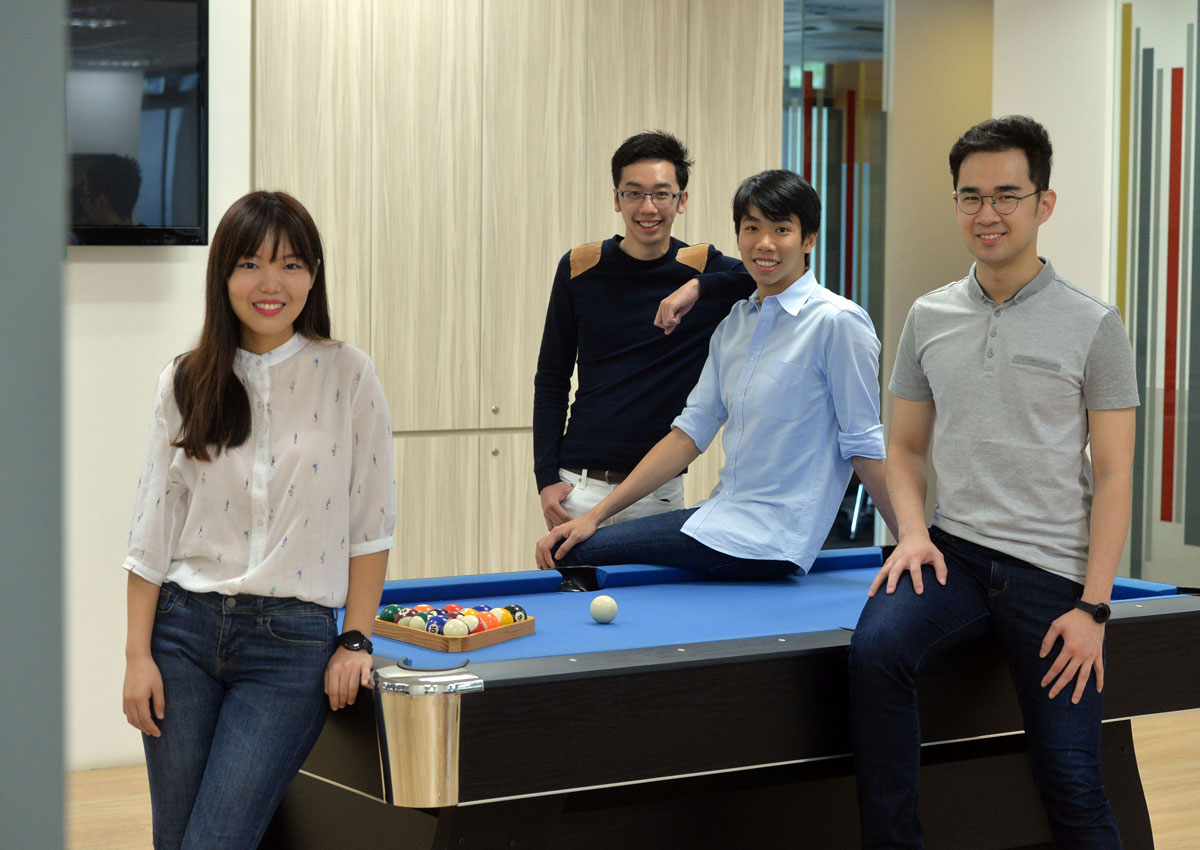 It was mere weeks to Ms Linda Tan's wedding day, a romantic getaway complete with fireworks at a villa in Bali.
There was just one problem - the 38-year-old, who works in a bank, and her husband, Mr Terence Goh, 41, a technician, had not booked a photographer to go with them.
This was when they turned to a start-up recommended by her colleague.
In two weeks, they had booked a package with a team of photographers in Indonesia - Bali Pixtura - through Web platform OneThreeOneFour.
Its name derives from a Chinese phrase meaning "eternity", which hints at its business - linking couples in Singapore with photographers based abroad for wedding photography.
Aimed at streamlining the planning process for couples who want to organise their own overseas shoot, the platform is the brainchild of four Singapore Management University graduates: Mr Scott Ng, 28; Ms Eve Law, 25; Mr Lee Xiang Rui, 25; and Mr Chan Wei Tian, 25.
According to bridal studio My Dream Wedding and wedding photography team Bloc Memoire, around 20 per cent of their customers here go for overseas wedding photo shoots. They added that the number is increasing.
OneThreeOneFour was launched in August last year and works with 100 wedding photographers and studios in 10 destinations, including Bali, Seoul and Paris.
Users get in touch with photographers through a chat function on the site, where they can personalise, book and pay for their packages.
While customers should book up to three months in advance for a pre-wedding shoot at a bridal studio in South Korea, it is possible to hire an independent photographer at one month's notice.
Prices range from US$300 (S$420) for a four-hour shoot in Bali, to US$2,500 or more for packages that could include photo albums, or gown and tuxedo rentals. The prices do not cover the couple's airfare.
Photographers here said it can cost customers $2,500 or more for a planned trip to a location like Bali, with slots for several clients.
For a private trip, it costs from $3,500.
A photo shoot package to Europe with a bridal studio can start from $4,500, inclusive of airfare for the make-up artist and photographer.
Ms Tan, who booked Bali Pixtura for 12 hours on her wedding day, after being unable to hire a local photographer at a month's notice, spent about US$2,400.
Payment is made on the platform and photographers receive it three days after the shoot. If they do not turn up, customers get a full refund.
"We wanted to make sure that our photographers are reliable and good, so we flew to different destinations like Bali, South Korea and Taiwan," said Mr Lee.
"We spoke to the photographers to understand what they need."
Mr Ng said: "The practice has been to take along a photographer from Singapore, even for overseas shoots." But a photographer based overseas could have better knowledge of the location, he said.
Photographer Wu Ying Chi, 38, who is based in Taiwan, likens OneThreeOneFour to a manager who can help professionals like him "attract the right clients".
OneThreeOneFour plans to eventually connect photographers here with couples coming to Singapore for their wedding shoots as well.
byseow@sph.com.sg

This article was first published on Jan 1, 2015.
Get a copy of The Straits Times or go to straitstimes.com for more stories.