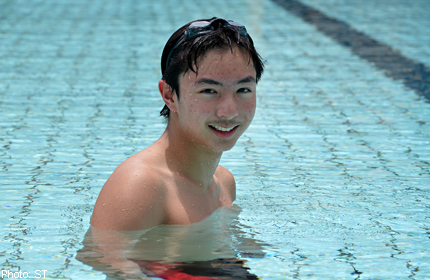 SINGAPORE - The third edition of the Singapore Press Holdings Foundation National Para-Swimming Championships has unveiled yet another talent to watch for the future.
Anglo-Chinese School (Independent) student Toh Wei Soong, 15, claimed two golds in the 50m and 100m freestyle (S6 category) on Saturday at the Ministry of Education Physical Sports Education Branch.
Over 100 competitors took part in the meet attended by guest-of-honour Denise Phua, MP for Moulmein-Kallang GRC.
Paralympian and former world- record holder Theresa Goh, who turned up as a spectator, feels that Wei Soong has the potential to be a world beater.
She said: "He's got a natural feel for the water. There is a lot of hope about him and he is definitely one to watch for the future."
Wei Soong, who also won two golds at the IDM Berlin Open (50m and 100m free, S5 category) in June, contracted the rare condition of Transverse Myelitis at age two.
The disease affects the muscle nerves of his lower limbs, restricting use, and is not curable.
While his movement on land is hampered, it is in the water where he feels most at ease.
Said Wei Soong, who started swimming competitively at eight: "I have more freedom in the water. I can move around and do more things when I'm in the water."
After rising up the ranks to earn a place in the national para-swimming team this year, he now has the 2016 Paralympics in his sights, as he aims to emulate his seniors, Goh and Paralympic gold medallist Yip Pin Xiu.
Said the swimmer: "I want to prove to myself that I can achieve. Looking at my team-mates, it is really admirable that they have reached such levels despite the challenges that we face."
His parents, Yiu Kwong, an architect, and Stella, a housewife, noted that their son's progress in the sport could not have been possible without his school's support.
Said his mother: "We are really touched by their efforts as they have really helped him, mentally, in his development."
Also present at the meet on Satuday was Navy serviceman Jason Chee, who lost both legs and his left arm in a ship accident in December.
He said he is looking forward to taking part in the meet next year.

Get a copy of The Straits Times or go to straitstimes.com for more stories.