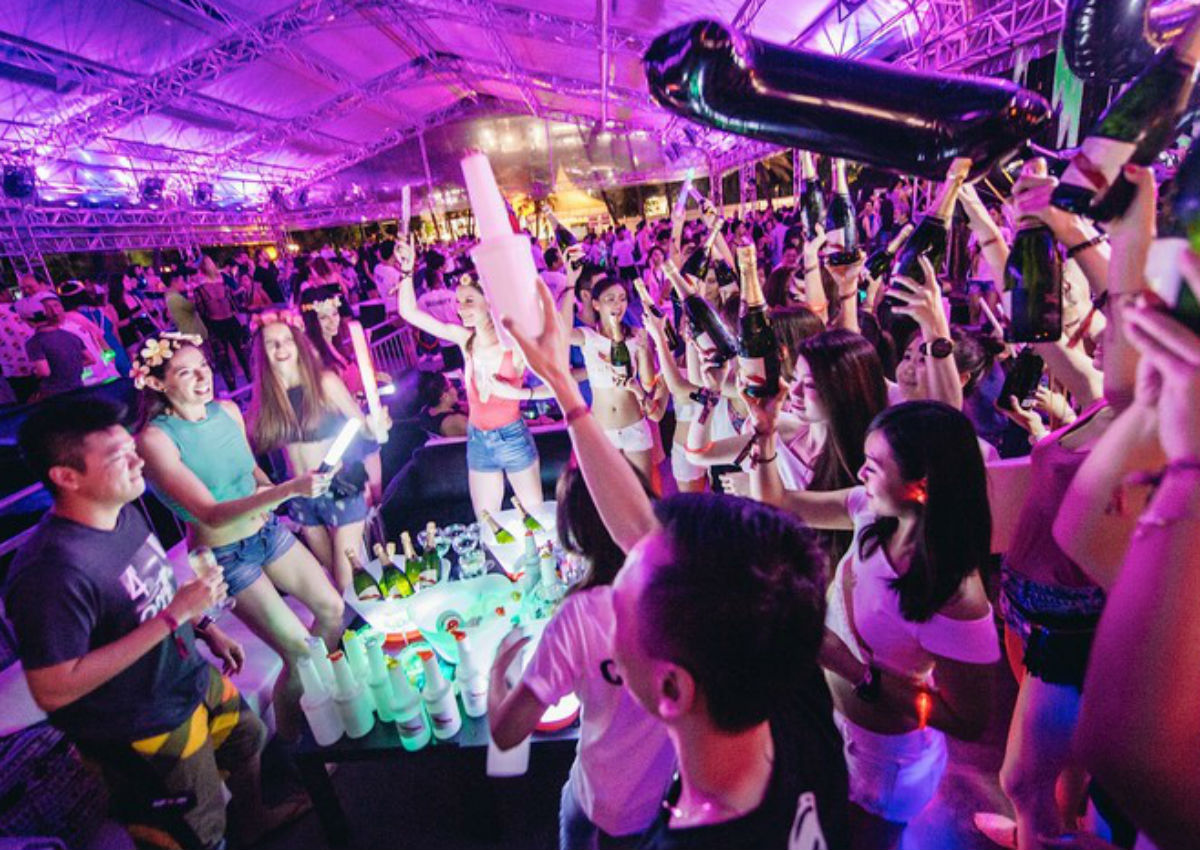 Nothing was going to stop partygoers from enjoying the second night of ZoukOut, not even the persistent rain that lasted more than seven hours.
Scores of people did not bother to take cover as the rain pelted down from about 9pm last Saturday until 4.45am yesterday at Sentosa's Siloso Beach, as DJ after DJ took to the decks.
The two-night annual beach music festival, now in its 15th year, attracted 45,000 people over both nights. Last year's ZoukOut saw a record-breaking 50,000 festivalgoers.
In an earlier interview with The Straits Times last Friday, Dutch electronic dance music DJ and headlining act Armin Van Buuren spoke fondly of his set at ZoukOut 2011, when it also rained, calling it an "extra special night".
It was a repeat of rain-soaked revelry yesterday when he took the stage at 4.30am. He drew the biggest crowds.
He started off his set saying that he was "really proud of the people in Singapore" for lasting through the downpour. Halfway through when the rain finally let up, he gave credit to the crowd, saying: "If we are united, we can make the rain stop."
Organisers say it was the first time in 15 years that the rain went on for most of the night.
Ms Sofie Chandra, Zouk's head of marketing and events, says: "Surprisingly, the crowd embraced it."
Barista Mohd Ikhtiaruddin, 25, who attended ZoukOut for the first time, was among those undeterred by the downpour.
"We came for the music, so we just wanted to enjoy that and the rain didn't matter at all," he says.
Ms Jean Li, 25, an analyst in an IT firm, echoed his sentiments, saying: "Everybody got wet together and it was like the whole of Singapore partying together."
This year's line-up boasted a who's who of ZoukOut veterans, including Tiesto, Van Buuren and Paul Oakenfold, as well as many name-brand DJs making their debut at the event. They included the up-and-coming French DJ Snake on the first night and Swedish electronic music duo Axwell and Ingrosso, as well as Dutch producer Oliver Heldens on the second night.
This year's ZoukOut also featured a special stage on the second night - the Kaleidoscope Arena - featuring a hand-picked selection of local talent. It was curated in collaboration with radio station Lush 99.5FM and performers included all-female DJ collective ATTAGIRL! and rapper Shigga Shay, who performed to considerably smaller crowds at the stage located in between the main Moon and Star stages.
The 23-year-old rapper, whose real name is Pek Jin Shen, says it was an honour to play at the festival. He was encouraged by the crowd's reaction and some even knew all the words to his songs.
"Five years ago, this wouldn't have been possible with a local song," he says. "It made spending the hours and hours in the studio worth it."
Lush 99.5's programme director Vanessa Fernandez, 33, says: "It's very encouraging to see one stage just for local performers at one of the biggest regional festivals ever."
Like in previous years, party organiser Zouk pulled out all the stops to provide the complete festival experience for partygoers with LED-studded stilt walkers, GIF booths and multiple fireworks displays throughout the night.
Keeping with the tradition of having local DJs perform the closing sets, it was last year's closing acts, DJs Hong and Formative, who wrapped up the festivities at 8am yesterday.

This article was first published on Dec 14, 2015.
Get a copy of The Straits Times or go to straitstimes.com for more stories.