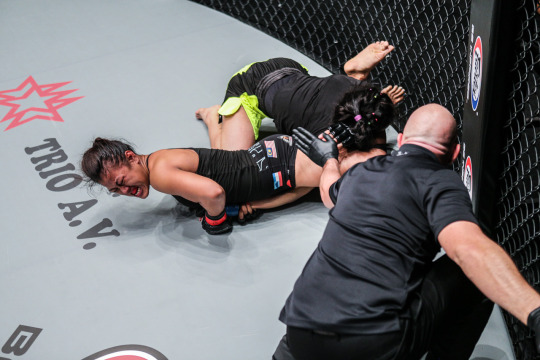 ONE Championship is back at the Stadium Negara in Kuala Lumpur this 10 February for ONE: THRONE OF TIGERS, which promises to be an excellent kick-off to what should be an exciting year for MMA in Malaysia.
Over the years, the promotion has put on several live shows in the country's capital, and has given birth to stars like Peter Davis and Ann Osman. This year, it's all about Malaysian-Kiwi sensation Ev "E.T." Ting and his quest for greatness as a rising lightweight star.
But Ting isn't the only fighter bearing the torch for Asian MMA. Keep on the lookout for a handful of young stars set to take to Asian MMA's biggest platform. Here is a look at what's at stake for the fighters of ONE: THRONE OF TIGERS.
Tiffany "Soul Crusher" Teo
Singaporean homegrown talent Tiffany Teo made her ONE Championship debut last November in spectacular fashion, submitting Egypt's Walaa Abbas after thoroughly dominating her for two rounds.
The 27-year-old was born in Brunei but raised in Singapore, and considers herself 100 per cent Singaporean. As such, she is in a great position to stand beside fellow Singaporean star Angela "Unstoppable" Lee, leading the charge for female mixed martial artists in Asia.
She came up with her nickname "Soul Crusher" because she wanted to trade her 'girl next door' persona for a meaner profile. After four bouts as a professional, Teo has remained undefeated, finishing all four of her opponents.
The upside is incredible for the young woman, and she'll take on Indonesia's Priscilla Hertati Lumban Gaol in her next excursion. With her solid debut inside the ONE Championship cage, all eyes will be set on Teo to see if she can replicate her early success.
Ann "Athena" Osman
Malaysia's warrior belle, Ann "Athena" Osman has carried the flag for her country for the greater part of the last three years, pioneering women's MMA in Asia with a great run in her first four fights with ONE Championship.
She made her professional debut against Singapore's Sherilyn Lim in a closely-contested three-round battle which ended in a split decision in her opponent's favor. But regardless of the loss, Osman showcased exactly what has endeared her to fans in her hometown of Kuala Lumpur — the sheer will to win at any cost.
Osman is a gritty and tough female warrior with a grinding, deliberate style of fighting that tests her opponent's willpower and determination. She will push her foes to the limit, and if they aren't prepared both physically and mentally, Osman will wring them out and leave them to dry.
Despite a recent setback against April Osenio last September, Osman is determined to win all her bouts this year and work her way towards a potential world title, should ONE Championship decide to crown an inaugural strawweight champion.
Roy "The Dominator" Doliguez
Filipino MMA hopeful Roy "The Dominator" Doliguez is a talented strawweight, but you wouldn't be able to discern that from his first two appearances inside the ONE Championship cage.
Doliguez has had two extremely tough bouts to kick off his promotional stint, the first against eventual ONE Strawweight World Champion Dejdamrong Sor Amnuaysirichoke, and the next one against enigmatic striking ace Riku Shibuya.
Though he experienced setbacks in both bouts, Doliguez showcased just how tough he was in each of them, going the distance with two fearsome finishers. At ONE: THRONE OF TIGERS, Doliguez gets his third opportunity to realize his Asian MMA dreams against Brazilian jiu-jitsu black belt champion Alex Silva.
Being a former professional boxer, Doliguez undoubtedly owns the tactical advantage on the feet. What he has shown against both Dejdamrong and Shibuya however, is his ability to wrestle and make fights extremely difficult on the ground. If Doliguez can get past Silva's grappling prowess, it will earn him his first victory inside the ONE Championship cage.
The 34-year-old Silva however, is certainly no walk in the park for any fighter, owning all four of his victories by submission, including his last three over Filipino fighters. Can Doliguez finally score one for Team Philippines against a man who has previously terrorized his compatriots?
Kamal Shalorus
Jim Miller, Khabib Nurmagomedov, Rafael dos Anjos, Eduard Folayang, Ariel Sexton, and Shinya Aoki — no, this is not a list of top lightweights in MMA. This is a list of the last six guys Kamal Shalorus shared the cage with.
Shalorus is one of the world's best lightweights, win or lose, which is why so many top guys want to test their skills against him. He's well-rounded both in the striking and grappling aspect, and will provide the ultimate test for rising star Ev Ting.
Yet while Ting is fighting in front of his hometown crowd, looking to make a statement in possibly securing a title shot at lightweight, Shalorus has other things on his mind. For Shalorus, the fight represents a comeback.
While others would immediately associate long layoffs with cage rust, Shalorus likes to keep things optimistic by thinking it's the opportunity for a new beginning. After three years of rest and rejuvenation, Shalorus will return to the cage to take on one of ONE Championship's top lightweight contenders.
Suffice to say, a victory would go a long to earning him another shot at championship immortality. What's more the title has changed hands, ending up in the grasp of Eduard Folayang — a man he's previously beaten.
Ev "E.T." Ting
Ev Ting is 12-3 and one of the top talents in ONE Championship's budding lightweight division. He has competed against some of the biggest names in the promotion, and is a winner of six of his last seven fights, losing only to ONE Featherweight World Champion Marat Gafurov.
Yet in his last bout, Ting stepped onto foreign territory. After spending the majority of his rise through the ranks at featherweight, the Malaysian star moved up a class into lightweight in search of more opportunities.
Last September, Ting went back and forth with Rob Lisita in one of the most exciting bouts of 2016. It was a grueling three-round affair with both fighters being pushed to the limit.
Ting shined with his pinpoint striking and tremendous cardio. Moreover, he overcame Lisita's power and constant aggression, which is not to be taken lightly. Lisita is one of the toughest guys on the block and Ting absolutely took him apart.
Now, Ting finds himself one step closer to a title shot in his new division. But a man named Kamal Shalorus stands in his way. If Ting can defeat Shalorus, it will say a lot about where he's at in his career. Whether or not he's ready to take the next step, only the cage can determine.