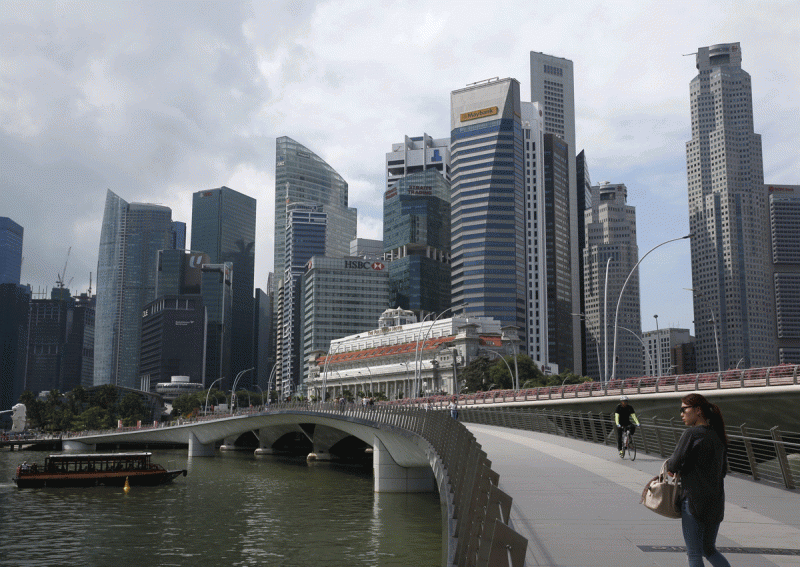 IN PARIS last month, countries adopted a global agreement that commits both developed and developing countries to contribute towards collective global action till 2030 on reducing emissions of greenhouse gases, and helping poor countries manage climate change impact. But the successful conclusion of the negotiations marks only the beginning of a journey in which each country will share the responsibility to save our planet from catastrophe.
Singapore played a key role in Paris, with its ministers and officials acting as facilitators to help countries reach agreement on thorny issues. Now, Singapore will also play its part as part of the global effort and thus will need to respond to the Paris Agreement's provisions over the next 15 years.
In 2009, as part of its Copenhagen pledge, Singapore committed that, by 2020, it would implement measures that will reduce its annual greenhouse gas emissions by 7-11 per cent below the business-as-usual (BAU) scenario. The BAU scenario emissions were projected to reach 77.2 million tonnes by 2020; thus the 7-11 per cent reduction target would require annual emissions to be brought down to 68.7-71.8 tonnes instead.
The pledge also contained a further commitment that Singapore will achieve a reduction of 16 per cent below BAU levels, if a legally binding global agreement is reached. Singapore has reiterated this commitment numerous times, such as in its Intended Nationally Determined Contribution (INDC), which is the 2030 target that Singapore submitted before the Paris negotiations.
Now that the Paris conference has resulted in a legally binding agreement, Singapore will have to further bring down its annual emissions to some 65 million tonnes by 2020. While the Singapore Sustainable Blueprint clearly shows the planned reductions to be achieved by sectors such as power generation, industry, transport, etc, to meet the 7-11 per cent target, Singapore must now relook how each of these sectors can dig deeper and contribute towards the stricter target with only four years to go.
REVIEW MECHANISM
The Paris Agreement has also established a review mechanism with a five-year cycle, wherein countries are required to submit a revised, more ambitious target every five years after 2020. The rationale is that as time progresses, new technological and economic advancements will allow countries to reduce more emissions cost-effectively and provide greater financial or technology transfer to countries that require such assistance.
In its current pledge submitted before the Paris Agreement, Singapore communicated that it intends to reduce its emissions intensity - that is, emissions per S$GDP - by 36 per cent as compared to 2005 levels by 2030. Thus, by 2025, Singapore should be prepared to submit an even more ambitious target for 2030 and thereafter. This may prove challenging.
As a small island state with limited land and limited access to renewable energy, and having already converted most of the power generation to the cleanest fossil fuel possible, Singapore does not have any other alternatives to achieve the required reductions. At the same time, petrochemical companies can be expected to continue adding refining capacity to their operations here. Thus, it is no surprise that achieving the 36 per cent emissions intensity reduction is by itself a "stretch goal".
Towards this effort, Singapore has been actively promoting solar photovoltaic (PV) systems. However, there are concerns that irregular output of PV due to cloud formations can cause damage to electrical equipment if PV is deployed on a large scale. Thus, for the time being, the Energy Market Authority (EMA) has placed a cap of 600 megawatts of PV installation for Singapore. However, as and when there are improvements in technologies - such as accurate solar forecasting, demand management and battery storage - Singapore should be able to accommodate higher amounts of PV capacity.
Energy efficiency will also have to play a significant role in this effort. The Energy Conservation Act, currently in its formative years, mandates corporations to meet certain criteria in appointing energy managers, monitoring and reporting energy consumption, and developing energy efficiency improvement plans.
IMPROVING ENERGY EFFICIENCY
This is a logical first step, as it allows the government to collect necessary data and develop a baseline, while giving companies the time to develop their long-term energy management strategies. In time, the Act should ideally graduate towards mandating companies to achieve certain levels of energy efficiency improvement by adopting the best possible technology and efficient practices.
Other initiatives - such as promoting the adoption of electric vehicles, the use of more energy-efficient appliances, and mandating stricter green building codes - could provide areas for achieving the required additional reductions.
The Paris Agreement recognises that, for some countries, achieving emissions reduction internally may not be feasible due to technology or economic factors. Thus, they may have to apply innovative techniques to achieve their objectives. To overcome this limitation, the Agreement has approved a mechanism whereby countries can bilaterally co-operate among themselves to achieve emissions reduction in a host country, and allow the achieved reduction to be counted towards the target of the other country.
To ensure that such a mechanism does not result in any form of double counting of efforts, transfer of credits will be possible only between two countries, both of which will have emissions reduction pledges under the Agreement. The credits will be allowed to be counted only towards the efforts of either the host country or the country that purchases the credits.
Japan has already started practising a similar mechanism called the Joint Crediting Mechanism, under which it intends to facilitate transfer of low-carbon technology to 15 countries and count the credits generated towards achieving its climate change objectives. While Singapore has clearly stated its intent to achieve the objectives outlined in its INDC through domestic action, its 2030 pledge does state that it will continue to study the potential of international market mechanisms. It would be useful for Singapore to keep a close eye on further developments in this space.
Gautam Jindal and Melissa Low are research associates at the Energy Studies Institute (ESI) of the National University of Singapore. Ho Juay Choy is an adjunct research associate professor at ESI

This article was first published on January 27, 2016.
Get The Business Times for more stories.