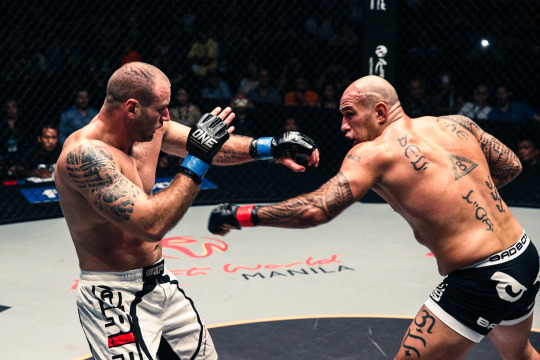 Nearly five years since ONE Championship held its first-ever live event in Manila, the promotion is set to return to the bustling Philippine metropolis to deliver to fans another evening of world-class mixed martial arts action.
This Friday, 2 December, ONE Championship returns to the Mall of Asia Arena for ONE: AGE OF DOMINATION, which will pit a series of promising local Filipino MMA stars against worthy challengers.
For ONE Championship's final show for the year, there are a few tremendous matchups that fans can definitely look forward to. As such, there is a lot at stake for the athletes competing on fight night. Let's take a closer look.
Brandon Vera
The reigning ONE Heavyweight World Champion is a surefire hit in Manila. Vera made a big change in his life by moving to Manila from San Diego earlier this year. He now calls Manila home, and has made strides to really connect with the locals.
Although Vera grew up in Norfolk, Virginia, he did so under a Filipino-American upbringing. Vera maintains that the values he holds dear to his heart are all genuinely Filipino traits and values taught to him at an early age. He is happy to be amongst his people, as he carries the title belt with pride and honor everywhere he goes.
After two blockbuster headlining bouts in Manila so far, Vera has built a solid fan-following. The electricity he creates whenever he walks out of the locker rooms is amazing, and very hard to duplicate.
This time, Vera returns to the ONE Championship cage to make the first defense of his ONE Heavyweight World Championship belt, which he won by defeating Paul "Typhoon" Cheng a year ago.
He will be taking on Japanese star Hideki Sekine, who outweighs even Vera by the time they step into the cage. The strength of Sekine should be a suitable challenge for the veteran Vera, who has looked in the best shape of his career as of late.
Vera loves representing the Philippines as champion, but Sekine poses a legitimate threat to his title reign. If Vera can defeat Sekine, his dominance in ONE's heavyweight ranks will continue. But even just one loss can turn things around significantly.
Bibiano Fernandes
ONE Championship's bantamweight title holder is also the promotion's longest-reigning champion. Fernandes is an amazing talent, and his top world ranking is most definitely well-earned. However, Fernandes built his Filipino fan-following not by having Filipino blood coursing through his veins, but by showcasing exceptional skills inside the cage.
Not only has Fernandes been a dominant champion since joining ONE, he has also remained unbeaten in Manila after having competed in the city a total of three successful times.
This time, Fernandes will take on Manila's adopted son, Reece "Lightning" McLaren, to defend his prized world championship belt. Although McLaren is Australian, he revealed recently that he is half-Filipino, with his father being a full-blooded Pinoy.
McLaren called on Filipino fight fans to support his rise through the ranks, promising great skill and unshakeable warrior spirit. In every instance, McLaren has delivered.
Both Fernandes and McLaren are Brazilian jiu-jitsu black belts, which makes an interesting fight dynamic. Although McLaren is highly-technical when it comes to grappling, Fernandes is absolutely ruthless on the ground. His striking has also improved greatly over the past couple of years.
This is a dangerous fight for Fernandes, because he has a lot to lose. If McLaren can somehow pull off the upset, the Filipino-Aussie contender stands to gain an incredible amount of followers who have grown accustomed to watching Fernandes' blowout performances. 
Geje Eustaquio
"Gravity" is probably the most unstoppable force on the planet, in the Team Lakay sense and in the scientific sense. No matter the ups and downs in his career, Eustaquio has always consistently been at the top of his division.
He nearly defeated then-flyweight champion Adriano Moraes a couple of years back. Since the loss, however, Eustaquio has continued to dominate opposition in the following bouts. Now competing as a bantamweight following ONE's ban on weight cutting by dehydration, Eustaquio says the added weight has been a challenge, as he feels his strength and power has somewhat diminished.
He will be taking on Finnish star Toni "Dynamite" Tauru, who is hungry for a victory. Tauru has been so far unsuccessful in the ONE Championship cage, dropping losses to Bibiano Fernandes and Muin Gafurov since making his promotional debut.
Now taking on Eustaquio, Tauru battles yet another elite fighter in search of a win. It is an uphill climb for Tauru, but give him credit for not backing down from a challenge.
Eustaquio says he will move back down to flyweight after this fight. Depending on his performance, however, things could be looking very good for Team Lakay's calm striking master.
If Eustaquio can defeat Tauru convincingly, he could land another shot at ONE Championship gold. The current ONE Flyweight World Champion is the wrestler, Kairat Akhmetov, while the bantamweight titleholder is Fernandes. Both bouts for Eustaquio would make for compelling drama.
Mark Striegl
"Mugen" has been a Manila-based fighter for years now, dating back to when he used to compete in other promotions. Before joining Singapore's prestigious Evolve MMA Fight Team, Striegl trained alongside many talented Filipino MMA fighters in the high-altitudes of Baguio City.
Striegl co-owns a gym up in the mountains, Fight Corps MMA, and when he is not training with the world champions at Evolve, he is enjoying the fresh mountain air in the countryside.
Things have not been too rosy for Striegl, however. Since making his ONE Championship debut, Striegl has gone 1-1 inside the promotion's circular cage. His most recent fight is a heart-breaking setback against Filipino-Aussie McLaren.
Striegl had the bout won, but just did not have enough in the tank towards the end to finish. McLaren took advantage of that, and submitted Striegl with less than two minutes to go in the bout.
It was a come-from-behind victory that McLaren will celebrate, but one Striegl would like to forget.
Bulgarian fighter Sotir Kichukov is the man standing in Striegl's way. Kichukov has eight solid submission victories on his resume, and will do well to test Striegl's grappling ability.
Striegl is in need of a win, so he will most likely do all that he can to get back on the right track. Lose, and Striegl could face big consequences.