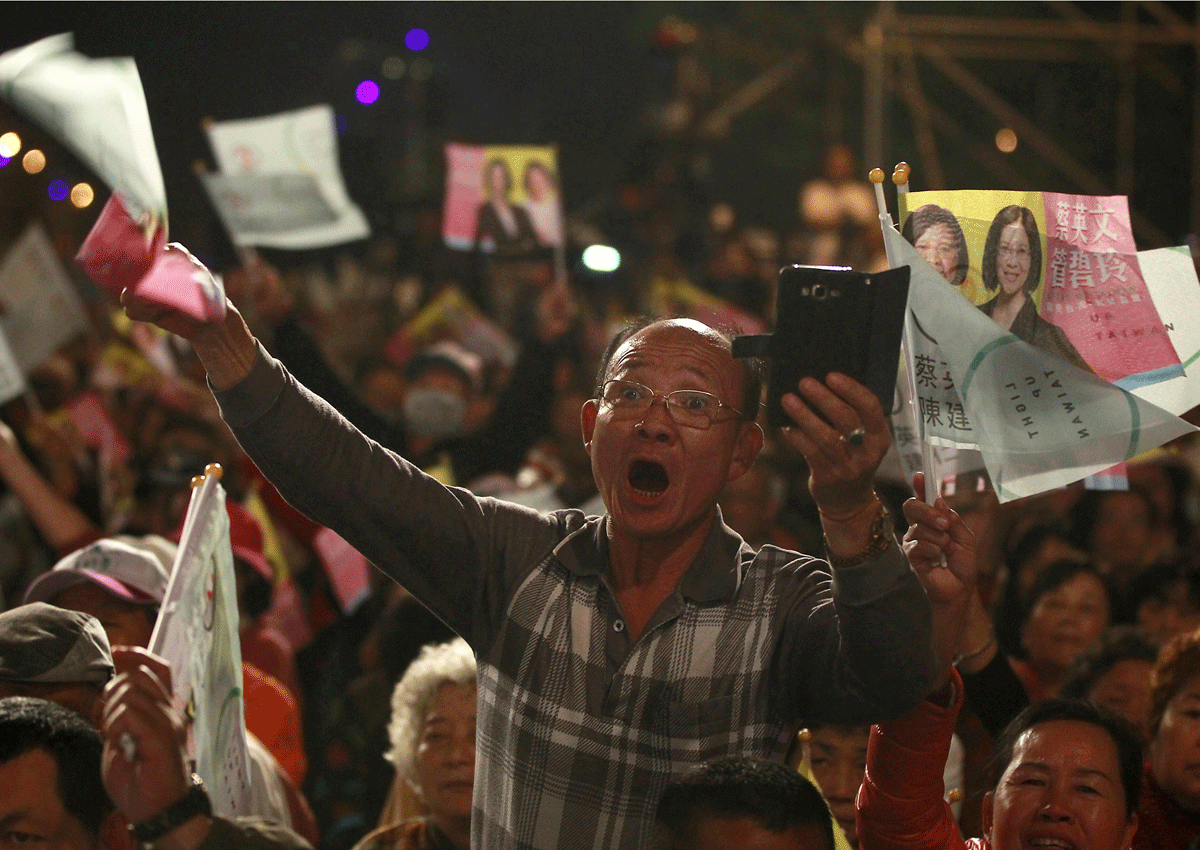 Taiwan's presidential and Legislative Yuan elections will be held this Saturday.
Most opinion polls indicate a double-digit lead for Ms Tsai Ing-wen of the Democratic Progressive Party (DPP) over her rivals Eric Chu of the Kuomintang (KMT) and James Soong of the People First Party (PFP).
A poll conducted by the Taiwan Cross Strait Policy Association, for example, found that Ms Tsai had the support of 45.2 per cent of those polled as compared with Mr Chu's 16.3 per cent. The Kuomintang's own survey found Ms Tsai in the lead with 39.2 per cent, ahead of Mr Chu's 31.2 per cent.
One recent prediction is that Ms Tsai will get nine million votes and Mr Chu six million, a difference of three million votes out of a total of 15 million eligible voters.
If the polls are accurate and Ms Tsai wins the election and becomes Taiwan's next president, Beijing will face an unfriendly Taiwanese leader in the next four years or more. How would Beijing handle and manage such a situation?
Unlike Mr Chu, Ms Tsai has not declared any firm commitment to the 1992 Consensus on the one-China principle.
She has however pledged to maintain the status quo between Taiwan and the mainland. When challenged by Mr Chu to reveal her real stand on the 1992 Consensus and the meaning of the status quo, Ms Tsai deliberately kept her response vague in a bid perhaps to garner the votes of swing voters who sit on the fence on this issue.
Still, her failure to reaffirm the 1992 Consensus may well be interpreted by the Beijing government as tantamount to the denial of the one-China principle.
Based on the advocacy of independence by her party, the DPP, and the past separatist policies of former president Chen Shui-bian of the DPP, Beijing has in all likelihood pinned Ms Tsai as a separatist leader whose real intent is to seek independence for Taiwan.
Dr Richard Bush, former chairman of the American Institute in Taiwan, believes that should Ms Tsai become president, Beijing might impose short-term costs on Taiwan, including the freezing of formal negotiations on cross-strait relations.
Other punishments might include reducing mainland tourism to Taiwan, stopping preferential treatment for Taiwan's agricultural products, restricting Taiwan's international space and accelerating military build-up against Taiwan but without an actual military attack.
That is one of three possible scenarios he outlined in his article entitled Taiwan's January 2016 Elections and Their Implications for Relations with China and the United States, and the scenario he believes to be the most likely. I agree with his reading.
As for the US, how might it respond to Ms Tsai winning the presidency? In Dr Bush's view, the US will adopt a policy of dual deterrence if Beijing were to cease cross-strait negotiations and punish Taiwan.
The declared US approach, as outlined by Deputy Assistant Secretary of State Susan Thornton in May 2015, is to encourage Beijing and Taipei to continue dialogue to reduce tension, to urge both sides to be flexible and exercise restraint to preserve productive cross-strait relations, and to remind both sides not to make any unilateral attempts to change the status quo.
The dual deterrence policy involves "judging which side is more responsible for damaging the positive state of cross-strait relations", and assuring Taipei that Washington will not abandon it even as the US tries to improve ties with China. At the same time, the US will reiterate its assurance to China that it does not support Taiwan independence.
Despite US assurances and reminders, both Beijing and Taipei are likely to act on their own interpretations to safeguard their interests, thus creating more tension in the Taiwan Strait under a DPP administration.
Under the circumstances, how should Singapore react to the new situation?
Both China and Taiwan are Singapore's good friends. Singapore has been increasingly involved in China's economic development since the 1980s.
Singapore ranks at the top as a source of foreign investment in China. As the world's second- largest economy, China offers Singapore many opportunities for co-operation and further growth.
On the other hand, Singapore's relationship with Taiwan is long lasting and dates back to the friendship between the late Taiwan president Chiang Ching-kuo and the late prime minister Lee Kuan Yew.
Singapore has enjoyed the trust and confidence of both China and Taiwan despite the traditional enmity between them.
Singapore facilitated the Wang-Khoo talks in 1993 and the Xi-Ma meeting, which took place in the city-state last November.
Singapore offered the China and Taiwan leaders a suitable meeting venue without taking sides or being involved in their meetings. Singapore certainly hopes that its cordial bilateral relationships with China and Taiwan can be maintained continuously, irrespective of political leadership changes in both places.
Singapore had experience in dealing with former president Chen Shui-bian, who was in power from 2000 to 2008. It was the first time that the DPP, a largely grassroots party, captured national political power in Taiwan.
Chen, his colleagues and supporters, like street fighters, lacked political finesse in governance. As a result, he caused chaos and turmoil in domestic politics, which hindered economic growth and development.
His advocacy for independence had made him an unforgivable enemy of China, and Taiwan's international space was further reduced by diplomatic isolation.
Despite these difficulties, Singapore managed to maintain its relationship with Taiwan, even though the visit by then Deputy Prime Minister Lee Hsien Loong to Taiwan in July 2004 had caused a temporary flare-up by China.
However Ms Tsai is quite different from Chen.
She is an experienced bureaucrat and politician who was Taiwan's negotiator for joining the World Trade Organisation, chair of the Mainland Affairs Council and Deputy Premier in the Chen administration.
She has been cautious and moderate in expressing her views so far, possibly for the purpose of garnering votes. She has also probably learnt from the experience of the Chen administration that outright advocacy for independence is in the end futile.
She has reiterated her wish to maintain the status quo, including Taiwan's de facto independence, rather than seek legal independence. She is no doubt more sophisticated than Chen and may prove to be a more difficult negotiator in dealings with Beijing.
There could be waves and occasional tensions during the administration of Ms Tsai, if she wins the election, but these will not be a long-term feature as the KMT may return to power four or eight years later.
Whatever the presidential election results, Singapore should strive to maintain a cordial and proper relationship with the new political leadership of Taiwan and make itself useful to the players of this East Asian drama, which include not just China and Taiwan but also Japan and the US.
stopinion@sph.com.sg
The writer is an adjunct professor at the Lee Kuan Yew School of Public Policy, National University of Singapore. He was Singapore's trade representative in Taipei from 2002 to 2007.

This article was first published on January 11, 2016.
Get a copy of The Straits Times or go to straitstimes.com for more stories.