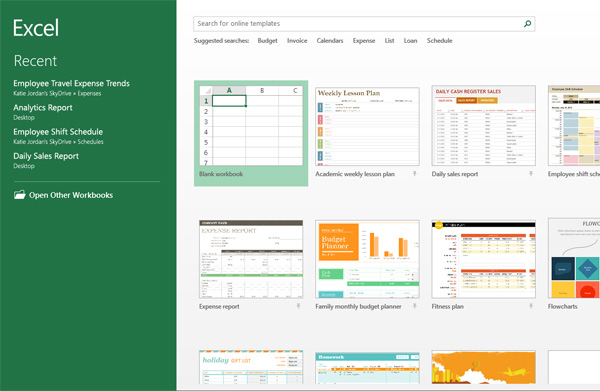 The latest version of the world's leading spreadsheet now comes packed with more features to let you analyse your numbers more easily and quickly, then present the result in charts, graphs and other snazzy formats with minimal effort.
Many templates have been formatted to be ready to use. These include quarterly reports, inventory lists, employee attendance tracker, balance sheets and financial portfolio.
But it is not all work and no play. You can use Excel templates to create movie listings, diet and exercise trackers and even calendars.
There are new tools in Excel 2013 to help you make sense of data faster. Quick Analysis lets you select your data and generate charts and tables in one or two steps.
You can preview your presentation options, choosing from pie charts, bar charts, sparklines and many more.
Conditional formatting analyses your data automatically and offers colour coding options so you can instantly discover the key information you need, from highs and lows to the latest trends.
Another new feature is Flash Fill which automatically offers to complete your entire column as you start typing, using analysis tools to figure out the data being keyed in.
Other cool stuff: each workbook has its own window. So you can easily work on two workbooks at the same time. If you have a second monitor to extend the screen, you can compare them side by side.
Office 365 - the solution for businesses of all sizes and needs.
Need more advice? Contact SGCloud@microsoft.com
This article was published on Feb 5 in Digital Life, The Straits Times.

Get a copy of Digital Life, The Straits Times or go to straitstimes.com for more stories.