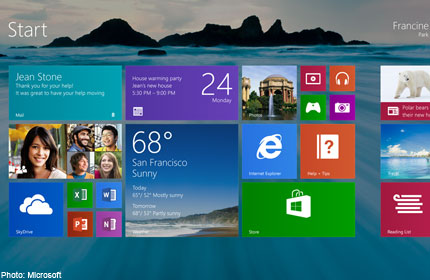 On October 18th, Windows 8.1 (codenamed Windows Blue) will be available as a free Windows update for existing Windows 8 users and will hit the stores for general availability on the same date.
Currently in the preview version, Windows 8.1 has plenty of new as well as improved features.
Windows 8.1 will consist of improved modern UI experience capabilities compared to Windows 8. Users will be able to boot directly to the desktop instead of starting the computer directly to the Windows 8 Modern UI.
The start button is on the desktop, which enables users to switch between the Windows Modern UI and the traditional desktop as well as by right clicking on the start button pop ups with a list of administrative commands such as Run, Task Manager, Control Panel, Disk Manager, Shutdown commands, etc.
Windows 8.1 introduces several more functionalities to the modern UI experience such as the ability to snap multiple apps and to see multiple apps on screen at once.
And depending on screen size and resolution, you can share the screen with three or four apps.
The Windows 8.1 lock screen can be converted to a cloud-powered photo frame which will group together uploaded pictures from your PC, Sky Drive and phone.
Furthermore, the two new tile sizes are notably different compared to Windows 8's; now you can have large, wide, medium and small tile sizes, which will decide on the amount of information that will be displayed on a live tile in Windows 8.1.
Personalising Windows 8.1's start screen is another notable change, where you can select a background (some of which are "motion" backgrounds), background colour and accent colour. You can even use the traditional desktop wallpapers as your start screen background.
Aggregated search functionality has also improved the search results. Powered by Bing, when you execute a search in Windows 8.1, it derives the search results from the web, local files, apps and SkyDrive. Integration of SkyDrive has improved in 8.1, where one can save files directly to SkyDrive and files can be made available offline through SkyDrive itself.
These are some of the new and modified features in Windows 8.1.
The preview version which is currently available can be downloaded from http://windows.microsoft.com.