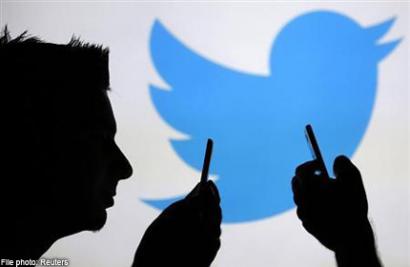 SAN FRANCISCO - As Twitter Inc had its coming-out party on the New York Stock Exchange on Thursday, the micro-blogging service exploded with a flurry of enthusiastic, lyrical and snarky tweets during the stock's frenzied rally.
Seeing the stock start trading without a hitch, Anthony Noto, @anthonynoto, the Goldman Sachs banker who led the initial public offering, wrote a simple tweet: "Phew!"
An hour after the opening bell rang on the New York Stock Exchange, more than 16,000 tweets cited Twitter's ticker symbol"TWTR," according to social media intelligence firm Crimson Hexagon. The company itself listed "$TWTR" and "Twitter IPO"among the most popular trending topics on its site.
From its investor roadshow through Thursday, a steady stream of tweets carried hashtags like #TWTRIPO and #IPO, discussing Twitter's IPO price and the merits of buying the shares. The stock priced at $26 and soared about 73 percent to $44.90 on its first day of trading.
Here are some tweets that captured the buzz around the company's Wall Street debut:
Twitter has touted how celebrities love to use its service and a handful of them tweeted shout-outs to the company:
* Sir Patrick Stewart, @SirPatStew, star of the American sci-fi TV show "Star Trek: The Next-Generation," tweeted shortly after he joined Twitter Chief Executive Dick Costolo and co-founders Evan Williams, Biz Stone and Jack Dorsey to ring the opening bell at the NYSE: "Honored to join @ev @jack @biz @dickc & the @Twitter team at their historic IPO this morning. #Ring!"
* Virgin Group founder and British tycoon Richard Branson, #richardbranson, who has invested in Twitter tweeted: "Many congrats @jack & @twitter team - love interacting here & look forward to where it goes next" He also recounted how Twitter's largest investor, Suhail Rizvi, thought of investing in Twitter during a visit to Branson's private island: "While I'm a small #Twitter shareholder, the largest came up with the plan on Necker. Great ideas are dreamed up here!"
* Arnold Schwarzenegger, @Schwarzenegger, star of the "The Terminator" and former governor of California, congratulated the Twitter management team: "You're proof of the CA dream."
* Celebrity chef Mario Batali, @mariobatali, featured in Twitter's 234-page IPO prospectus as an influential user, sent his wishes to Costolo: "Congratulations @dickc this am! Wheeeeeeee twitter home run!!!!"
Some early Twitter investors and Bay Area entrepreneurs expressed their excitement. * Charles River Ventures partner George Zachary, #gerogezachary, said: "The word for today is 'happy.'" * Bay Area-based investor Chris Sacca, @sacca, tweeted to thank Twitter founders and bankers: "Impossible to sum up my gratitude for the Twitter team. @ev, @dickc, @jack, @biz, #goldman et al. Can't imagine life without this thing."
* CEO of file-sharing company Box, Aaron Levie, @levie, tweeted: "Well then. I guess that's how you do an IPO."
Former and current Twitter employees also chimed in. A picture of a stack of cronuts - hybrid croissant and donut pastries - served to the company's employees on Thursday did the rounds on Twitter feeds.
* Jim Prosser, @jimprosser, of Twitter's public relations team, tweeted a humorous animation of the popular Sesame Street character Kermit the Frog shaking in excitement.
* Former Twitter Vice President Elad Gil, @eladgil, said:"So busy with my new startup, forgot today was @twitter ipo. Then I checked my Twitter...."
Some users chose to be poetic or snarky: * HELPSY, @HELPSYheart, said: "What's in a tweet that by any other word would smell as sweet? ode to #TwitterIPO" * Andrew Tan @andrewztan, posted: "Social networks come and go, but bankers' greed is forever... #TwitterIPO" * Greg Pelfrey @TheRealBG5 tweeted: "Bought twitter stock. Hopefully tweeting this ups the stock #TwitterIPO" (Reporting by Malathi Nayak, additional reporting by Jennifer Ablan in New York, Alexeic Oreskovic and Sarah McBride in San Francisco; Editing by Richard Chang)