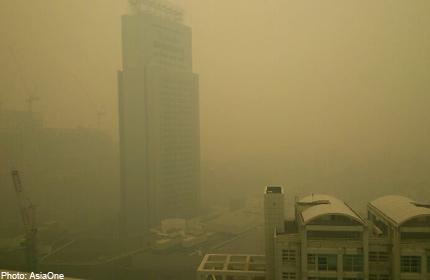 SINGAPORE - Singapore, the clean and green garden city, turned hazy and grey this week when winds blew in the thick smog caused by more than 100 hot spots over Sumatra.
The haze that enveloped the Republic was the worst in history, hitting a record of 371 on the Pollutant Standards Index yesterday, curtailing outdoor activities across the island.
Indonesian officials say the huge tracts of land around the coastal city of Dumai - located on the coast of the Strait of Malacca that faces Singapore - have caught fire due to the early hot season.
Farmers are also using their 'slash and burn' methods to clear plantations - an established practice for many smallholder farmers who regard it was the easiest, low-cost method although with exacting environment and public health costs.
Such a phenomenon is not rare in this part of the world, which has been plagued by transboundary haze pollution for many years, although the seriousness of the haze varies from year to year.
As the haze worsened, Minister for Environment and Water Resources Vivian Balakrishnan had tougher words for Indonesia.
"No country or corporation has the right to pollute the air at the expense of Singaporeans' health and wellbeing," he wrote on Wednesday night.
The Asean bloc has tried to address the haze pollution for more than a decade with limited success. Each year, its ministers meet to discuss the issue and pledge cooperation on tackling it.
There has been some progress such as in Jambi province, where Singapore and Indonesia worked together to implement steps to address forest fires.
But notably, the 2002 Asean Agreement on Transboundary Haze Pollution, which legally binds countries to prevent and control haze, has not been ratified by Indonesia, rendering it toothless because most of the burning originates there.
Indonesia has taken umbrage at suggestions it has not done enough, but over the years, it has been relatively ineffective in enforcing and prosecuting those who start the forest fires. Short of engaging ministers in more talk, Singapore and Malaysia have their hands tied as the burning is not in their territory.
Satellite technology pin-pointing the exact locations are also useful, but without being able to match the coordinates to land owners, culprits remain unexposed.
So, what options do we have?
If the authorities are unable to make progress, then commercial and public pressure could be the key to addressing the problem.
Singapore has now called on Indonesia to publish the concession maps that will show which companies own the burning spots. Indonesia has suggested that it was Malaysian and Singaporean palm oil companies behind the hot spots, and has since said it will check and "then we will coordinate".
This is a long overdue move, and governments, non-governmental organisations and wider society must put pressure for such information to be made transparent.
Minister for the Environment and Water Resources Vivian Balakrishnan hinted as much when he said: "I am sure consumers will know what to do."
In other words, the power to stop this lies with us.
When I say "us", I mean not just Singaporean consumers - as we are only a small country with limited buying power - but the wider international community, because the haze pollution knows no borders.
We might suffer most of it due to our proximity to the burning, but the larger concern is the huge amounts of carbon emissions the burning is adding to the atmosphere, worsening climate change and destroying biodiversity.
As educated consumers, we have the capacity to demand that companies conduct their business responsibly and without detriment to the wider public. This includes ensuring that their entire supply chain is operated in a sustainable manner.
To some extent, this has already been demonstrated in campaigns by environmental groups against major palm oil players.
A recent Greenpeace campaign targeting consumer giants like Unilever and Nestle, for example, has led to these companies dropping Singapore-listed Golden Agri-Resources (GAR) as a supplier.
The storm of public criticism had forced Unilever and Nestle to relook their supply chains and in turn, forced players like GAR to clean up their act. GAR has since engaged external parties such as the Forest Trust to look into their operations, and Unilever has also resumed buying from it.
It is unrealistic to expect these companies to clean up overnight, but at least there is a process of improvement.
Locals reports have since quoted Wilmar International as saying that they have a zero-burning policy, although it "cannot prevent local practices of slash-and-burn for agricultural and other purposes".
This is simply not good enough.
We need to apply more public pressure to ensure these companies are responsible for what happens on their land. Saying it cannot be controlled just shows that you simply aren't trying hard enough.
In the current era of technological innovations and crowd-sourcing, it is also difficult to withhold information from the public.
It is then up to us to demand these firms to do the right thing. After all, we are the shareholders who buy their stock and the consumers who buy their products.
Companies can no longer escape the public eye of scrutiny and think they can get away with anything less than responsible action.
The business practices of all palm oil companies who own forest land should be examined by the wider international community and we should mobilise people power to launch even more campaigns that will force companies to change the way they do things.
Singapore is capable of that - witness the recent protests against the population white paper and the change in website licensing.
Sure, the issue is far more complex and involves challenges such as the size of forest land involved, and the ability to reach and educate smallholder farmers.
These farmers are also trapped by the lack of alternative economic options, and there is an obvious absence of local law enforcement.
But that is precisely why action has to be taken sooner rather than later.
This is the only way to make progress on this problem. Sooner or later, the rain will wash away the smog and the skies will clear again. But even though we may no longer see it, the haze problem still exists.
And it will never go away until we take the necessary steps to address it.

Go to Singapolitics for more stories.