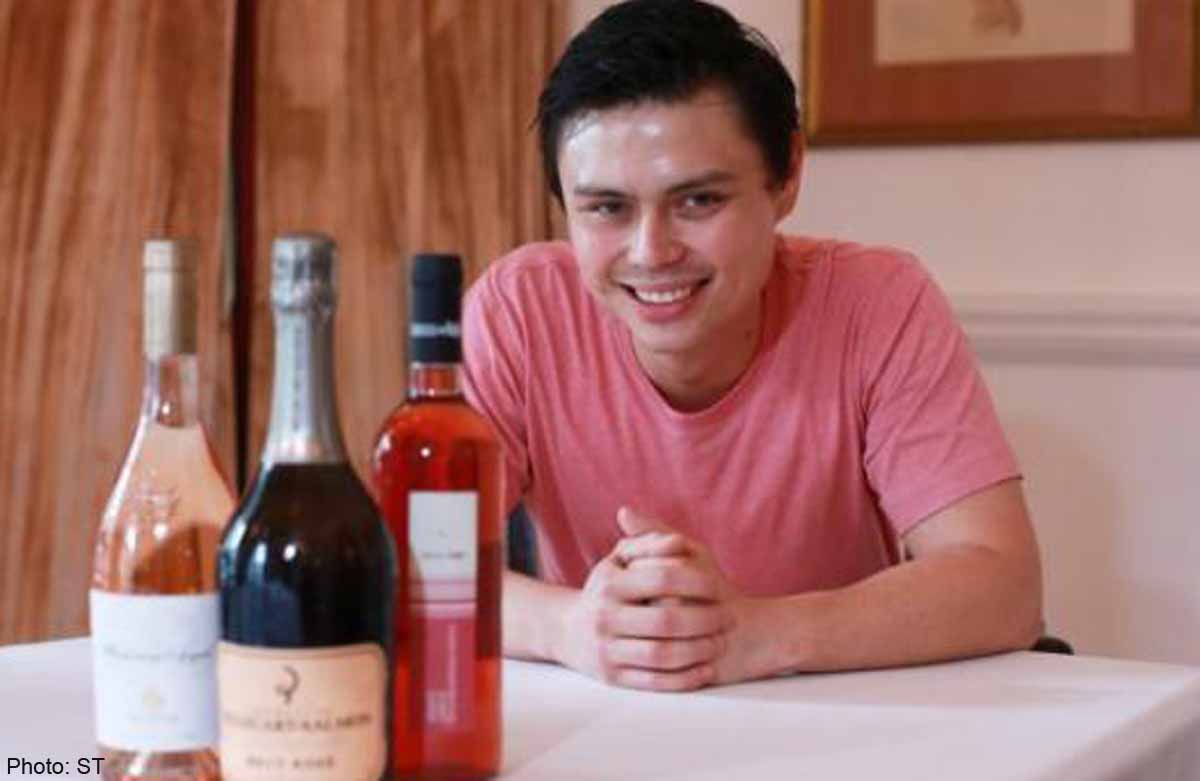 Hong Kong is a concrete jungle without land for vineyards, but that does not stop Eddie McDougall from producing wines there.
The 32-year-old has produced two wines under The Urban Project label, which was launched in February this year.
To make them, he shipped up to 9,500kg of grapes that had been flash frozen at minus 40 deg C from France and the United States. The thawing, fermentation, ageing and blending took place in a 2,500 sq ft industrial building space in Ap Lei Chau.
Mr McDougall, whose father is Australian and mother Chinese, and who was born in Hong Kong, says producing the wines was a patriotic tribute to his birthplace.
"It is like playing sport for your country," he says. "I want to craft a wine in Hong Kong to show that it can be done."
He adds that wine-lovers in Hong Kong need not travel to places such as Bordeaux in France to experience the wine-making process; they can attend seasonal tours of his urban winery.
The Urban Project produces two wines, Sampan and Rickshaw, which are named after iconic modes of transportation of old Hong Kong.
Sampan (2011) is a blend of Cabernet Franc and Merlot grapes from Bordeaux while Rickshaw (2007), which was released last month, is made with Sauvignon Blanc and Chardonnay grapes from Washington state in the United States.
These wines, which are priced at HK$190 (S$33) a bottle, are retailed at five restaurants in Hong Kong, including Chachawan Isaan Thai Restaurant and Blue Butcher Steakhouse. The wines are not sold in Singapore but can be bought online at www.flyingwinemaker.asia.
Mr McDougall believes that producing quality wines can transcend national boundaries. He says: "The world is my vineyard. With the right equipment and logistical processes, one can transfer the quality of grapes from vineyards to wineries around the world."
He compares such wine-making processes to steakhouses which serve imported top-grade wagyu beef.
The winemaker was in Singapore last month for Rose Revolution, a rose wine tasting event held in the Raffles Hotel.
At the boisterous event, about 300 people sampled 24 labels of rose wines, such as Miraval Rose from France and Barone Pizzini from Italy.
On show were diverse styles of rose wines, such as those made from Cabernet Sauvignon, Chardonnay and Pinot Noir grapes by new-world producers such as Chile and Australia, instead of the classic Grenache and Madeira grapes from Provence, France.
The event was organised by his Hong Kong-based company, The Flying Winemaker, which retails wines and organises wine education initiatives.
He says rose wines are gaining popularity in Asia due to their accessible prices and versatile nature.
He says: "Rose wines enhance the flavours of rich foods instead of competing with flavours. Their acidity open the palate and bring out the freshness of richly flavoured foods such as satay with peanut sauce or nasi lemak."
They are also a fun and approachable tipple that can be drunk in different settings, from barbecues to fine dining, and makes for a refreshing drink in the humid weather here.
Mr McDougall uses the same lively approach in his wine-making process.
The Rickshaw is an unorthodox blend of unoaked Chardonnay and oaked Sauvignon Blanc that has been aged for seven years. McDougall says that it is "a crazy wine-making experiment", as he switched the wine-making conditions of the two varietals to achieve notes of melon and cashew.
He adds: "By pushing the boundaries of traditional wine-making techniques, I can leave my thumbprint on a wine that will get people talking."
Mr McDougall's interest in wine was sparked when he was 19 and waiting on tables in a fine-dining restaurant in Brisbane, where he took a sip from a leftover bottle of Pinot Blanc.
He recalls: "The Pinot Blanc tasted sweet, sour, with all sorts of exotic flavours. It was mind-blowing and a light bulb moment that told me to learn how to make this."
At that time, the business major was clueless about career plans after his studies in International Business at Griffith University in Brisbane.
The day after he graduated, he signed up for a post-graduate diploma course at wine technology and viticulture in the University of Melbourne.
He then worked in vineyards in Clare Valley and Yarra Valley in Australia, and in established winery Vietti in Italy. In 2007, he struck out with his namesake wine label, Eddie McDougall Wines, which has since produced nine vintages of Italian wines including Prosecco, Shiraz and Sangiovese, made with grapes from King Valley in Victoria.
He produces about 1,500 cases of wines annually.
In 2008, he relocated to Hong Kong, and was frustrated by the craze for high-end Bordeaux wines with the abolishment of wine taxes.
"People treated wines as investments, and the high prices pushed out the interests of others," he says. That prompted him to start The Flying Winemaker in 2010, which makes wines accessible through dim sum pairing events, and wine classes and tours.
Another way he promotes wine education is through his television series, The Flying Winemaker, which aired across Asia on cable channel TLC last August. In the show, he discovers wine-makers in unlikely Asian countries such as India and Thailand. The second season will be out next year.
Mr McDougall who is married to Frederica, 31, a casino marketing strategist of Chinese and Scottish parentage, and has a five-month-old son, believes that the popularity of wines produced in Asia will continue to grow.
He says: "More people in Asia are patriotic and will want to drink what's produced at home."
He adds that the improved quality of wines is also a factor.
"Winemakers in Asia are adapting to the viticulture in the more hectic tropical climate and are getting more confident about their products."
kengohsz@sph.com.sg

This article was first published on June 7, 2015.
Get a copy of The Straits Times or go to straitstimes.com for more stories.