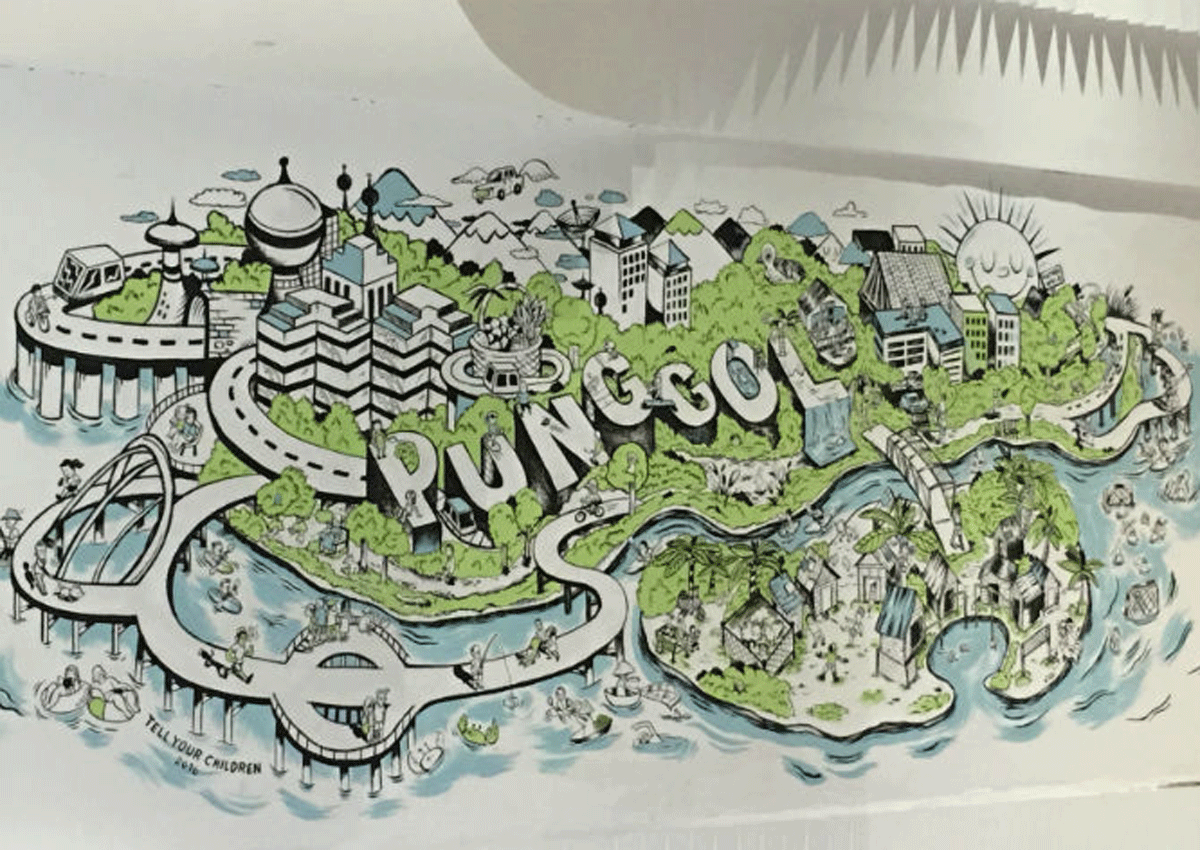 1) UTOPIA

Photo: herworldPLUS
Located: West Wing, Level 2, next to Cookhouse by KouFu and opposite Buddy Hoagies
Direct from Perth, comes an Asian-run, Australian-owned company. They're currently managed by KouFu. It is, by far, every Aussie Asian's favourite hangout in Chinatown, and it's here! In Waterway Point! According to the staff I spoke to, the owner decided to open up in Singapore as its first step to global expansion. Utopia in Perth was fantastic, it sold bubble tea (best in Perth in my opinion), had a popular family-friendly karaoke lounge at the top floor, and had a great vegetarian restaurant on the first floor. While they can't replicate the entire concept in Singapore, they've brought their brand of Asian-style vegetarian food and bubble tea to Punggol. Utopia's bubble tea store is a grab-and-go type while their vegetarian food is sold next door at Grove. Some might shudder at the thought of vegetarian food, but Utopia's brand of vegetarian delicacies are too good to be missed. Full of flavour and extremely filling, you'll never even realise that you hadn't had meat till much later.
2) TENDERFRESH CLASSIC

Photo: herworldPLUS

Photo: herworldPLUS
Located at: East Wing, #B2-04
Tenderfresh is a Singaporean institution that you've probably never heard of. The homegrown brand started in 1979, specialising in supplying fried and BBQ chicken. They soon branched out to the restaurant business and now have several outlets across the island. The eatery serves... fried chicken (duh) and other western delights with a local twist. Wasabi prawn mayo, ayam masak merah drumlets, chendol in a flakey crust are just some of the dishes you can expect. It's the homey taste of hawker western food, but made with modern ingredients and a creative touch.
3) KITCHEN+WARE

Photo: herworldPLUS
Located at: West Wing, #B1-03
With only one more outlet at The Star in the North, Kitchen+Ware has made its first foray into the rest of Singapore with its Waterway Point outlet. The boutique homeware and kitchenware store has a pretty varied range that is quite different from department stores. For example, with Chinese New Year just a couple of weeks away, they brought in a couple of traditional items like the wooden rice bin with lucky red stickers on them. Find brands such as Emile Henry, Scanpan, Zoujirushi, Tiger and other items from novelty Japanese kitchenware brands.
4) BURGER UP

Photo: herworldPLUS
Located at: West Wing, #B2-06
This homegrown halal burger joint was started in 2013 but has since branched out to several outlets around Singapore. They offer an array of burgers - chicken and beef 0 and sides catered to local tastes. Aside from the regular burger and fries, they also offer rice dishes served with their patties. This particular outlet has a hand from technology; the owners employed the use of self-service ordering counters to ease the ordering process. Pop by to see how a local fast food restaurant matches up!
5) DAISO

Photo: herworldPLUS
Located at: West Wing, #B1-09
I'm of the opinion that every mall needs a Daiso. It's as important as a supermarket. It should be made an anchor tenant! This one, is definitely large enough to be considered an anchor tenant. The sweeping interiors hold wonderous secrets into the world of $2 novelty buys, useful household items and glorious snacks resplendant in empty calories.
6) TIMES

Photo: herworldPLUS
Located at: West Wing, #02-19
The largest Times bookstore in Singapore, it holds gleaming rows of books that promise adventure in a dozen lands. It's heartening to see Times opening up a large outlet despite the growing trend of Singaporeans NOT reading. Hopefully this friendly, cheerful, bright utopia of books will encourage more young readers in Singapore.
7) KURIYA JAPANESE MARKET

Photo: herworldPLUS
Located at East Wing, #B1-20
Serving up fresh Japanese food, this is the place to go if you're looking for fresh sashimi, authentic sushi and other Japanese delights. While the range of food isn't that wide yet, I spotted lots of gaps just waiting to be filled with sashimi. You can also drop by to get Japanese groceries and ingredients.
Click here to read more stories from herworldplus.