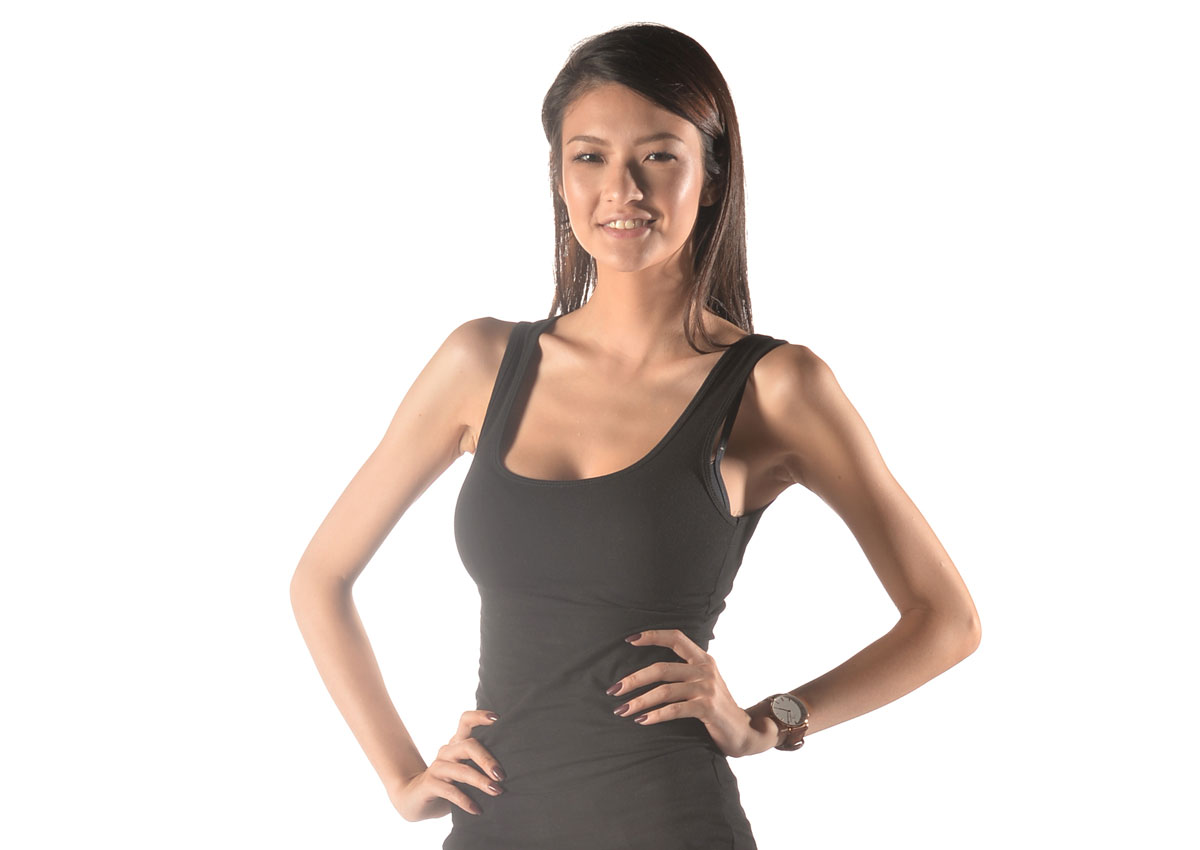 She was the only girl chosen among thousands to represent Singapore in the current fourth season of Asia's Next Top Model (AsNTM), the Asian spin-off of US reality TV show America's Next Top Model.
And she would not have had the chance if it hadn't been for The New Paper New Face contest.
After all, it was at the New Face walk-in audition at Bugis+ that AsNTM directors scouted Miss Angie Watkins for their show.
Miss Watkins, a finalist in New Face last year and winner of subsidiary title Miss Cagliari Cosmopolitan, told The New Paper: "I actually wasn't going to audition for New Face. My boyfriend's mother told me to do it or she'd be angry with me so I went ahead. And look where it's taken me... That day literally kick-started everything."
The 20-year-old model added: "For the girls who aren't sure if they should join New Face (this year), they should just go for it...
"When I got off the stage, even before I knew I had made it (through to the next round), I felt so good about myself. I faced my fears by walking on this huge stage with a huge crowd staring at me. The bottom line is, there's no harm in trying."
Fast forward to 2016 and Miss Watkins - whose father is Australian and mother is Chinese Singaporean - is tackling gruelling weekly photo shoots and challenges posed to the 14 finalists on AsNTM.
Unfortunately, she was eliminated in last night's episode and ended up in fifth place.
The remaining girls are Julian Flores (Philippines), Patricia Gunawan (Indonesia), Sang In Kim (Korea) and Jiratchaya "Tawan" Kedkong (Thailand).
The series airs on Wednesdays at 9pm on Star World (StarHub TV Ch 501/Singtel TV Ch 301).
SHOCK
Said Miss Watkins, who started modelling at 14: "I was actually shocked I got so far. When I first joined, I didn't have much confidence in my ability to beat the other girls who were so beautiful and had many more years of modelling experience. I didn't unpack until the fifth week of the competition.
"My goal from the start was not to win, but to not be kicked out the first week."
She has since garnered a fan base with several Instagram pages dedicated to her. Her Facebook page has 4,500 followers, her Instagram account - which had less than 1,000 followers pre-AsNTM - now boasts over 37,000 followers.
But Miss Watkins still has her share of haters. Instagram trolls have left comments on her posts, calling her the "bitchiest girl in the house" due to her outspoken nature.
In one episode, contestants had to don bikinis and have water splashed on them for a photo shoot for skincare brand Neutrogena.
UPSET
Miss Watkins was initially so upset by the two-piece swimsuit she was given that she refused to participate in the shoot - even if it meant getting eliminated from the competition.
She said: "The top I was given was completely see-through. I felt very uncomfortable because the crew were all men, plus millions of (viewers would be) seeing my assets.
"I knew they could censor it for TV, but I just felt uncomfortable because there's a difference between showing cleavage and your entire breasts.
"But I did it because I trusted (AsNTM's Taiwanese-American creative consultant and judge) Yu Tsai, and (editor-in-chief of Harper's Bazaar Singapore and guest judge of the episode) Kenneth (Goh) told me he would protect my modesty."
It does not help that the slender Miss Watkins - who stands at 1.72m and weighs 45kg - has size 32D breasts, which she claimed have been a hindrance on the job.
She said: "Sometimes things will fit my shoulders and waist nicely, but at the chest area, the buttons will be popping (out) or something, which sucks because sample sizes are fixed.
"It makes it difficult because my chest is just a completely different size from the rest of my body, and it makes clothes look weird on me.
"It's good and bad though. For bridal photo shoots, it's perfect because I can hold the dress up, but (my figure) doesn't really suit high fashion. (The art directors) like the model (to be) flat-chested."
Now that her AsNTM stint is over, Miss Watkins, who is signed to Basic Models Management, hopes to further her modelling career overseas next year.
Her dream job would be walking the runway at a Victoria's Secret Fashion Show.
"I have boobs, so why not?" she said playfully.
HOW TO JOIN
Now in its 24th year, The New Paper New Face has been the first step towards a career for many women.
Actresses Julie Tan, Jayley Woo and Atikah Suhaime are former New Face contestants - as are models Vivien Ong and Diya Prabhakar, fashion designer Velda Tan and social media stars Sophie Willocq and Eunice Annabel Lim.
If you want a shot at the competition, here are three ways you can join:
SOCIAL HUNT
On Instagram, tag @TNPNewFace to your photo (just one photo) and add the hashtag #TNPNewFace16. Ten girls will be picked to advance to Round 2. The closing date is Sunday.
STREET HUNT
On May 22, last year's top 20 contestants will be at Bugis Junction and Bugis+ to spot girls to put through to Round 2.
WALK-IN AUDITION
There will only be one walk-in audition to get through to Round 2.
On May 29, register at Bugis+ Level 2 atrium between 1pm and 2pm.
natmeah@sph.com.sg

This article was first published on May 12, 2016.
Get The New Paper for more stories.