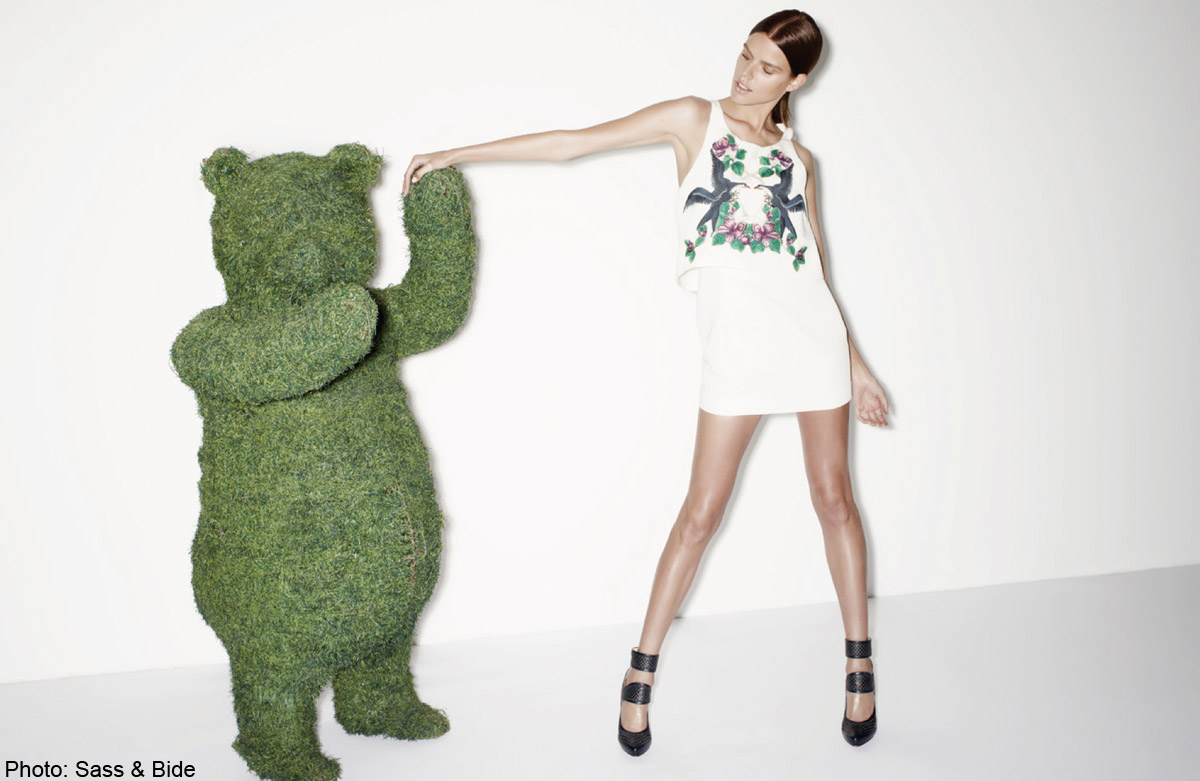 Australian labels flooded the retail scene in the 1990s and early 2000s, but since then, it has been a drought.
One of Australia's most recognisable brands, Country Road, bowed out of Singapore in 2007, after 13 years.
Another popular brand, Sportsgirl, closed its seven stores here in 2000 after six years.
Twenty years ago, Tangs had 22 labels - but none today. Word is, sales did not live up to expectations.
Multi-label store Trixilini, which opened in 2003 as a purveyor of Australian labels, does not carry any Aussie labels currently. In its early years, it was one of the biggest buyers of Australian brands, stocking cult womenswear labels such as Lover and Vixen.
Other Aussie brands previously available here include Bettina Liano, Simona, Nicola Finetti, Alannah Hill and Lisa Ho. Some of these labels have merely exited Singapore while others have wound up altogether.
But retailers say Aussie brands are trickling back and they are counting on Singaporeans who have lived Down Under as well as Australians here to keep them afloat.
You will find Aussie designer labels such as Sass and Bide, Dion Lee, Josh Goot, Alice McCall, Romance Was Born and Karla Spetic at multi-label stores Inhabit at Mandarin Gallery and Lula Rock at Palais Renaissance.
Robinsons Orchard stocks casualwear brand Mink Pink and will soon be bringing in innerwear brand Bonds and denim brand NEUW.
Multi-label boutique Eclecticism will carry high-street brand The Fifth Label in October.
What's more, in the past year, at least three multi-label shops focusing on Australian brands have opened: Et-i-kit, The WYLD Shop and Wattletree.asia.
Both Et-i-kit and The WYLD Shop stock Australian high-street brands, while online boutique Wattletree.asia sells only Australian resortwear brands, such as Zimmerman and Camilla.
Ms June Huang, who owns Et-i-kit at Kandahar Street, says: "When I came back to Singapore in 2010 after studying in Australia, I couldn't find many of the Australian brands that I was used to buying and I realised there were many Singaporeans like me.
"So when the opportunity to start a multi-label store came along, what else would I have wanted more to stock?"
The four Australian labels in her store, Finders Keepers, Keepsake, Cameo and Shona Joy, account for about 60 per cent of her stock.
She says business has been good and next month she will add another two labels - Camilla and Marc and May - to the Aussie line-up.
The WYLD Shop, which sells only Australian labels and stocks womenswear brands Mink Pink, Evil Twin, Staple the Label and Indikah, has also found early success.
It began as an online business last year, but has done well enough to become a brick-and-mortar store at Clifford Centre.
Ms Kara Bensley- Austin, who founded The WYLD Shop, says: "Australian brands aren't that well-known but we hope to change that.
"Singaporeans can be loyal to established brands, so providing them with a physical space where they can try our products is very important to us."
A Robinsons spokesman says the appeal of Australian fashion is its "cool, easy and modern" aesthetic.
"There is a certain free spirit that is very appealing to the Asian customer. Australians truly understand how to achieve a great work-life balance," he adds.
Retailers say this aesthetic translates into clothes made of light fabrics, with playful silhouettes and that are effortlessly sexy.
This season, many Australian high-street labels have come out with mini-dresses with bold prints, cut-out dresses, lace rompers and racerback front dresses.
Ms Maxie Chan, owner of multi-label boutique Lula Rock, says: "What the Australian designers do really well is this sexy, effortless look, which appeals to the local customer, who wants to show some skin, but not too much."
Sydney-born Ms Renee Lodens, who has lived in Singapore for the last four years, says clothes from Australian labels are well-suited to Singapore's climate.
"Summer pieces are breezy and easy to wear. The winter ranges are never too heavy, I can wear them whenever I'm in an air-conditioned room," says Ms Lodens, 39, managing director of Travelshopa, an online shopping guide for Singapore.
Student Goh Sipei, 22, who has clothes from Finders Keepers and Cameo, says she likes Australian brands for their wearable designs.
"If the print is loud, it's balanced by being printed on something simple like a T-shirt dress," she says.
"When everyone is shopping at Topshop and Zara, sometimes you just want to look elsewhere."
With price points that go from about $100 to $1,500 for more upmarket brands, Aussie brands will not burn a hole in the pocket.
For instance, items from Sass and Bide, one of Australia's most established designer brands which is carried by Inhabit, start at $359 for a shirt and go up to $1,119.
However, the high-street brands are higher-priced than their European counterparts, possibly because of the strong Australian dollar.
Dresses from Finders Keepers range from $180 to $300, as opposed to comparable Zara dresses, which range from about $80 to $170.
But while things seem to be picking up for Aussie labels here, retailers do not expect it to take the retail scene by storm.
Ms Chan says: "In Singapore, the big name brands are the ones that people go crazy over. Australian brands are niche but they have a decent following."
staceyc@sph.com.sg
Sass and Bide
Established in 1999 by Sarah-Jane Clarke & Heidi Middleton, Sass and Bide has become one of the most recognised fashion brands to come out of Australia.
Currently stocked in more than 20 countries, it is known for its free-spirited aesthetic, as seen in its embellished cocktail dresses, figure-flattering jeans and chic jackets.
Fans of the brand include Rihanna, Kate Moss, Beyonce and Sarah Jessica Parker.
The duo recently left the brand, which is now owned by upscale Australian department store Myer. Its new design director, Anthony Cuthbertson, was previously the creative director of Australian womenswear label David Lawrence.
Available at Inhabit (02-16 Mandarin Gallery) and www.net-a-porter.com.
Embellished textured-crepe mini dress, from www.net-a-porter.com

Price: $1,047
Embellished cotton T-shirt, from www.net-a-porter.com

Price: $450
Embellished metallic knitted shorts, from www.net-a-porter.com

Price: $483
Dion Lee
The words "structured" and "architectural" best describe the womenswear designs of Sydney-born Dion Lee.
The 27-year-old Lee launched his eponymous label in 2008 and now also runs a diffusion line called Dion Lee II. Turn to the brand for wardrobe classics with a twist.
Available at Inhabit ( 02-16 Mandarin Gallery) and www.net-a-porter.com. Croc stripe layered top, from Inhabit Price $819
Croc stripe layered top from Inhabit

Price $819
Line II asymmetrical mini skirt, from Inhabit

Price: $529
Finders Keppers
The high street brand was founded by husband-and-wife duo Dean & Melanie Flintoft, under their company, Australian Fashion Labels, in 2007.
Its flattering fit and bold prints with a youthful edge have won a following among celebrities such as Miley Cyrus,Carly Rae Jepsen and Kendall Jenner. Fashion bloggers, such as Chiara Ferragni and Aimee Song, have also been spotted in Finders Keepers.
Available at What Women Want (02-28 Mandarin Gallery); Et-i-kit (34 Kandahar Street); and Eclecticism (B1-06 Wheelock Place).
Rose print jumper, from What Women Want

Price: $199
Floral print playsuit, from What Women Want

Price: $279
Alice McCall
London-born Australian fashion designer Alice McCall has English model Kate Moss to thank for her career as a fashion designer.
While working as a stylist in London, McCall dabbled in fashion design, creating and selling one-off silk tops and dresses in London stores, some of which were snapped up by Moss.
McCall went on to design for streetwear brand Buddhist Punk and had a short stint at Sass and Bide before launching her eponymous label in 2004.
Those who love bold floral prints will be drawn to the brand. Available at Lula Rock (02-07 Palais Renaissance).
Cotton embroidered top with matching shorts, from Lula Rock

Price: $328 for top, $338 for shorts
ECotton embroidered panel top, from Lula Rock

Price: $365
StyleStalker
Founded by Sydney duo Sue-Ann San and Rachel Zelic in 2008, the high-street label has an edgy yet feminine vibe.
Think cut-out dresses, racerback dresses, slouchy floral pants and slogan T-shirts.
Available at What Women Want (02-28 Mandarin Gallery) and Eclecticism (B1-06 Wheelock Place).
High neck tank, from What Women Want

Price: $189
Tank with sheer mesh overlay, from What Women Want

Price: $229
Chiffon shorts, from What Women Want

Price: $269
Keepsake
Compared to its sister brands, Finders Keepers and Cameo, Keepsake is more muted aesthetically.
Mini dresses, bustier tops and jumpsuits feature heavily in its collections.
Available at Eclecticism (B1-06 Wheelock Place).
Lace playsuit, from Eclecticism

 

Price: $225
EMini dress, from Eclecticism

Price: $255
Cameo
The four-year-old high-street brand is known for its directional prints and feminine silhouettes. It made its Mercedes-Benz Fashion Week Australia debut in April this year.
Available at Et-i-kit (34 Kandahar Street) and Eclecticism (B1-06 Wheelock Place).
Lace dress,from Eclecticism

Price: $299
Dress shirt with mesh panels, from Eclecticism

Price: $179
EMulti-coloured tank, from Eclecticism

Price: $99

This article was first published on Aug 29, 2014.
Get a copy of Urban, The Straits Times or go to straitstimes.com for more stories.