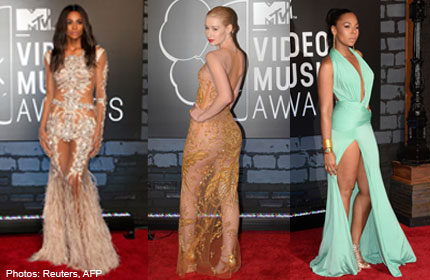 All eyes were on Miley Cyrus at last week's MTV Video Music Awards, but let's not forget the rest of the attention-seeking crowd who tried to grab some of the limelight on the red carpet.
Nobody could top Cyrus' nude latex bra and undies get-up, but it's obvious that these four were determined to out-flash each other with their barely-there ensembles.
From eyeful to eyesore, all this near-nakedness has truly set new standards for next year's skin parade.
1) Even though this sheer long-sleeved Givenchy creation is from 2010 and several other stars have already taken various incarnations of it for a spin, US R&B singer Ciara, 27, still looked stunning.
The embellished illusion netting, built-in gloves and feathered hemline are a dream and she obviously has the body - and enough body confidence - to go commando for it.
We're literally just one strategically-placed crystal away from seeing her lady bits.
2) There's see-through, and then there's I-can-see-your-butt-cheeks.
Australian rapper Iggy Azalea, 23, threw modesty out the window for the latter, eschewing undies as well for an even more peekaboo look than Ciara.
She wrapped her JLo-worthy rear in a translucent nude embroidered sleeveless column gown from Emilio Pucci featuring gold bird and leaf motifs.
Too bad the colour, or lack thereof, washed her out.
3) This is a classic case of "much too much".British singer Rita Ora, 22, never does justice to the couture she puts on and this was no exception.
She is completely overdressed in a fussy Alexandre Vauthier confection that doesn't remotely fit or flatter her.
It features a crystal embroidered long-sleeve bodice with dangerously low neckline, crazy-long feathered skirt-and-train that's slit up to her crotch, and black and blue satin dropped waist accent.
Go ahead and show off your thighs and boobs, just not both at the same time.
4) As if following Ora's cue, 32-year-old US singer Ashanti also couldn't choose between leg and chest and thus earned herself a one-way ticket to Tackyville.
This draped cut-out silk satin aqua halter gown somehow manages to be both overly-formal and overly-revealing.
There's no stuck-out tongue involved here, but if there's one thing the world has learnt from Mileygate, it's this: Put it away, people!

Get The New Paper for more stories.