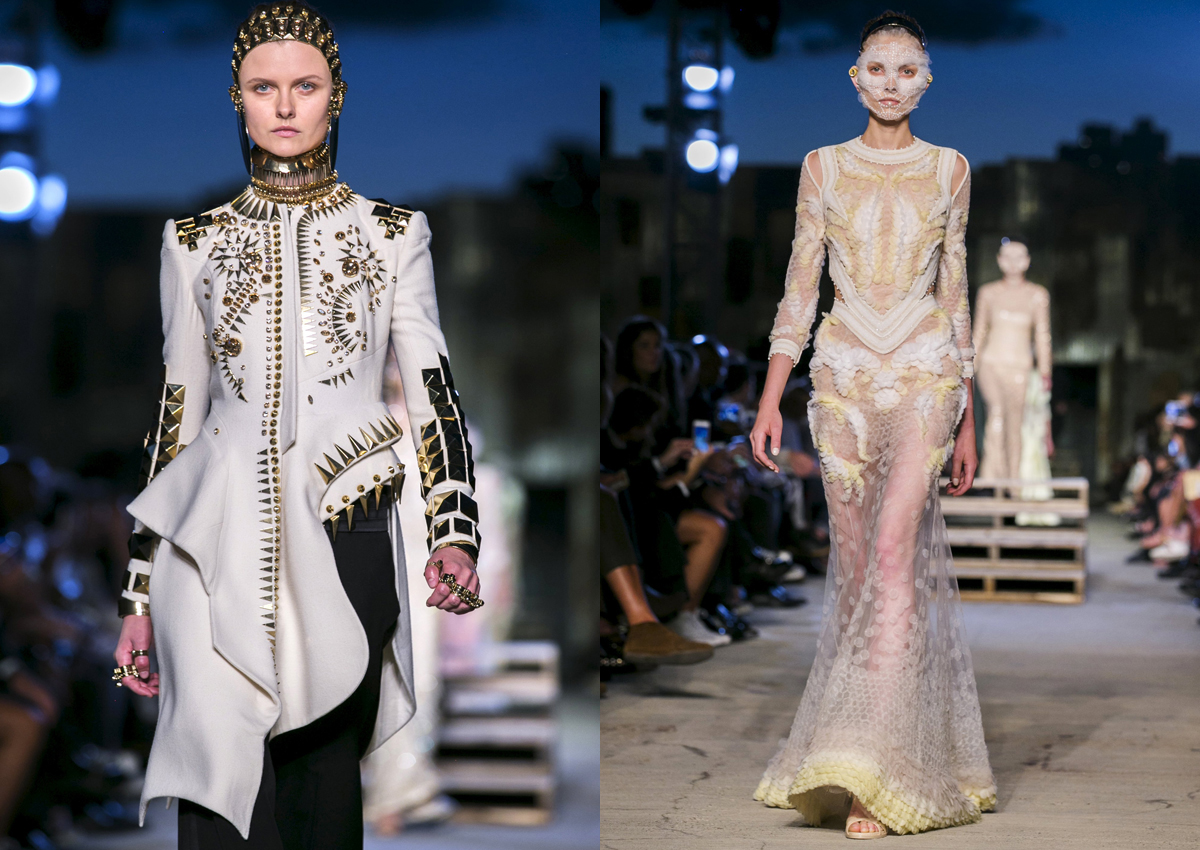 Forget croissants and cafe au lait. French fashion house Givenchy took a bite out of the Big Apple as it debuted its Spring 2016 collection in New York, instead of Paris, for the first time last Friday night.
Brand creative director Riccardo Tisci, in an interview with Life after the show, cited the city as a source of much inspiration.
"There's the big American dream," said the 41-year-old Italian in soft-spoken, accented English.
"New York is a place that gives opportunities to the young, a place that allows people to express themselves and find their identity. It can be classic, diplomatic and transgressive," he added of the city's engaging, multi-faceted appeal.
"For somebody creative, I think it's a place you want to be."
The Givenchy by Riccardo Tisci Spring/Summer 2016 show, which took place at Pier 26 on Manhattan's West Side, also came on the heels of the brand opening a 4,300 sq ft flagship store at 747 Madison Avenue two weeks ago.
Now Givenchy's only standalone store in New York, it is part of the brand's push to refocus on the United States market.
Celebrity supporters and fashion big shots filled the designer's front rows. Attendees included actresses Julia Roberts, the face of the label's Spring 2015 campaign, and Amanda Seyfried, as well as singers Nicki Minaj and Steven Tyler.
Ardent Tisci supporters Kanye West and Kim Kardashian West, among the last to arrive, made an appearance as well. Fellow designers such as Michael Kors, Alexander Wang, Joseph Altuzarra and Proenza Schouler's Jack McCollough and Lazaro Hernandez were also on hand to extend their support.
In an unprecedented move, the Givenchy show was also open to the public for the first time. About 1,200 extra tickets were given to eager spectators.
The brand set aside 280 tickets for students and faculty at the Fashion Institute of Technology, Parsons The New School for Design, Pratt Institute and the High School of Fashion Industries, and the rest were distributed through an online balloting system.
There were also three locations throughout the city where fans could catch a live stream of the runway show on big outdoor screens.
"I was begging, when I was a kid, to see a show. I know how much people dream to be a part of it," explained the designer of being on the other side of the metaphorical fence.
"Of course I'm happy that all these fantastic people come - the buyers and journalists and celebrities and friends - but then I thought, wait a second, the kids out there, the women. They're the people who really made me a success."
He summed up the bold move matter-of-factly: "So I opened the door. If I could, if I had permission, I would invite even more, 10,000 if I could.
"Fashion is related to emotion and emotion should be for everyone. For the public, not only for exclusive people."
At the show, which was viewed by a 4,000-strong crowd, spectators stood on a platform along the pier, while industry guests sat on wooden crates surrounded by corrugated metal walls.
The industrial-chic vibe of the place, which also included raised artist installations directed by Serbian artist and go-to collaborator Marina Abramovic, stood in stark contrast to the romance of the collection.
About 80 looks, including ready-to-wear, menswear and couture, were paraded alongside a haunting multilingual chant and strains of Ave Maria.
Lace was clearly the dominant fabric and silk, feathers and pyjamas-like silhouettes further added to the underlying sensual theme.
The colour palette was mainly black and white and the clean tailoring found in the menswear looks was echoed in several of the women's ensembles as well, making for a mix of masculine and feminine.
"It was a collection full of love, inspired by the bride and the groom and the dress and tuxedo," said Tisci of the much-anticipated collection. "It was a very romantic collection because I'm in a very romantic moment of my life - very blessed that I get to do what I want to do and that it's very well received."
The love theme also helped the brand carefully approach the sensitive nature of the Sept 11 show date, which was assigned by the Council of Fashion Designers of America and the New York Fashion Week show calendar.
This year also marks Tisci's 10th anniversary with Givenchy.
He took on the reins of the storied French house after studying at Central Saint Martins College of Arts and Design in London and stints at Italian brands Antonio Berardi and Coccapani, German sportswear label Puma and Italian fashion incubator Ruffo Research.
In the decade since, he has created a new and modern identity for the brand, adding his darkly romantic touch and adopting streetstyle elements such as the sweatshirt and sneaker for a more contemporary take on the 63-year-old brand founded by Hubert de Givenchy.
Street-style elements and their unique influences inspire him because they relate to his background, he noted. "I came from the street, was picked from the street to become who I am," said the designer. "So I feel at home."
The youngest of nine children and the only boy, Tisci grew up in humble circumstances in southern Italy. His father died when he was a child and he worked from an early age to support his seamstress mother.
Tisci added that his time with Givenchy has been a life-altering experience, both personally and professionally.
"I've changed completely as a person. I used to be shy, I couldn't talk, I couldn't do all this," he said, gesturing to journalists, crowded around, waiting for a chance to speak to the man of the hour.
"My way to communicate when I was young was illustrating and creating.
"I wanted to scream to the world what my vision was and Givenchy gave me the opportunity. And when you're given the opportunity, you really need to work hard and make the brand a success."
With critical and commercial success under his belt, Tisci's goals are now straightforwardly simple and he delivers his words with an almost zen-like air.
"I want to be happier and happier in the sense of a person, which I think all human beings hope for. And I hope people will continue to understand and follow what I'm doing."
stlife@sph.com.sg

This article was first published on September 14, 2015.
Get a copy of The Straits Times or go to straitstimes.com for more stories.