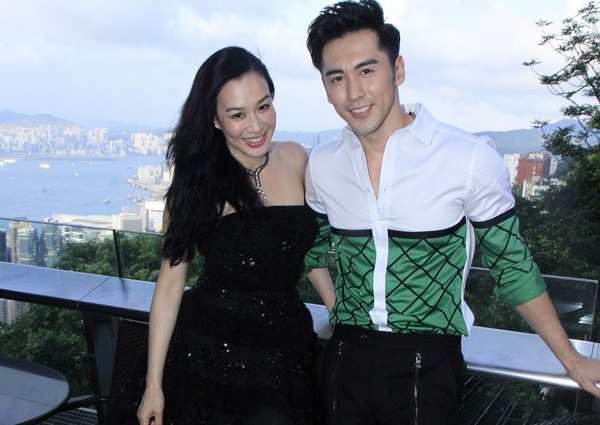 Sultry screen goddess Christy Chung may have dropped off the entertainment radar for some years, but she has a new project up her sleeve - scripting and acting in an upcoming movie, which will also star her new and much-younger lover.
The twice-divorced mother of three has obviously not let her rocky love life scare her away from finding true love, and she has bounced back even stronger, reported My Paper.
According to the report, the 45-year-old is also using the movie as a vehicle to raise the status of her Chinese actor boyfriend, Golden Zhang, who is 12 years her junior.
According to Chung, she came up with the idea of the script - based on Hollywood blockbuster movie Mr and Mrs Smith, while idly chatting with Zhang one day. They are currently looking for sponsorship for the movie in hopes to get it into theatres.
When it comes to her hunky boyfriend, Chung openly admits the pair share an intense chemistry. She also believes the 33-year-old actor is "heaven's gift" to her.
Said Chung: "I don't have to speak and he knows what I'm thinking. It's very strange." She jokes: "Perhaps God has seen me so busy with taking care of my three daughters, and that I'm a pretty decent person, so I was handed this 'gift'."
Chung added that she's glad that her three daughters have taken to Zhang, and they can feel their mum "radiating happiness".
The telegenic couple have been seen out and behaving intimately in public since July, after pairing up in the Chinese reality dating programme, Perhaps Love.
In a video interview for a Hong Kong website On.CC to promote the TV show, she said: "I've been divorced twice and have three kids. I hope to give others the courage to not give up on love. Love has no boundaries - no matter your age, it is always sweet and romantic."
Added Zhang: "I believe love has no restrictions - be it May-December romances, cross-cultural or cross-country romances.
"After watching this programme, I think you'd realise a lot of things in life are quite amazing and are way beyond our imagination.
"Love is just like fate - when it arrives unexpectedly you can't deny it, the best thing to do is just accept and enjoy it."
On what is most attractive quality about Zhang, Chung says coyly: "I think the first thing about him is that he is quite handsome, positive, humorous and he loves to laugh. He makes me laugh every day."
candicec@sph.com.sg