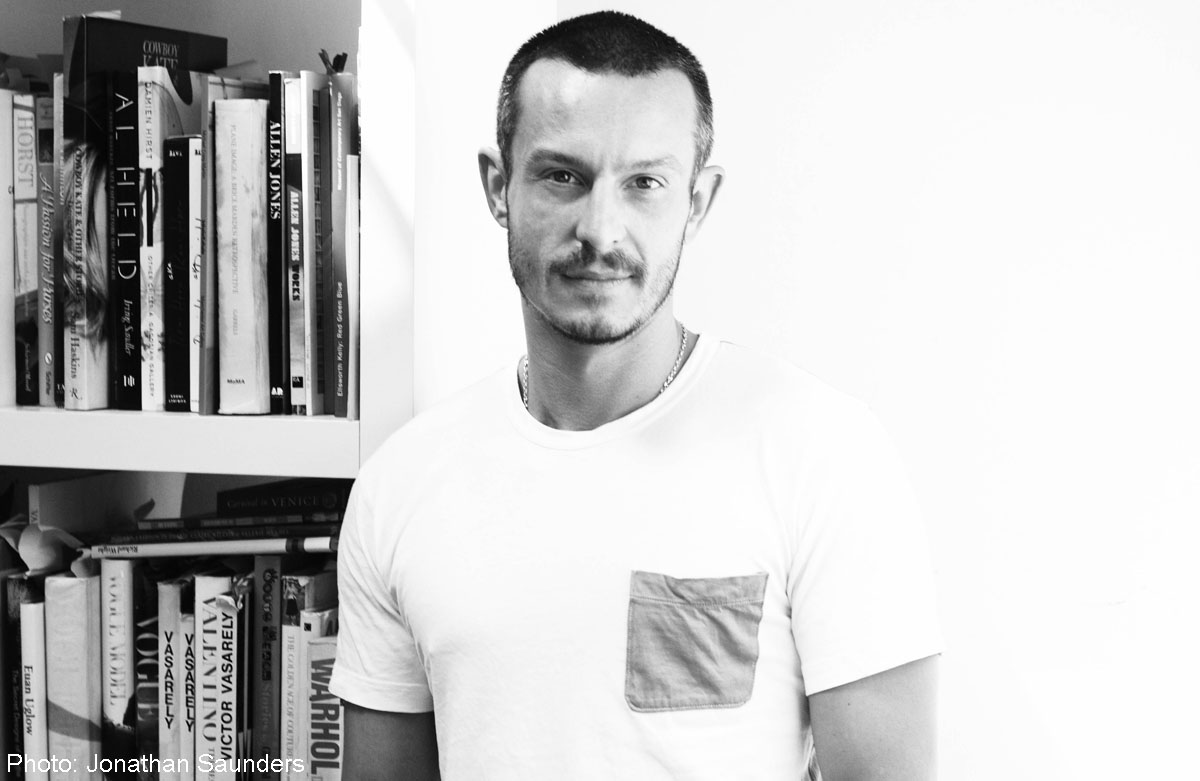 Rakishly thin, affable and media-savvy, Jonathan Saunders certainly fits the profile - not quite a fashion wunderkind used to travelling with his posse of cool pals, but a confident industry player who has been at the job for some time.
In the case of this Scottish-born designer, it's been 10 years in the fickle business of making frocks.
"It's been fantastic," says Saunders, known for his flair for eye-catching prints and electrifying palettes.
"It doesn't ever feel that long because when you're a Brit designer, you do your first collection from the bedroom, so it feels like I've been doing this really just four years ago."
Studying product design and then textile design in Glasgow School of Art, before gaining his masters in printed textiles at London's famed Central Saint Martins College of Art and Design, the 36-year-old might consider himself a relative newbie in the scene.
But with over 100 stockists around the world and a 120 per cent jump in annual sales last year, the strong colourist has evolved his designs into confident, sleek pieces that have won over women like first ladies Michelle Obama and Sandra Cameron, as well as stars like Diane Kruger and Sienna Miller.
And while his peer Christopher Kane, who was a year below him at Saint Martins, may have made headlines early this year when his company was acquired by luxury group Kering, Saunders has had his share of career milestones: He designed prints for Alexander McQueen (a commission he snagged within 48 hours of showing his MA collection), consulted for Chloe and Emilio Pucci, and enjoyed stints at fashion houses Pollini and Escada. Next up: A consultancy position for British design doyen Paul Smith's womenswear collection.
"I really enjoy working with other companies perhaps because I have such a strong brand identity," muses Saunders, who made a 'zip-the-lips' gesture when quizzed about his next venture with the fashion house.
"I am fascinated with understanding the infrastructure of companies and how I could explore brand identity with every project that I do."
Brought up in a strict Jehovah's Witness family, the British Fashion Council/Vogue Designer Fashion Fund 2012 winner never thought he would be part of the glitzy fashion firmament.
Instead, he simply knew he wanted to create and looked to acquiring skills in carpentry and furniture-making. But his interest in composing labour-intensive, silk-screen prints on fabrics led organically to a career in fashion.
"I never think of myself as an established designer," says Saunders. "But it's only in London where you could come straight out of college and land yourself the cover of Vogue."
The British edition of the fashion glossy featured supermodel Natalia Vodianova wearing his hand-printed Ziggy dress on its January 2004 cover, the skirt billowing skywards like that of Marilyn Monroe's dress in The Seven Year Itch.
The kaleidoscopic design was part of Saunders' debut Spring/Summer 2004 collection.
But lest you dismiss the London-based designer as the product of a lucky break, he explains the pragmatism required to make it as a fashion house, especially in a very competitive market.
"My generation takes a creative idea and pushes it, and then balances it with what people want to wear - that is where London is right now," says Saunders, who returned to presenting his collections at London Fashion Week after showing for two years in New York.
"Also, the people who were really into big brands and logos are the same customers who don't want to wear something generic. We are now able to sell to women who previously wore just Vuitton, Prada and Gucci."
And to capitalise on this recent adoption of indie labels by the well-heeled set, the business-centric talent rolled out his first menswear line early last year and is set to unveil a lucrative range of accessories next.
"A sweater I had made for womenswear was too big so I tried it on and it looked great," recalls the fine-featured, lanky designer. "Some stores sold it and there was such a big reaction. There's a strong market for pieces that stand out because menswear is so classic. And it's a good starting point for me with menswear, because it helps inform my womenswear collection."
Punctuated by the season's 'It' outerwear - the souvenir jacket, the label's Spring/Summer 2014 presentation featured plenty of borrow-from-the-boys pieces like low-slung Bermuda shorts, slouchy silk pants and chunky slip-on sandals.
It was a departure from the sculpted, sophisticated silhouettes that have defined his recent collections, but, as Saunders declares: "Fashion is all about newness."
When asked about the anniversary collection, which treaded the fine line between 'offbeat-cool' and 'just-plain-eccentric', the fine arts grad says: "The previous line was, like, tight '50s housewife vixen so after that direction for Fall, I thought to go more relaxed. At the back of my head was open-mindedness and happy '70s colours, playing on sportswear luxe."
Perhaps the trippy pieces push the styling finesse of his current clientele - the cool girl who is all grown up, with a credit limit that matches her newfound status. "My customer has grown up and yet gotten younger," observes Saunders.
"She wants to look like an individual. And she wants to look 25 - which is a good thing!"

This article was first published on Dec 27, 2014.
Get The Business Times for more stories.