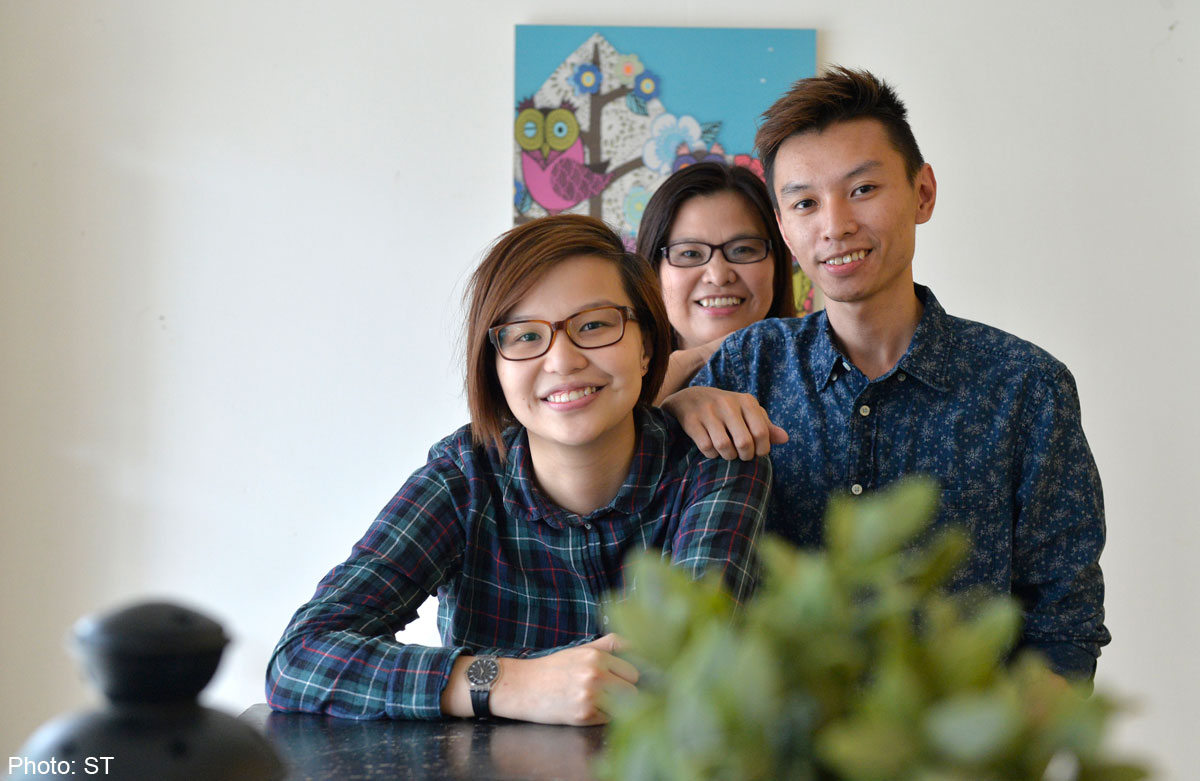 Singer-songwriter Jaime Wong might be only 24, but she started writing music with the guitar almost 10 years ago, a year after her father died from pneumonia.
Learning the instrument was more than just a hobby for her - it was also her way of remembering him.
The folk-pop musician, who will be performing at the Esplanade concourse on June 27 during Baybeats 2014, says of her father: "He would sit on the balcony and play Hotel California. It's one of my fond memories of him."
Wong, whose music is influenced by pop-folk star Damien Rice and bluesy folkster John Mayer, plans to release her first EP, Skin, by the end of next month.
This is funded by her $5,000 prize money from winning a music mentorship programme by Noise Singapore in 2012. Noise is a National Arts Council initiative dedicated to giving young artists a chance to showcase their work.
It also marked her transition from performing mostly at open-mic nights to music festivals.
She considers her four-track EP a milestone. "It represents my biggest dream as a kid - to become a musician and release my songs," says Wong.
She lives in an four-room HDB flat in Serangoon with her mother Nelly Poa, 51, director of a talent management agency, and older brother Jarieul, 30, who works as a public relations manager.
Despite her passion for music, Wong - who recently completed her master's in strategic studies at the S. Rajaratnam School of International Studies in Nanyang Technological University - plans to get a full-time job in research rather than music. This is because she enjoys what she studied.
"You hear stories about local musicians who work in banks for 10 years and decide to become musicians. Maybe one day, that'll be me."
Jaime, your father died when you were 13. How did you feel back then?
Wong: I was devastated but also felt the need to be strong and move on. And in a way, I did. I don't remember crying a lot, for one thing.
I still miss him every day. I don't think time heals all wounds, but it certainly does help you cope with it.
What was it like to grow up without him?
Wong:He was mild-mannered, soft- spoken as well as artistic and supportive. I think his death meant that I lost out on absorbing some of that gentleness and patience. Perhaps if he was around as I was growing up, I would fare better in the patience department.
Did you and your brother have to grow up quickly?
Wong: I did feel that I have to be more mature and sensible. The thought of doing things that would disappoint my mother after all that she went through was just unthinkable.
Jarieul: I was around 19 and doing national service. I felt that I had to step up and be strong for my mother and sister so that we can heal properly as a family.
How did you cope?
Wong: It sounds a bit cliched, but picking up the guitar helped. I wrote songs about how I felt or how my brother and mother would feel about it. My dad was a big music lover and played the guitar as well. Learning how to play and sing the songs that he loved consoled me.
Our extended family also helped us a lot in coping with my father's death.
When Jaime was studying for a degree in international relations in Australia, how often would you contact one another?
Jarieul: She mostly contacted our mother, but we chatted on Facebook and WhatsApp occasionally.
Wong: I chat with them on WhatsApp almost daily and sometimes over Skype.
Madam Poa: When she was in Australia, I would listen to Settle Down, Love, a song she wrote and posted on YouTube, and my tears would fall. I missed her.
Is your family supportive of your pursuit of music?
Jarieul: I've been trying to persuade Jaime to let me sing with her.
Wong: They're very supportive. My mother would force her friends and relatives to watch my YouTube videos on her smartphone or make them "like" my Facebook page.
She also drives me to gigs and we talk in the car.
Madam Poa: Due to the nature of my work, the time that we have with each other is very valuable.
What do you talk about in the car?
Wong: We talk mostly about what I do in school, my music, her work and our family.
Madam Poa: We talk about her friends, whom I know very well, and work-related problems. I like to talk to Jaime about issues I face at work because she is quite a good listener. Sometimes, she gives me advice and tries to offer different perspectives on the issues.
What do you think of her music?
Madam Poa: I still watch her YouTube videos and pester her to put her music on a CD for me to listen in the car. She has quite a soothing voice. On a busy or bad day, listening to her songs does help.
Jarieul: I think Jaime is talented enough to perform and be good at it.
Madam Poa: People ask me why I don't promote my own daughter when I promote other artists, but it's because she doesn't want me to.
Madam Poa, did you have a role to play in Jaime taking up music?
Madam Poa: Our family listens to music a lot, so I think she picked it up from us. Sometimes, I sing the things that I want to say, just for laughs. Jaime and her brother still find it amusing.
Wong: My parents used to play music in the car and sing along to it. As a kid, I picked up the songs they liked such as oldies from The Eagles, Bee Gees, Michael Learns To Rock and eventually learnt how to sing them.
If the parent-child roles were reversed, what would you do differently?
Madam Poa: I'd want to be a superstar.
Jarieul: She'd have accepted her mother's help to market herself.
Wong: I'd probably force my daughter to continue learning the piano. It's one of my biggest regrets, but back then, my mother didn't want to make me do something that I didn't like.

This article was first published on June 15, 2014.
Get a copy of The Straits Times or go to straitstimes.com for more stories.