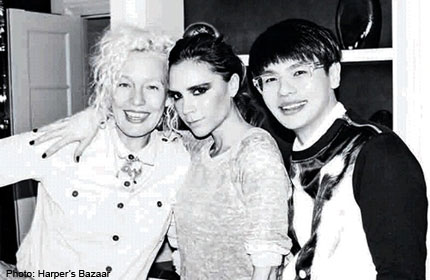 Harper's BAZAAR's creative director, Mr Kenneth Goh, had an exclusive opportunity to style Victoria Beckham for the September issue of the magazine.
Mr Goh gave us a peek into what it was like to style and shoot the former Spice Girl turned style icon.

Give us 3 adjectives to describe your day with Victoria Beckham
KG: It was manic, it was intense and it was exhilarating.

EllenVon Unwerth is one of the best fashion photographers of our time, what was your experience working with her like?
KG: Ellen was amazing to work with - so positive and so happy all the time. She was shooting back to back at the Cannes Film Festival that week and it was so hard to lock her down for this shoot. But she was so sweet and accommodating and always trying to make light of any tense situation. I think she makes celebrities feel at ease with her which is really 90 per cent of the shoot. Once you can get them to do what you want, you are almost guaranteed a great shoot. And bear in mind Ellen is a celebrity herself with an incredible reputation and repertoire of work, so when she came across as so down to earth and fun, it was such a pleasant surprise.

In the interview, Victoria Beckham says how important Asia is to her, why do you think she has her eyes set on the region?
KG: I think Victoria knows that many women in Asia already wear her sunglasses and carry her leather goods and accessories. It's such a hit here and given that Victoria is so petite and slim, her figure and size is something that Asian women can empathize and relate to. Add to the fact that her slim, sexy silhouettes and particular attention to tailoring and fit, her line immediately speaks to women in this region. So, it's no surprise that Asia is on her agenda - with Club 21 stocking her main line and Pois with her Victoria by Victoria Beckham line, she already has a loyal following in Singapore.

Any funny antecdotes from the shoot?
KG: I remember Victoria asking me what colour I was wearing on my lips, and when I said I was wearing none, she immediately said, " I love your lip colour, it's so nice. I wish I had that colour!"

When conceptualizing the shoot, what kind of image did you want to capture from her stylistically?
KG: I think it's important to show the softer, more vulnerable side to Victoria. Everyone knows how successful she is, and how she never smiles! I wasn't about to try the impossible, but I was trying to see a more intimate side of Victoria. So, when I came up with the idea to show her in a boudoir setting, like she was playing dress up in sexy lingerie for David, Ellen was ecstatic. Ellen wanted that same aesthetic and was super happy with the idea.

Its quite a feat to pull off styling such an A-list celebrity in a foreign city, how many trunks of clothes did you take with you?
KG: Victoria only wears shoes that fit her - she doesn't wear sample size. And we were shooting this very early in the fall winter season, so it was very hard to get samples in her particular size. But we had to do it - in the end, we culled over 200 pairs of shoes and we ended up only shooting her in less than a handful! Shoots are very organic and when you work on a set with a celebrity, you just have to move with the vibe. When a celebrity sees and understands what you are doing, you job is a breeze. But sometimes they do not understand the aesthetic that works for your market or your audience. Feminine and sexy works for the BAZAAR audience in Asia, and when I showed her the amount of lingerie I brought in (it was more than 3 trunkfuls!), Victoria was quite surprised! Clothes-wise, we had more than 6 suitcases of clothes, but in the end, we only used 6 outfits because they fit her best and she was happy in the looks. A lot of what you plan can change and you must always remember celebrities are not models, they have opinions and know every inch of their body. If they don't like what they see in the mirror, they just won't wear it.