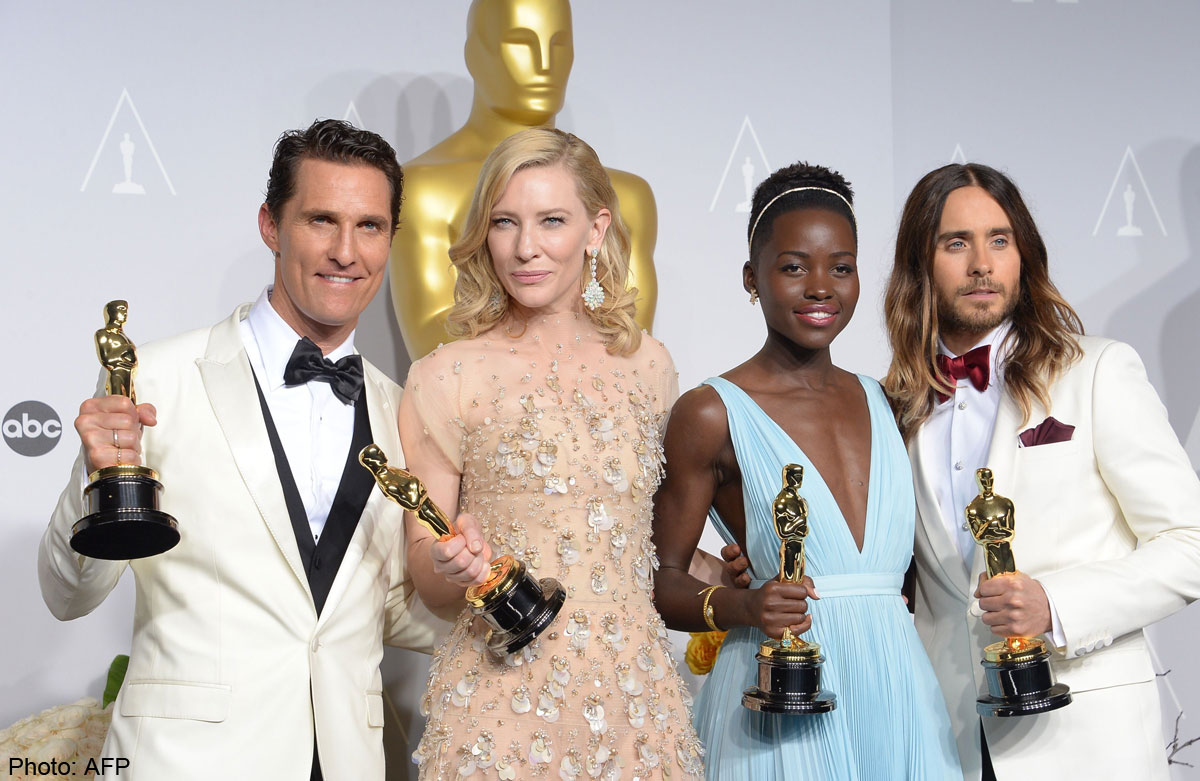 For the first time in film history, the four Oscar winners in the acting categories last week were honoured with similar wins at the 2014 Film Independent Spirit Awards for smaller budget movies, held a day earlier in Santa Monica beach, California. The stark contrast in the setting of these two award shows meant very different dress codes and these four Hollywood stars played their parts beautifully at both events (plus many others), captivating fashion watchers with their truly individual sartorial styles.
BEST ACTRESS: Cate Blanchett
There's no denying that Blanchett is a fashion icon on the red carpet and a woman with an intuitive grasp of high fashion that sets her apart from the rest. From the John Galliano-designed Dior dress at the 1999 Oscars to this year's pale pink Givenchy gown at the SAG Awards, the Australian actress is a consummate fashion risk taker and in the words of designer Giorgio Armani "takes full ownership of the gown, with a sense of self that is grace personified".
For the Spirit Awards, the Blue Jasmine star wore a deep red felted wool dress with blue collage-art patchwork and gold buckle-belt from Roksanda Illincic Fall Winter 2014 collection while at the Oscars, she took a regal turn in a custom-made Armani Privé sleeveless, nude gown featuring a long, flared tulle skirt fully embroidered with raised dégradé sequins and light gold Swarovski crystal baguettes which she said was "heavy but I love it!"
BEST ACTOR: Matthew McConaughey
Just like the way he reinvented himself by swapping blockbuster romantic comedies for indie films that landed him an Oscar gold, McConaughey has been stepping up his red carpet looks this season by eschewing the traditional black tuxedo for a stylish mix of metallic, velvet and patterned tuxedos.
The Texan actor is also the face of Dolce & Gabbana's new scent "The One" and wore a flashy metallic bronze three-piece suit from the Italian label's Spring Summer 2014 collection at the seaside Spirit Awards, contrasting it with Tod's cobalt blue suede shoes. After a series of unconventional tuxedo styles, the Dallas Buyers Club star settled for a classic white tuxedo suit by Dolce & Gabbana at the Oscars.
BEST SUPPORTING ACTOR: Jared Leto
With his rocker style long hair and good looks, Leto is the dream actor-model for edgy designer labels such as Saint Laurent by Hedi Slimane and Balmain.
A frontman of the band 30 Seconds to Mars, the actor-turned-rocker rose to the occasion by showing up at the Spirit Awards in fashion-forward grunge ensemble of black leather Balmain Homme biker jacket & black skinny jeans with a red plaid Saint Laurent shirt tied round his waist while at the Oscars, he polished up with a striking white tuxedo by Saint Laurent and a burgundy bow tie.
BEST SUPPORTING ACTRESS: Lupita Nyong'o
This breakout star of 12 Years A Slave is unquestionably the It Girl of the awards season and her rise to the top was equally matched by her sleek, fashion-forward looks on the red carpet that has not only enchanted fashion watchers but also Italian fashion brand Miu Miu who recruited her as the face of their Spring Summer 2014 campaign.
At the seaside Spirit Awards, the Kenyan beauty wore a tailored silk crocodile-print Stella McCartney romper with a Devi Kroell clutch and as expected, arrived in a custom-made Prada icy-blue silk georgette pleated gown at the Oscars. The billowing skirt was delicately embellished with crystal beading and Nyong'o completed the Cinderella look with Fred Leighton earrings and diamond-and-gold headband.