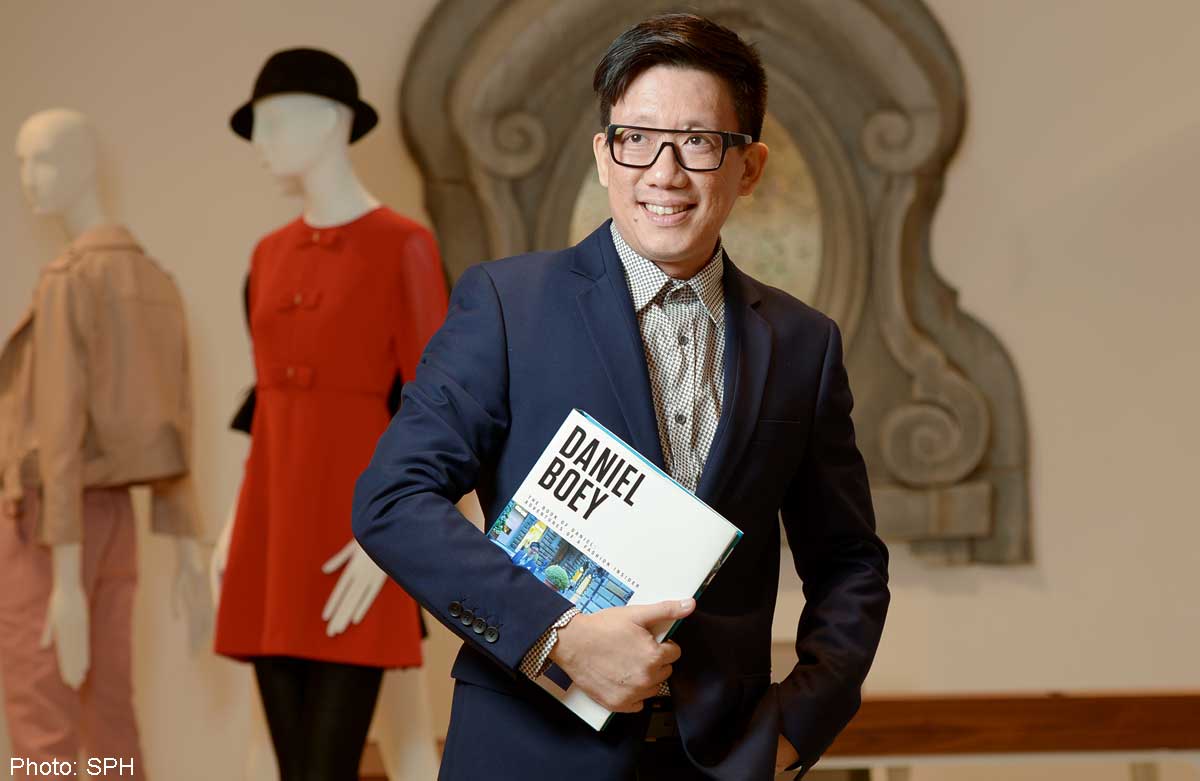 Fashion show producer and consultant Daniel Boey's new book, The Book Of Daniel: Adventures Of A Fashion Insider, is one man's attempt to raise the profile of Singapore's fashion industry.
As Singapore approaches its golden jubilee next year and Boey marks his 25th year in the fashion business, the book could not have been launched at a better time.
Part memoir and part history, the 460-page glossy book looks at Singapore's fashion and modelling scene from the late 1970s till today, as well as his career that has taken him to the world's fashion capitals to work for Vivienne Westwood, Julien Macdonald and Matthew Williamson.
He has worked with brands such as Christian Dior and Louis Vuitton here.
Affectionately known in the industry as Singapore's Godfather of Fashion, Boey, who also turns 50 next year, launched his book at the Singapore Writers Festival last Saturday.
The event drew a crowd including models, make-up artists and even Minister of State for Trade and Industry Teo Ser Luck, who was a model in his younger days.
"I don't think enough has been written about our earlier fashion designers. There was a time when Singapore designers were revered; they were like gods. This is my way of paying tribute to them, because without them, I wouldn't have a career," says Boey during an interview with Urban.
The careers of veteran designers such as Thomas Wee, Tan Yoong, Frederick Lee and Dick Lee, as well as former top models such as Nora Ariffin, Seraphina Fong and Ethel Fong, are written about at length in the book that spans 30 chapters.
The road to success was not at all smooth for Singapore's fashion pioneers. Wee, for instance, spent his early years creating frocks for his Bugis Street cabaret showgirl friends.
Dick Lee is described as the "patron saint of Singapore's fashion".
His now-defunct multi-label boutique Hemispheres was one of the few outlets where local designers could sell their creations. It was also the place to be seen as "everyone hung out at Hemispheres".
Boey says: "I felt that it was about time to stop telling journalists to do their fashion research when there is no in-depth resource to turn to."
The book is a nostalgic trip for those who can remember Singapore's early fashion scene.
For millennials, the book will be an eye-opener as they picture the past, including Lucky Plaza's former glory.
When it was built in 1978, it was a progressive mall - with 26 two-way escalators and bubble lifts - where many local designers set up shop.
As a geography and literature graduate from the National University of Singapore, Boey says the writing, which started on a flight to London last Christmas and ended in May this year, came easily.
To research, he dug up old articles by former Straits Times fashion journalists such as Lim Phay Ling, Cat Ong and John de Souza. Early on in his career, he kept journals about his work, which helped in the writing process.
Sourcing photographs was more difficult, but those who enjoy history will be in for a treat.
There are pictures of the 1989 Singapore International Shopping Festival held along Orchard Road, Zouk in its early days and Metro at Far East Plaza.
BORN INTO FASHION
Although much of the book, published by Marshall Cavendish, chronicles the fashion scene, Boey has devoted certain chapters to his awkward childhood and adolescence, when he was bullied by classmates but eventually grew out of being the "quiet, useless wallflower".
The eldest son of a banker and nurse, whom he counts as his early fashion influences, says he was "born into fashion".
He paints his father as a dapper gentleman who was fond of wearing bespoke suits, and his mother as a retro movie star.
"She was always wearing the hottest looks of the day - sleeveless dresses with wide circular skirts, reminiscent of the very popular Dior new look," he writes.
The fashion extraordinaire was quite the athlete and represented his schools (St Patrick's School, Catholic Junior College and National University of Singapore) in swimming.
In university, he also played rugby and water polo in inter-hostel competitions and also staged campus fashion shows.
Boey says the most personal chapter is about his battle with eczema. "Throughout my life, people have always speculated if I had a terminal disease, sometimes asking me point blank, but most times, discussing it privately among themselves behind my back," he writes.
The chapter was included to dismiss some perceptions of the fashion industry.
"If you work in fashion, people have this impression that you have to look a certain way and lead a certain lifestyle, but the reality may be far from that."
Another chapter that could not be excluded is the one about his "no-nonsense" reputation.
"That's what Daniel Boey is all about, without it, it would be an incomplete book. But I'm only nasty to stupid people," he says with a laugh.
Infamous for firing and shouting at models, his strictness extends even to clients.
"The organisers had forgotten to cordon off the stage, resulting in misbehaving children using it as their playground,'' he writes.
"When I saw the dirty stage covered in tiny footprints, there was a huge brouhaha, and I 'suggested' cancelling the show because you can't make models walk down that dirty thing!"
His first book may just be fresh off the press, but already Boey is thinking of a second one.
If he does write a sequel, he says that he would focus on labels such as Reckless Ericka, hansel and In Good Company that are shaping Singapore's fashion scene.
"Designers today can't do a fancy, self-indulgent line and expect it to survive," says Boey, who is single.
For now, he hopes that his labour of love can help change the perception that a career in fashion is not viable.
"Sure, it may not bring in as much money as banking or the oil industry, but it is definitely more glamorous," he says.NUGGETS FROM THE BOOK
Before Lucky Plaza became a hang-out for Filipinos, the mall (left), which was built in 1978, was considered very modern for its time.
Many prominent local designers, including Benjamin Tay, Henri Ho and Watson Tan, set up shops there.
One of Singapore's earliest couturiers, Tan Yoong, still has his atelier there.
In the 1980s and 1990s, established French department stores Galeries Lafayette and Printemps were present here at Liat Towers and Le Meridien Hotel (now Concorde Hotel) respectively.
Hong Kong's Lane Crawford opened its first overseas store at Lane Crawford Place (now Wheelock Place) in 1994, but closed two years later.
Minister of State for Trade and Industry Teo Ser Luck was once a model (left). He was also a finalist in the prestigious Glamour Awards modelling competition organised by Female magazine. Actress Zoe Tay also took part in this competition.
Dick Lee is better known for his work in the entertainment industry, but he started his career as a fashion designer. In the 1980s, he designed clothing for his now-defunct boutiques Ping Pong and Hemispheres. Boey's strict demeanour may have been influenced by Lee.
"He ruled the models with an iron fist, screamed instructions to the tech crew over the microphone and did not hesitate to brandish the cane when required... but his shows were fabulous! I told myself that when I grew up, I wanted to be as wonderful as Dick Lee," writes Boey.
Veteran designer Thomas Wee started his fashion career in 1978 after taking part in the Her World Young Designers' Contest. Although he did not win - couturier Tan Yoong took the top prize - the contest helped to launch his career.
The former top Singapore model Nora Ariffin was the first Asian to land a campaign with the American cosmetics brand CoverGirl in 1993.
She was scouted at the age of 15 by Dick Lee. She went on to front a campaign for Chanel Allure perfume in 1999.

This article was first published on November 14, 2014.
Get a copy of Urban, The Straits Times or go to straitstimes.com for more stories.