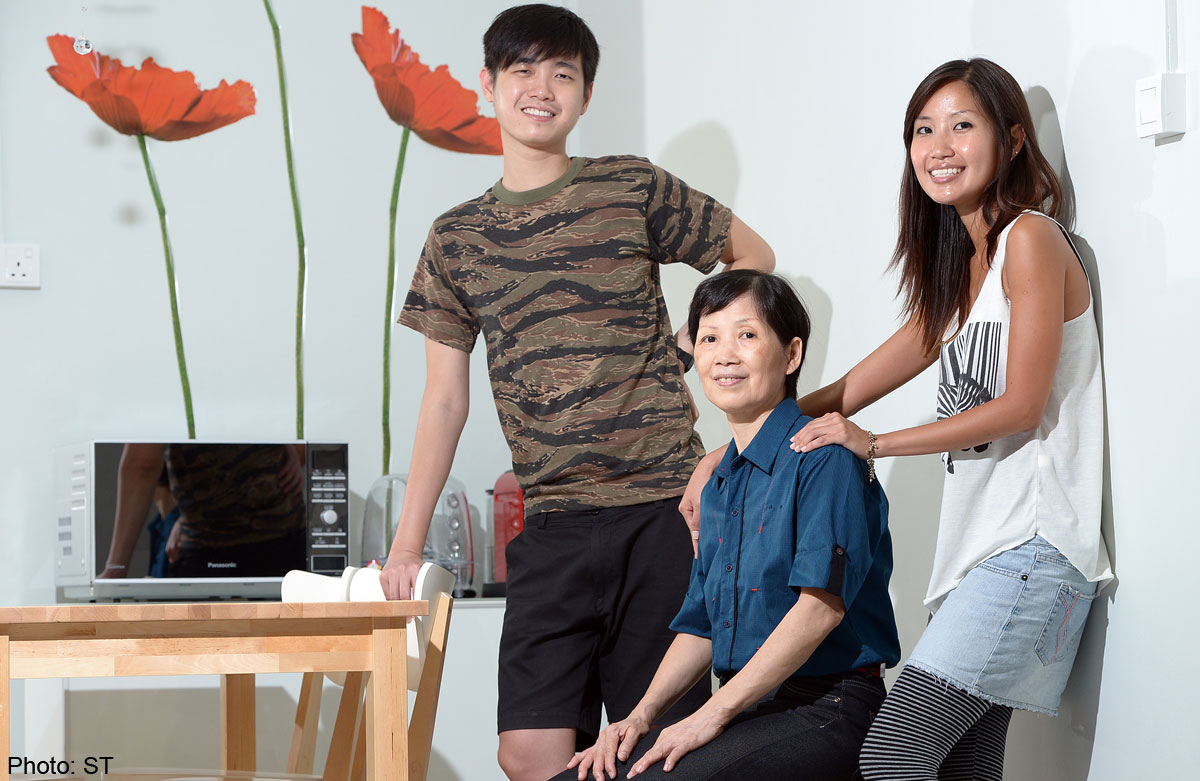 When Dr Li Jingmei's mother found out she received this year's Unesco-L'Oreal International For Women In Science Fellowship - one of only 15 women scientists around the world to do so - Madam Foong Siew Nyok just said: "Orh."
Dr Li's younger brother, network engineer Lee Jing Chong, 28, says: "We do not do celebrations. We're just happy that nothing goes wrong. Any good thing that comes along is a bonus."
Dr Li, 31, a post-doctoral research fellow at the Agency for Science, Technology and Research's (A*Star) Genome Institute of Singapore, received US$40,000 (S$50,700) for the award.
This allows her to spend two years at the Karolinska Institute in Sweden, where she did her PhD in medical science on an A*Star scholarship, from next month.
She plans to tap Sweden's nationwide disease registries to find out if there are genetic risk factors for aggressive breast cancer.
From a young age, she excelled at her studies, scoring straight As at the A levels in the triple-science stream at Hwa Chong Institution and receiving an undergraduate scholarship for her faculty of science studies at the National University of Singapore, where she was valedictorian of her science cohort.
Her family live in a five-room flat in Pasir Ris, except for her 58-year-old father, who has been absent since she was about 10 years old.
Their mother Madam Foong says her husband "gradually" pulled away, spending less and less time with the family, although the couple never divorced. She reckons he lives "somewhere in Johor Baru" and stays in the flat only occasionally when he visits.
Says Madam Foong, 57, a seamstress: "He can come and stay here because it's his house. It was bought mostly with his money."
Dr Li, what is your relationship like with your father?
Dr Li: It's cordial but we have no in-depth conversations. He visits randomly.
Madam Foong: He asks about his children. I don't ask what he does. Ask for what? It's enough that I'm happy.
Dr Li, what kind of husband would you want?
Dr Li: I'm looking for an equal whom I can grow with mentally and in character. I do believe in fairy tales. There must be a bit of truth in them if they have the ability to last through ages.
Madam Foong: I'm okay with anyone she chooses as long as she's happy.
What was your childhood like?
Dr Li: I ran around catching spiders and guppies with my cousins. At the time, we lived in a four-storey terrace house in Geylang Lorong 4 with our father's extended family.
My cousins also kept doves and rabbits and my uncles kept birds. Our family moved to our current home in Pasir Ris when I was seven.
Madam Foong: My husband had his jewellery workshop at the Lorong 4 house before moving it to Johor Baru when Jingmei was around 10. There were so many people, we had four tables when everyone gathered for meals.
Madam Foong, did you cane your children when they were young?
Dr Li: I remember having cane marks on my legs till I was about seven or eight years old. I used a pillow to shield myself when she caned me.
Madam Foong: I don't recall why I caned her. I remember scolding her severely for buying soft drinks when she was in Chongzheng Primary School. She was about eight.
Dr Li: She stared at me with murderous eyes. Earlier, when I was about four and my cousin, seven, we explored the back alleys of Geylang without first telling any adult.
We both got caned a few strokes.
Mr Lee: She caned me usually after telling me to do something many times - such as take my shower - and I didn't and she lost it.
Dr Li, are you more like your mother or father?
Dr Li: I'm a bit of both. There are days I feel like being loud like my dad and some days when I want to be quiet and accept things as they are if I can't change them.
Mr Lee: My sister was an overachiever from young. She studied all the time. I was out cycling, playing catching or yoyo with my friends. I scraped by with a diploma in telecommunications from Temasek Polytechnic.
I think I'm more like my mother - I'm all right if there's enough to eat.
Madam Foong, did you push your son to be more like your daughter to focus on his studies?
Dr Li: My mother's easy-going and my younger brother wasn't doing too badly either. So there wasn't a need to worry or push extra hard.
Madam Foong: As for her, she's always been on top of her class or school since young.
How close are you as siblings?
Dr Li: We used to play computer games together till about secondary school. Now, he has a girlfriend and he's getting married. So we spend less time together. To be doing things together at this age, that's weird. 
If the parent-child roles were reversed, what would you do differently?
Madam Foong: I wouldn't do anything differently if I were her. There's nothing to change.
Dr Li: I wouldn't have done anything differently as mum either - her kids are grown up and happy with what they are doing.
This article was published on April 13 in The Straits Times.


Get a copy of The Straits Times or go to straitstimes.com for more stories.