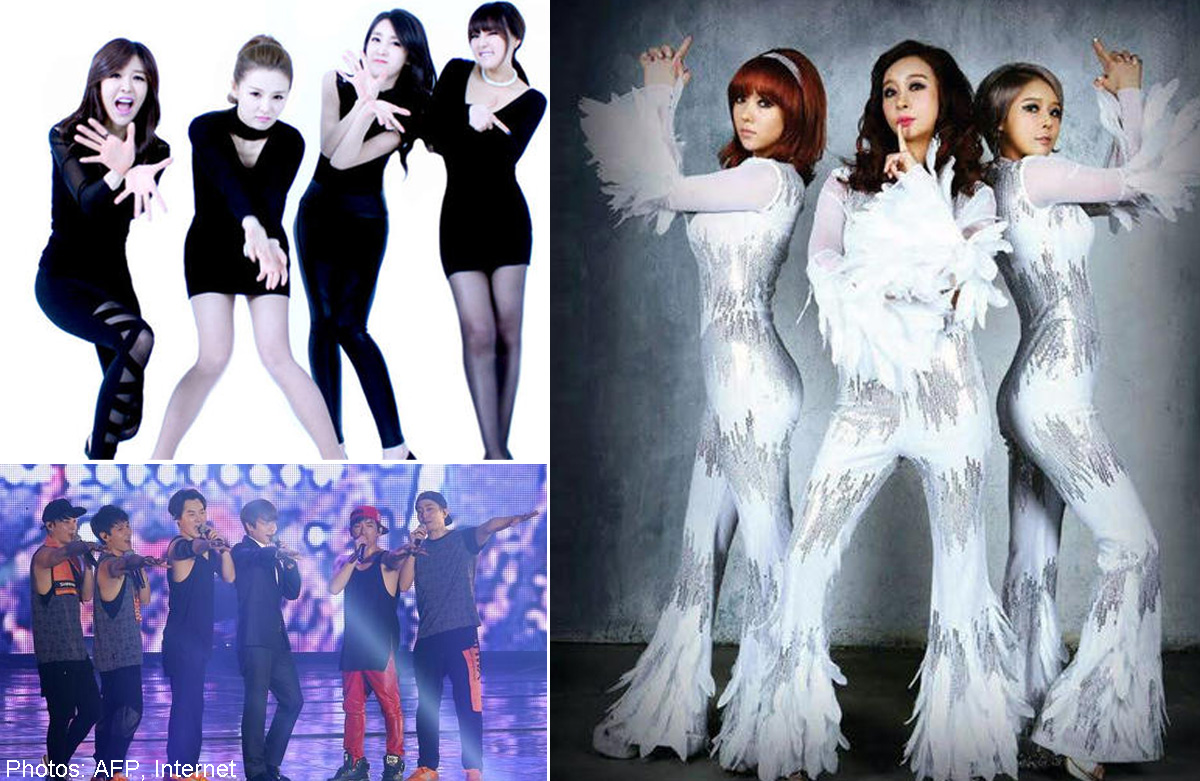 Step aside, young sexy K-pop girl groups.
There's a new group of women in town looking to spark off the next round of the Hallyu wave, and they are none other than "Ahjumma girl groups".
Ahjumma refers to "aunty" in Korean, but is also a term used to address women in Korea who are married.
In the past month, two such outfits have debuted their singles, breathing an air of maturity into the saturated and competitive K-pop music industry.
Girl Hood, a quartet consisting of married women aged 29 to 37, released their music video for debut track Darling, Honey I Love You last week.
They are marketed as the Ahjumma version of top K-pop girl group Girls' Generation, as the pronunciation of the bands' names in Korean is similar.
However, even though they are labelled Ahjumma, they are nowhere near the fat, old curly-haired aunties you get in a typical Korean drama.
Standing at an average height of 1.7m, Girl Hood's members are slim and sexy. Their portfolios feature careers as beauty contestants and models during their younger days.
A spokesman from their agency SC Entertainment said: "The lovely beautiful Ahjumma group does give off a similar vibe as Girls' Generation, but they are clearly different.
"They have the looks and the singing skills that are beyond most girl groups these days.
"Girl Hood is the representative Ahjumma group that gives hopes and dreams to Ahjummas taking care of their husbands and children."
He added: "The group name Girl Hood describes the Ahjummas as they look back at their teen years and their will to realise their dream back then.
"Darling, Honey I Love You will make your shoulders move to the rhythm, breaking the prejudiced opinions of Ahjummas."
COMPETITION
But before Girl Hood thinks that they can dominate the Ahjumma category, they have to face some competition that's hot on their heels.
The Unnies also released their digital single Old Fox recently.
The Unnies, which stands for "elder sisters" in Korean, consists of members aged 33 to 42, of whom two were from idol groups in the past.
Leader Kim Ji Hyun is an established singer who used to be part of 90s K-pop hip-hop co-ed group Roo'ra.
Going for a sexy vibe, The Unnies are often clad in short body-clinging outfits which show off their long legs in promotional images.
However, despite their efforts, the Ahjumma groups have received mixed reviews from local K-pop fans.
Some praise them for their courage to pursue their dreams while others criticise them for their lacklustre dance choreography and cheesy music videos.
Girls' Generation fan Brandon Tay said: "I find the whole concept refreshing yet weird at the same time. It's cool that they are promoting themselves as an older girl group, but why are they wearing tight revealing clothes, especially when they say that they are already married?"
The 19-year-old student added: "The Unnies' song is better than Girl Hood's as it is more catchy.
"I'm not sure if they can attract a lot of fans but they'll definitely garner a lot of attention for their novelty.
"I am curious to see how it pans out for them."
K-pop fan Charmaine Lim, 29, said: "These Ahjummas are very hot and they sure can sing.However, Girl Hood's music video feels outdated and their dance moves are not polished and seem awkward. Maybe they cater to an older crowd."
However, 42-year-old K-pop fan Doris Yeo finds such groups empowering for women their age.
The human resources executive said: "It's very noble and courageous for them to debut at an older age and to sing and dance in front of a huge audience, most of which are teenagers.
"They will face more challenges compared to the younger girl groups."
In their roaring 30s
Who says K-pop is all about youth? These 30-something artistes show that "old" can still be gold.
Baek Ji Young, 38
This singer made her debut in 1999 and is best known for her strong husky vocals. Her continuing success in her late 30s among the many popular young female groups has led critics to praise her for her mass appeal. In 2011, Baek married Korean actor Jung Suk Won, who is nine years younger than her.
Lee Hyori, 34
This sexy dancing queen made her first appearance as part of K-pop girl group Fin.K.L in 1998, but has since ventured out as a solo artiste. The award-winning singer released her fifth full-length album, Monochrome, last year, with its lead single, Bad Girl, topping several music charts in Korea. She married musician Lee Sang Soon last September.
Shinhwa, 33-35
They are the longest-running K-pop boy band today, having been in the industry for 16 years. The sextet took a four-year hiatus in 2008 as the members served their mandatory military service. They announced their comeback in 2012 with their album aptly titled The Return and an Asian concert tour. All of them are still single.
jocelee@sph.com.sg

Get The New Paper for more stories.