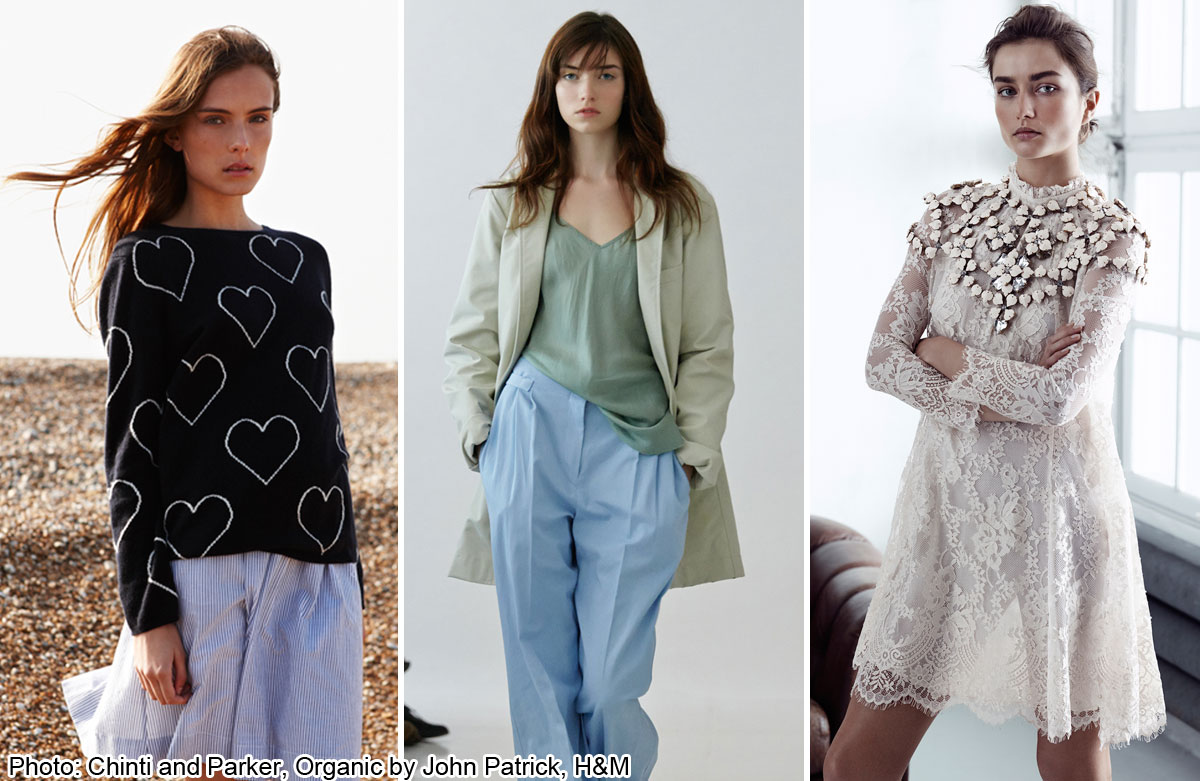 H&M CONSCIOUS EXCLUSIVE
What: Swedish fast-fashion giant H&M started its eco-friendly Conscious line in 2009 and introduced its higher-end Conscious Exclusive collection this year.
The new Conscious Exclusive collection, which launched here yesterday, offers luxe clothing and accessories with a bohemian feel, intricate embellishments and flamenco-inspired silhouettes.
Eco-cred: The new Conscious Exclusive collection uses eco-friendly materials including organic cotton, recycled polyester, recycled polyamide, biodegradable Tencel and, for the first time, organic leather and silk.
Buy it: Items from the collection, which range from $17.90 for a leather headpiece to $699 for a cotton and polyester lace dress, are available at H&M's flagship store at 1 Grange Road.
BIRO
What: Casual menswear brand Biro, which launched last year, consists of minimalist, Japanese- influenced T-shirts, shirts, jeans and accessories.
Based in New York and Tokyo, it features clothing with a pared-down aesthetic. Eco-cred: Biro uses environmentally friendly materials, such as natural indigo dye, and is sustainably produced in Japan. Buy it: Products, which range from US$80 (S$100) for a wool cap to US$280 for a leather wallet, are available online at www.birocompany.com and at Front Row at 02-09 Raffles Hotel Arcade.
CHINTI AND PARKER
What: British luxury ready-to-wear brand Chinti and Parker, started in 2009 by cousins Anna Singh and Rachael Wood, consists of wearable, feminine pieces made from materials such as organic cotton and bamboo jersey. They often feature quirky motifs, such as hearts, stars, stripes and geometric shapes.
Eco-cred: In addition to using sustainable materials, such as organic cotton, bamboo jersey and Seacell (a fibre made of wood pulp and seaweed), the label uses cashmere from a family-run business, offsets its carbon emissions and packages items in organic cotton envelopes.
Buy it: The brand, whose items range from £65 (S$136) for a cotton jersey T-shirt to £495 for a cashmere dressing gown, is available online at websites including www.chintiandparker.com, www.net-a-porter.com and www.asos.com.
COSSET
What: Founded in 2009 by former fashion editor Sarah Tan, local label Cosset offers loungewear and intimates made mainly from bamboo.
The soft-to-the-touch basics include dresses, skirts, tops, leggings, cardigans and underwear.
Eco-cred: Cosset items are made from 95 per cent organic bamboo jersey and 5 per cent spandex. The packaging materials used, such as water-soluble plastic bags, organic cotton drawstring bags and post-consumer waste paper boxes, are all eco-friendly and biodegradable.
Buy it: Cosset items cost $20 for a thong to $159 for a dress. The brand is available online at www.cossetme.com and at multi-label boutiques, such as Nana and Bird at 59 Eng Hoon Street.
HONEST BY
What: Honest by is a label started in 2012 by Belgian designer Bruno Pieters after a trip to India.
The brand, which aims to offer transparency in its manufacturing processes and materials, offers clothing and accessories in fashion- forward prints and silhouettes.
Honest by also collaborates with international designers.
Eco-cred: The brand uses organic, recycled or sustainably grown materials, such as wool and silk. Its website lets shoppers search for items in categories such as Organic, Vegan and Recycled.
Buy it: Honest by products, which range from 93 euros (S$160) for a cotton jersey top to 688 euros for a cotton coat, are available at www.honestby.com.
MAIYET
What: New York-based luxury brand Maiyet, which was established by former human-rights lawyer Paul van Zyl and designer Kristy Caylor (right) in 2010, offers hand-printed dresses, separates, accessories and jewellery in sophisticated, contemporary styles.
Eco-cred: Maiyet employs local artisans around the world and provides sustainable employment, working with non-profit organisation Nest. For example, it supports the work of artisans in Kenya, India, Peru and Bolivia.
Buy it: Maiyet, which sells items from US$295 (S$370) for a polyester bralette to US$12,000 for a crocodile bag, is available through its website www.maiyet.com, as well as through e-tailers, such as www.net-a-porter.com.
ORGANIC BY JOHN PATRICK
What: Founded by the American designer in 2004, Organic by John Patrick is a collection of simple and mainly solid-coloured basics, sometimes with a weathered and lived-in finishing.
Eco-cred: As the name indicates, Organic by John Patrick was created with a green mission.
The brand uses sustainable materials, such as cupro (a biodegradable cotton) and recycled textiles. It has a transparent supply chain, which means information about the brand's suppliers and manufacturing processes is available to shoppers.
Buy it: Ranging from US$70 (S$88) for a cotton tank top to US$380 for a cashmere-wool dress, the brand's items can be found at www.organicbyjohnpatrick.com.
This article was published on April 11 in Urban, The Straits Times.


Get a copy of Urban, The Straits Times or go to straitstimes.com for more stories.