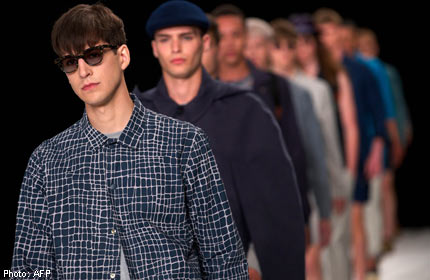 In Eric Choong's recollections, fashion inspirations during the 1980s were largely focused on the fairer sex. It was presumed that only women liked to wear nice things, so the menfolk were inadvertently left out in the cold.
"You must remember there was no Internet. The only references were from foreign magazines with a limited readership. Branding strength in the local fashion industry was still in its infancy," says Choong, 49, the creative director of Freedom by Eric Choong, a men's ready-to-wear line.
A young Choong, then in his 20s, remembers how an elite group - the likes of Alvin Tang, Orson Wong and celebrities such as the late Sudirman Haji Arshad - got the ball rolling with their unique style.
"By rough estimates, they made up less than 20 per cent of the male population in Kuala Lumpur, but as a young designer, I was impressed. Back then, the leaders in male fashion were Japan, Hong Kong and Europe. To gain access to an Issey Miyake shirt or Yohji Yamamoto pants, you had to travel to these countries to shop for them. Only the wealthy enjoyed such privileges," recalls Choong.
To satisfy style cravings, male fashionistas in KL could only rely on two options. One was Metrojaya, whose office wear and Esprit Boys range were considered by Choong as being at the forefront of male fashion. Another was Scene One, a boutique in Sungei Wang Plaza, KL, owned by Christopher Choo, a wildly-popular outlet with offerings of Kansai, Thierry Mugler and Jean Paul Gaultier.
Tan Hai Hsin, managing director of Retail Group Malaysia, a retail consulting group, attributes male shopping habits to the less than robust men's fashion landscape then.
"Men disliked shopping. When it came to clothes, the buying was generally left to the women - mothers, girlfriends, wives," says Tan.
Beatrice Looi, another well-known name in local fashion, says the lack of style varieties in the men's department was another contributing factor.
"When department stores introduced consignment counters where sales were used to measure performance, many labels stuck to what they thought were safe designs. This resulted in repetitions in many counters, which left male shoppers with very few choices," explains Looi, who once supplied for a major department store.
"They are paying more attention to brands and designs. They are buying trendier clothes," says Tan.
According to Looi, the influx of a new generation of fashion designers from local instituitions play a vital role in the revival of male fashion.
"The sudden surge of creativity entering the market has given men better access to visual references in terms of styles and more choices," says Looi, who is also the creative director of Elegantology in Publika, KL, a boutique which caters to men.
The metrosexual who looks for "slim fit" shirts and thinks neon yellow tank tops are cool, is a force to be reckoned with in the fashion market, estimated to be worth RM2.9 billion (S$1.12 billion) in 2012. The menswear market makes up 25 per cent of this total, which is RM725 million, a figure that has encouraged local designers to tap into the male fashion market.
Case in point is local couturier Leslie Variyan, who launched Variante Male last December.
"Gone are the days when being fashionable is considered frivolous. Today, designers can find a clientele who earn an above-average salary, is well-travelled and open-minded enough to view self-beautification as a way to relieve stress and reward themselves," explains Variyan.
What has brought about the change of heart?
Choong opines the two world events acting as major eye openers were the opening of the Chinese market and football club fever.
"With David Beckham and Christiano Ronaldo wielding such a huge influence, you can expect some of their followers to want to emulate them, if not in sport, then at least in the manner of dressing. When fans see Beckham looking smart in a jacket or Ronaldo with a new hairstyle, they'd naturally want to follow suit," says Choong.
He also adds fashion news today practically travels at light speed due to the power of social media, something marketing machineries have not failed to harness in the quest to create consumer wants. With demand naturally comes supply, a role factories in China are happy to fulfil.
Adds Tan, the influx of men's lifestyle magazines like August Man, Glam Lelaki and Men's Uno have also played a part in reaching out to their target audience. Reality TV shows focusing on weight loss over the last few years have influenced more men to exercise. Coming with this health consciousness is the motivation to dress in a way that will show off their new-found slender selves.
Cheaper travel, stresses Variyan, also means more will have access to fashion exposure.
"Travelling to fashion cities like Milan, Paris, New York and Tokyo have definitely opened my eyes and heart to a lot more," says Variyan.
Andrew Tan, the owner of Andrew's Models and founder of Kuala Lumpur Fashion Week 2013, reckons the onus now is to keep the creative and marketing wheels turning. At the showing for the male ready-to-wear, seven designers participated in this category. Though it is a far cry when compared to the other 42 designers who showcased a mix of men and women's, he believes there will be more names in the male-only section in the near future.
"Fashion is cyclical, the more men become interested in fashion, the more fashion brands will focus on men," says Andrew.
And the womenfolk can play a part in making this happen. Variyan, who had started his career with a women's line, considers the creation of Variante Male as a business expansion and a way to offer a one-stop solution for his female clients.
"When women shop for new clothes, they also want to find something for their man so both will look good when they step out. Having a line for men under the same roof makes it convenient in this case," says Variyan.
Where Choong is concerned, although he started making made-to-measure suits 20 years ago, he made his foray into men's ready-to-wear only last year. He reckons the task of appealing to male vanity boils down to one thing - experience.
According to Choong, the crucial point that can make or break a line, lies in the garment's degree of comfort.
"There is one thing you must know about men and clothes. They are not like women who are willing to suffer the discomfort of high heels or bear with the hassles of a gown's long train. The moment they do not feel at ease with a piece of clothing, they will not wear it. Full stop," says Choong.
Next to consider is how versatile a design can be, in order to gain the maximum mileage for a garment. A shirt for example, should be able to take a man from work, and then to an evening cocktail.
"It is also important to remember the biggest market is in designing clothes for normal people. So, if the design is too 'avant garde' then you are only looking at one or two individuals who can accept the concept. But don't get me wrong. Designing for the white collar market does not mean sticking to mundane conformity. You can, for example, introduce polka dot shirts to this segment but with skill, adjust the pattern to come across as subtle yet unique," muses Choong.
Variyan agrees, adding: "Despite modern times and broader minds, society still has a tendency to judge a book by its cover. If a man is not dressed appropriately according to his industry, then he gets the cold shoulder."
Quality will be another distinguishing point. Choong, who incorporates couture elements like cloth buttons and double stitching in his ready-to-wear line, says at the end of the day, designers must ask crucial questions like "Who will wear their clothes?" and "What occasion will this be for?"
Adds Variyan, the choice of materials becomes important. In his collection, he uses a lot of soft linens, silk, cotton, cotton stretch and cotton jerseys known for their light and cooling characteristics.
Looking into the future of the menswear market, Andrew says it has strong potential for further growth. But there will be a lot of catching up to do.
"In the next few years, a majority of Malaysian men will still be fashion followers, not fashion creators like men in Japan, Hong Kong, South Korea and even major Chinese cities like Shanghai. Urban Malaysian men will dress up according to the latest trends but not according to their own styles," he concludes.