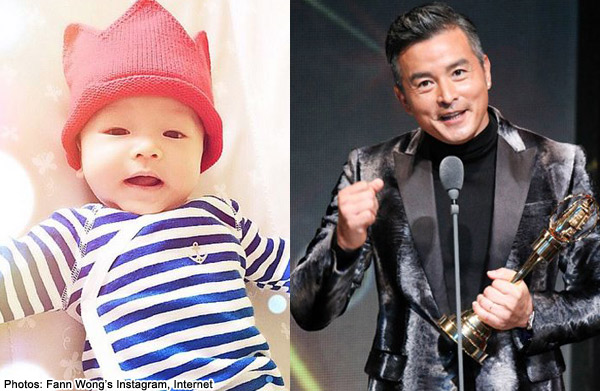 He would breastfeed his son if he could.
That is how much local actor Christopher Lee loves his newborn, who, he feels, was the reason he won big at the 49th Golden Bell Awards on Saturday.
Lee scored the Best Actor award for hit Taiwanese drama A Good Wife (2013) - his first acting accolade outside of Singapore at Taiwan's equivalent of the Emmy Awards.
The Malaysian-born Singapore-based actor credits his win to the "good luck" his family has brought him.
This is his second nomination at the Golden Bell Awards, after he lost out on the Best Actor award for tele-movie Forgotten (2012).
Speaking to The New Paper from Taiwan, Lee, 43, said: "When I married (local actress) Fann (Wong), I could feel that she brought me good fortune.
"It's the same feeling that I got when my son Zed was born (on National Day).
"I do want more babies. In fact, Fann wants them even more than me now."
In A Good Wife, Lee plays a workaholic who finds out that his wife is cheating on him but still tries to salvage the marriage.
He admitted that the role was challenging because his character is depressed throughout the show.
He said: "How I had to act can best be described as having a calm face while feeling like dying on the inside.
"My character is someone who loves his wife a lot but can't express it.
"During filming, which took around three months, it felt like a stone was pressing down on my heart whenever I was in character."
During the awards ceremony, which lasted around four hours, Lee said he started getting nervous when he was sitting in the front row and his category was looming.
Seeing all the winners receive their awards made him even more anxious.
'OVERJOYED'
Said the actor: "I really wanted to win. When my name was called, I was exuberant. I was overjoyed when I thanked my wife and son in my speech."
For now, the proud father also could not be happier, even though his new responsibilities include changing dirty nappies.
Wong and Zed are staying with him in Taiwan now because of his work commitments. Said Lee: "I love fatherhood and am enjoying it so much.
"Even though we have a helper, there are many things we'd rather do ourselves because that's how we bond with Zed.
"I do everything like burping him, bathing him, changing his diapers.
"If I could make breast milk, I'll want to breastfeed him as well."
He said it is a joy to look at his newborn, whose face is looking more like his and Wong's every day.
While Zed has inherited Fann's eyes, his cheekbones, nose and lips are all daddy's.
Lee said he wants at least one more child. He said: "If it's God's will that we have more children, they will be a much welcomed addition to our family."

This article was first published on Oct 27, 2014.
Get The New Paper for more stories.