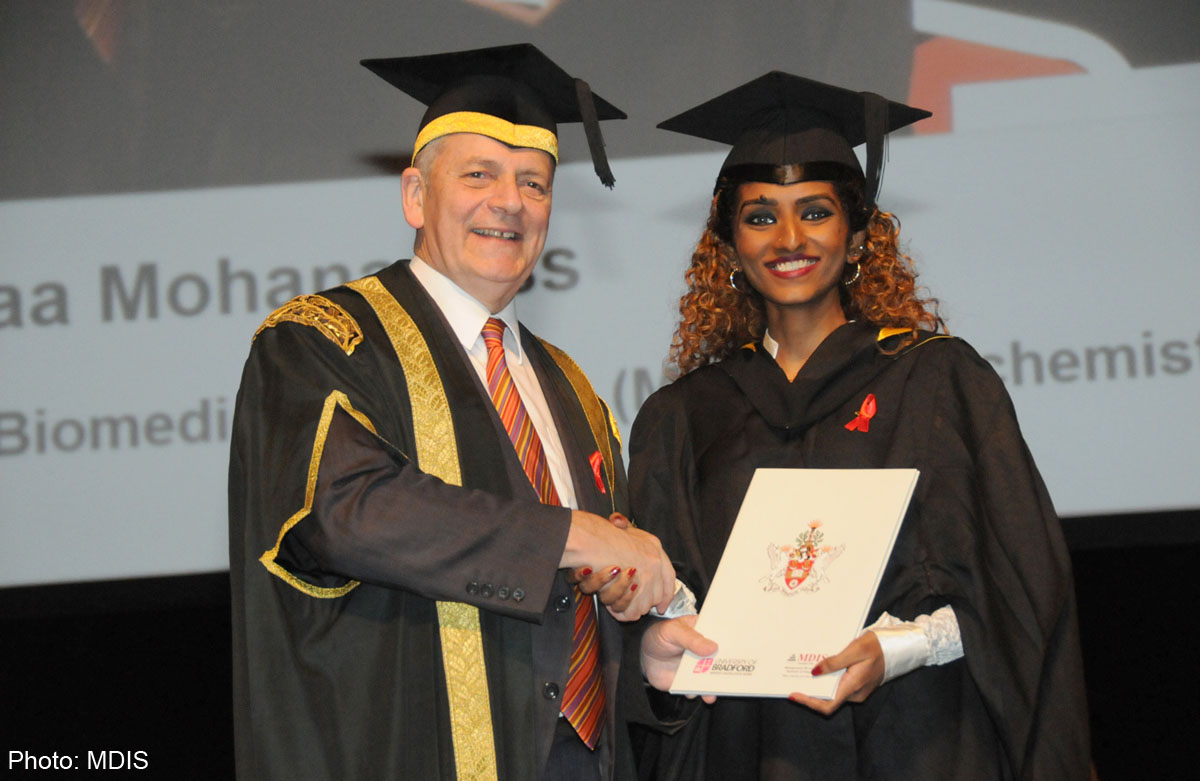 She was 13 when her parents divorced in 2003, leaving her mother the sole breadwinner. As a polytechnic student, Ms Arunaa Mohandass was very bright.
In the run-up to her final exams, she scored straight As and dreamt of studying a Bachelor of Medicine and Bachelor of Surgery programme at the National University of Singapore so she could become a doctor.
However, she dropped out before her final year because of emotional unbalance which left her unable to focus on her studies.
She could not achieve her dream of becoming a doctor, but on Nov 22, she was one of the first-class honours graduands at MDIS-Universtiy of Bradford who received her certificate at the Star Performing Arts Centre.
Her path to graduation was not an easy one. After dropping out of polytechnic, she worked for almost a year. Then one day she discovered MDIS and the will to study again.
Said Ms Mohandass, 24: "It was in March 2010 that I had a sudden spark of inspiration. I remember seeing advertisements on MDIS courses. So, I took a spontaneous trip down to the MDIS office at Dhoby Ghaut hoping that there will be a biomedical course which I could start on."
"One of the programme consultants advised me that the degree will be awarded by University of Bradford, and on the course requirements and the fees. I signed up there immediately."
The prospect excited her, but she needed money to fund the total sum of $37,000. Ms Mohandass was determined to achieve her goals.
She gathered enough money for the first semester of university when her mother pawned her jewellery.
She was able to pay for the other semesters by taking on multiple tutoring jobs, combined with an appeal to her MP Faishal Ibrahim, who helped her get a $6,000 bursary from the Lee Foundation.
Through it all, her mother was her inspiration - as it was only because of her sacrifices that she was able to even attend university.
Said Ms Mohandass: "My mother is my best friend. She is my sole and unsurpassable pillar of strength. She guided me throughout the entire journey. She sent me to school on the first day of lessons at MDIS and ensured I sat at the front table right under my lecturer's nose."
Looking forward, Ms Mohandass said her graduation was just the first step on the path of her life-long ambition to become a doctor.
She said: "It is rewarding indeed for the struggles that I conquered painstakingly to reach this day, but I am not gloating over this. This is only the beginning and it marks a defining medium to steer my course of direction in life. I will give myself a pat on the back only after I successfully fulfil my life's ambition."
Commenting on this year's batch of 730 graduands, MDIS secretary-general Dr R. Theyvendran said: "We are extremely proud to witness such a large number of graduands achieving awards and top scores despite the adversities they had to face."
tabla@sph.com.sg
Get a copy of tabla! for more stories.