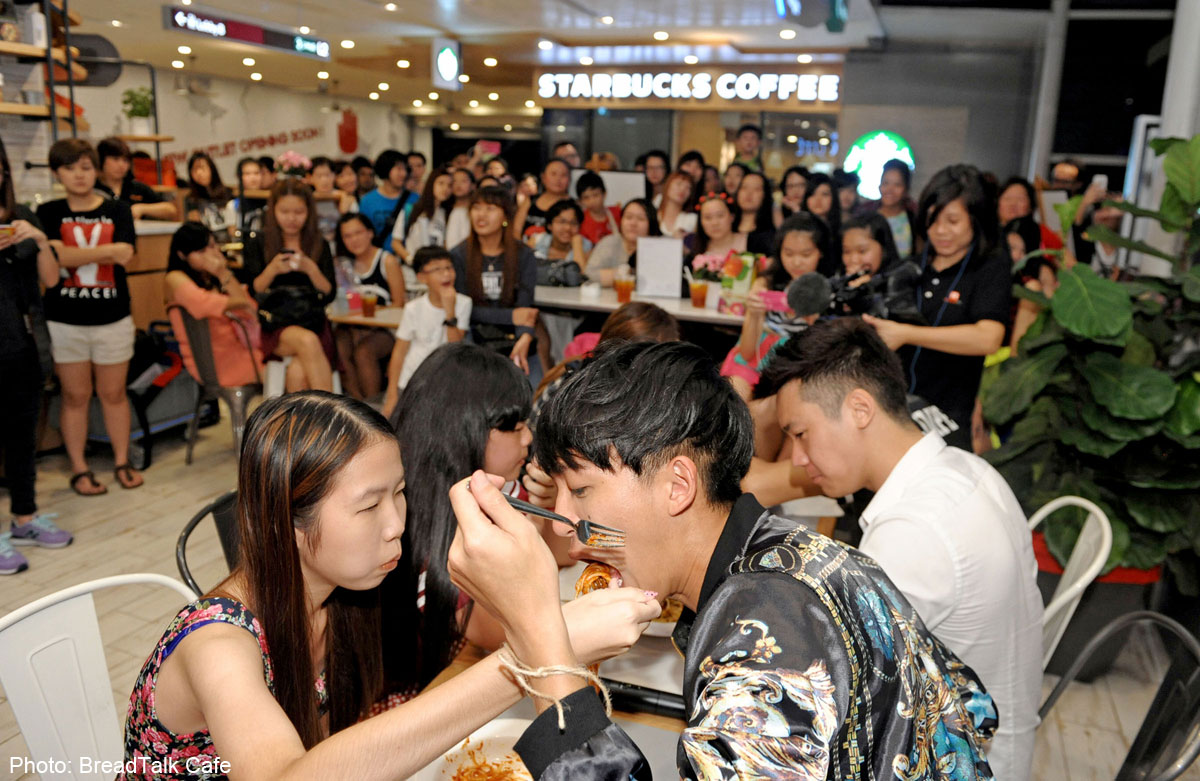 He dodged the question on his relationship status at the latest event featuring the main stars of local film Ah Boys To Men.
He even turned it into a joke when he threw his arm around his Ah Boys To Men and The Lion Men co-star saying "(Wang) Weiliang's my girlfriend".
This although he's believed to have been in a relationship for the past few years.
Single and available or not, popular local heart-throb Tosh Zhang doesn't have any plans for Valentine's Day because "he'll be working".
The 24-year-old told The New Paper on Sunday evening at BreadTalk Cafe's V-Day Date event at Westgate mall in Jurong: "I don't celebrate Valentine's Day.
"I am the kind who doesn't need Valentine's Day to show someone you care for or love them."
Zhang said he doesn't care how his ideal girl looks as long as she is "cheerful, has a great sense of humour and accepts his life in the public eye".
Along with Wang, 26, and Joshua Tan, 23, the celebrity vlogger-rapper had to do his promotional duties at the V-Day Date, where the trio played games with 15 fans who were handpicked via a Facebook contest to meet the boys. The games included "Musical Love Chairs" to a "Darling Say Ahhh" feeding contest featuring three girls from the group.
Paired with Zhang was 19-year-old ITE College East student Tay Pei Qi, whose hands trembled after realising that the feeding game required her right hand be tied to his left.
The couple were told to feed each other a plate of pasta with tied hands until they finished all the food. Zhang and Miss Tay gobbled their way to victory in less than three minutes, while Tan and Wang still had a substantial amount left on their plates.
"I was already very nervous being seated opposite him. (The organisers) tied our hands, which made (mine) tremble more," she said. "I was extremely shy... and it was quite awkward that our hands were tied together."
However, Miss Tay - who claimed she wasn't a hardcore fangirl and was satisfied after having met her favourite Ah Boy, Zhang, in person - admitted that it wasn't easy convincing her boyfriend that she was attending the event.
MEETING
"At first he wasn't OK with it, but I explained to him that it was nothing and I was just meeting my idol," she said.
"I assured him that he had nothing to worry about... I told him that Tosh was attached anyway."
Miss Tay, who won an autographed BreadTalk Cafe tumbler, $30 worth of vouchers and a Valentine's Day cake courtesy of the bakery, was "quite shocked" with the result as she "really didn't expect it", but remembered the "big mouthfuls" she wolfed down.
She gushed: "He is super handsome and charming.
"I expected him to be very quiet and have the super cool guy attitude, but he ended up being such a gentleman.
"And I remember after we won, he asked me if I needed some tissue because I think I had pasta sauce on my mouth."
Some V-Day thoughts
"The longest time I spent preparing something for Valentine's Day was two years ago. It took me about five hours to put a meal together because it involved making the bread and marinating the meat and all."
- Joshua Tan on the most effort he's put in for Valentine's Day
"She has to accept me for who I am without trying to change me into what she wants me to be. I think that would be one of the most important qualities."
- Tosh Zhang on what he looks for in a life partner
"I received photo albums with a lot of pictures inside with my quotes and all printed (from fans). And I keep everything. These are the heartfelt gifts that help me through times when I'm feeling down."
- Wang Weiliang on the most memorable love gift he's received

Get The New Paper for more stories.