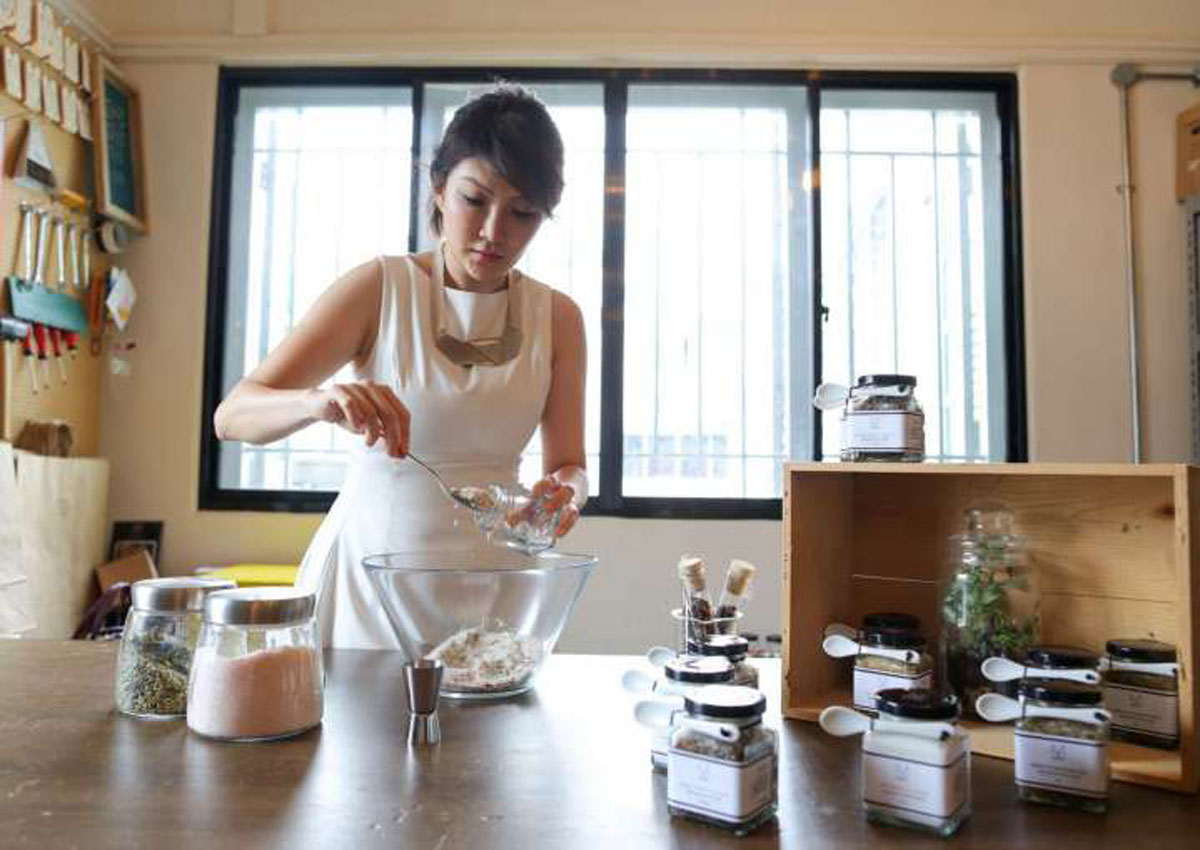 Just three years ago, one would have been hard-pressed to find home-grown beauty brands besides the ones launched by doctors and the occasional entrepreneur with a big budget such as Sabrina Tan of Skin Inc and Cynthia Chua of Browhaus.
Not so these days. A small but steadily increasing group of locally based entrepreneurs are going into business with their own brands of natural skincare.
From lip balms to essential oil-based skin- and haircare, these products are largely handmade by beauty junkies who are part of a global trend in handcrafted beauty products already popular in Australia, Britain and the United States.
Ms Petrina Yuen, 23, who launched her Shophouse Sixtyfive brand of petroleum-free handmade lip balms with a Singapore theme in February, says: "I like the idea of selling something handmade with a human connection and not some random mass-market product made in a factory somewhere."
Made with natural oils, the balms ($9.50 each, from shophousesixtyfive.com) are named after Singapore icons such as Sir Stamford (which smells like tea and caramel "because he is British"), and Sentosa Island (a fruit punch and cotton candy flavour that reminds Ms Yuen of the island's carnival atmosphere). Other Singapore inspired scents: Honeydew Sago, Rose Bandung and Coffeeshop Kopi O.
Part-time candle-makers Nicole Su, 26, and Chelsea Low, a 23-yearold student, started Hush Candle in May as "a healthier alternative to candles made with artificial scents, paraffin wax and other chemicals". Ms Su says: "Soya wax candles burn clean and our candles are made with essential oils." She adds that the melted wax from their candles can be used as massage oils.
See also: Classic mobster
The three-piece handmade line features lemongrass, rose and lavender aromatherapy soya wax candles (from $18 each, available from etsy.com/shop/hushcandle).
This home-grown beauty enterprise trend is not new; it started roughly three years ago.
First movers include former public relations director Mandy Tan, who launched the Mandy T bath and bodycare line in 2013, as well as former beauty editor Alli Sim, who started the Mmerci Encore aromatherapy-based skincare, bath and bodycare line in 2012.
See also: Javaglow
Last year, more natural skincare brands were launched: Alexiares & Ani by former interior designers Keith Codling and Dawn Koh; Balm Kitchen by former freelance graphic designer Teresa Foo; and former lawyer Kendra Liew's Katfood.
Sales have been promising.
Mr Codling of Alexiares & Ani reports that the brand's online sales doubled in the last quarter.
Ms Foo of Balm Kitchen started off selling just two products; she now stocks 28 items. She also conducts DIY natural skincare workshops and intends to go into the wholesale business.
See also: Handmade heroes
Katfood's line of coconut-oil based skincare will soon be available at Isetan department store and multi-brand online shop Zalora. A new product for men will also be launched by the end of the year.
Business has also been encouraging for the newer entrants.
Ms Yuen says a bank has made bulk orders of Shophouse Sixtyfive's lip balms for corporate gifts. The brand will launch at BHG department store next.

This article was first published on July 23, 2015.
Get a copy of The Straits Times or go to straitstimes.com for more stories.