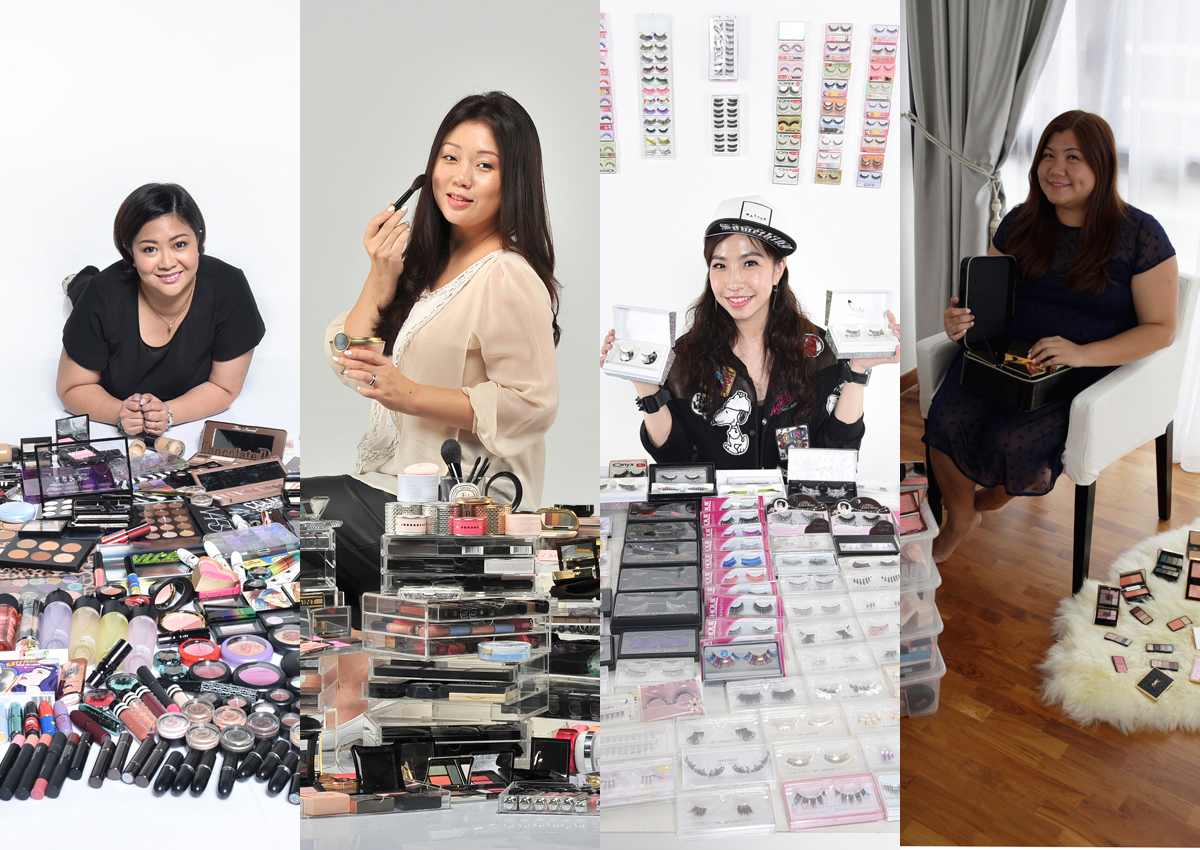 There are women who love make-up. Then there are those who are simply obsessed.
Like part-time finance manager Sylvia Goh, 35, who has spent about $40,000 in two years on her extensive collection, which occupies one room in her three-room penthouse.
Or Nur Shazrena Mohammed Shah, a partner in a foreign talent human resource management firm, who once made her husband walk 5km in wintry weather to a Sephora store in the United States to buy her make-up not sold in Singapore.
Life speaks to three make-up junkies - who are not make-up artists or professional beauty bloggers - but regular women addicted to collecting make-up. Within the last couple of years, they have each spent between $30,000 and $50,000 on their collections.
Limited-edition pieces make up most of their collections. So, besides buying regular make-up to use, they also buy products that they will keep unopened, in mint condition, because they are collectable.
She made husband walk 5km in winter to shop for her
Nur Shazrena Mohammed Shah, 30
Partner in a foreign talent management firm
Collecting since: 2012
Average monthly expenditure on make-up: $1,000
Total amount spent: About $30,000 over three years
Ms Shazrena is the go-to make-up guru among family and friends.
"I've given short video make-up tutorials to my friends at midnight through WhatsApp or Face Time," she says. "They'll take pictures of their make-up selection and I'll help them to match the shades."
Perhaps that is unsurprising, given how much she loves her make-up.
She was exposed to it at a young age - her paternal grandmother owned a beauty salon and she used to play with her stash of beauty products. When she was in her teens, she started using pharmacy brands such as Revlon and L'Oreal Paris .
Three years ago, she switched to more premium brands such as M.A.C and Urban Decay. She is also a fan of indie and cult American make-up labels not sold in Singapore such as Sugarpill Cosmetics, Concrete Minerals, Jeffree Star Cosmetics, Hourglass Cosmetics and Anastasia Beverly Hills. She gets these online.
She has about 400 pieces in her entire collection.
Once an item catches her eye on social media platforms such as Instagram and YouTube, she will hunt for it.
Ms Shazrena, who has been blogging about her beauty collection on Glamifysg.com since 2012, is an especially big M.A.C fan. Eighty per cent of her collection comprises cosmetics from the brand and at least half of these are limitededition pieces.
Whatever she cannot get in Singapore, she buys online or gets her husband, who is a vice-president of a foreign talent management company, to get them for her when he travels. He goes overseas 12 times a year for work.
"I once made him walk 5km in wintry weather to a Sephora store in the United States to help me stock up on my Kat Von D, Becca and Hourglass Cosmetics collections.
"When I really want something, I'll think of all kinds of ways to get it."
On what her husband thinks of her make-up obsession, she says: "He has given up on controlling me. He's fine as long as I don't buy two of the same thing. Plus, he has his hobby. He collects darts and bowling balls; I collect make-up." The couple do not have children.
Not all purchases have been to her liking though. Those that fall below her expectations - colours that are too light or do not suit her skin tone - are given away.
"There is no need to waste space," she quips.
Ms Shazrena has a make-up room in her five-room flat where she keeps her beauty stash.
Unlike most collectors, she uses most of her make-up.
But she is particular about how she uses it. For example, for compact powder with pretty patterns embossed on the surface, she says: "I try to swipe my brush around the patterns or logos, so they still look perfect."
"Collecting make-up is one thing. But my passion for cosmetics is another. I love to make myself look good. I've no problems with walking out bare-faced, but I just feel good dolling up."
She gets free products but buys more
Leanne Ho, 43
Housewife and mother-of-two
Collecting for: 20 years
Average monthly expenditure on make-up: Between $500 and $800
Total amount spent: More than $50,000 over the last six years
Ms Ho started an Instagram account (@loveforskincare) three years ago to post photos of prettily packaged make-up products she bought. Not only has her passion garnered her more than 48,000 followers, it has also attracted the attention of beauty brand marketers who have come a-courting by sending her free products - up to eight bags a week on average - in the hope that she will feature their products on her account.
She started a blog, Loveforskin care.com, five months ago to talk about her current beauty obsessions, as well as make-up brands she believes in in sponsored posts. She declines to reveal how much she is paid for each post.
But despite receiving so much free make-up, Ms Ho says she still spends at least $500 a month stocking up on even more. She explains: "If there's an item that I like and it's not given to me, I'll go to the counter and buy it."
"But I'm a careful buyer; I do my research first. The product has to be suitable for my skin and will make it look better or at least have beautiful limited-edition packaging. I feel excited and happy when I look at pretty and well-made packaging."
Her love affair with make-up began in her late teens when she was working as an air stewardess. She became exposed to brands not sold in Singapore.
"I would spend days at Sephora in Paris just going through the massive range of make-up while my colleagues were busy shopping for luxury bags.
"I prefer make-up and skincare over bags," she says with a chuckle.
She still keeps a 20-year-old Lancome compact powder that she bought during her travels, even though the powder has disintegrated. "I no longer use it of course, but I keep it for memory's sake."
Her favourite items in her collection are Guerlain's iconic Meteorites Light Revealing Pearls Of Powder face powder, which consists of corrective coloured pearls that give the face a glow. She owns about 10 limited-edition versions of them and uses all of them regularly.
She keeps her collection in the loft of her penthouse condominium, but plans to move house soon, where she will have one room dedicated to her beauty products.
Her two sons, aged 10 and 14, help her organise her make-up collection, "as well as the matching colour schemes in my pictures".
Her husband - a business consultant in the finance industry - is equally supportive.
Ms Ho says: "He just tells me: 'I'm amazed by what you can do with make-up and photography'."
Currently, Ms Ho reckons she uses 30 per cent of her collection. Will she ever finish using all the cosmetics in her collection?
"Never. This is a hobby. As long as your hobby makes you happy, you're not harming anyone and making informed buying decisions, I think it is fine to indulge."
She owns 300 pairs of false lashes
Wendy Tjen, Mid-30s
Financial consultant
Collecting since: 2006
Average monthly expenditure on lashes: $80 a month on daily wear lashes and about $100 each time she buys a limited-edition pair
Total amount spent: More than $10,000 over the last nine years
Ms Tjen owns about 300 pairs of false lashes which she estimates to be worth $5,000.
Some she uses and some she does not - such as her favourite pair of limited-edition mirrored "Lady Gaga-inspired" Neo-Tokyo Odyssey by Shu Uemura lashes, which she paid about $150 for three years ago.
At least 70 per cent of her lashes are from Shu Uemura, many of which are limited-edition pieces. Glittery, mirrored, feather-ed, beaded and bejewelled, they are kept unopened in their original boxes.
"They're too dramatic and too long to be worn without blocking my vision anyway and it is such a waste to trim them," says Ms Tjen who treats them like works of art. She stores her lashes in plastic boxes in her bedroom.
Ms Tjen, who is single, started using false lashes eight years ago because she wanted an alternative to mascara. They are now a part of her look.
"It is such a hassle to put on and remove mascara; sticking on false lashes is so much more convenient," she says, adding that semi-permanent lash extensions are unsuitable for her sensitive eyes.
The lashes that she wears daily are simple lavender-blue ones by Shu Uemura that cost around $40 a pair.
"In regular light, the lavender blue fibres look like regular deep black or brown lashes. But in bright sunlight, the violet hue becomes obvious," she says, adding that the colour is subtle enough for her to wear the lashes to meet her clients.
"When people notice them, they will take a few moments to admire my lashes."
She re-uses each pair for up to two weeks before throwing them away. "This design is always low in stock. I buy up to five pairs once every two months," she says.
She also buys lashes from the Make Up Store, as well as shops at Far East Plaza and Bugis Village. They can cost as little as $2.90 a pair.
On why she splurges on the more elaborate limited-edition Shu Uemura lashes knowing she will never use them, she says: "They're so intricate and, once they are sold out, you'll never see them again. That's why I keep buying them."
She recounts how she visited Shu Uemura counters in South Korea and Japan two years ago while on holiday so she could "sweep up the regular and limited-edition stock".
"I looked through their current stock and asked to see the leftovers from their past collections, in case there were some that I hadn't had a chance to buy in Singapore. In the end, I spent more than $1,000 and went home with almost 30 pairs because they were cheaper there."
"My dream is to open a lash museum," she says with a laugh.
In her free time, Ms Tjen customises her own lashes.
So far, she has decorated about a dozen pairs with crystals and coloured fibres and keeps them in boxes.
On what friends say about her hobby, she says: "They think I'm crazy, but I tell them I'm no different from other people who collect things such as toys.
"Whenever I see a well-made pair, I have to buy it and I feel it is money well spent."
An entire room for make-up
Sylvia Goh, 35
Part-time finance manager
Collecting since: 2013
Average monthly expenditure on make-up: About $1,500
Total amount spent: About $40,000 in two years
Ms Goh has an entire room in her three-room penthouse condominium to play around with and admire her beauty products.
A vanity table is topped with clear plastic drawers containing neatly arranged make-up. Ten large plastic boxes stacked next to the table contain more lipsticks, powder and paint.
Many are limited-edition products that she bought overseas as they were not sold here. For example, there is a limited-edition La Mer pearlescent pink highlighter embossed with the pattern of a seashell and encased in an elegant textured silver case. The skincare brand rarely releases make-up items besides foundation and concealer and she had to order it from the website of American department store Saks Fifth Avenue last year. There is also a tri-coloured blush embossed with flowers from Dior which was launched to commemorate the opening of the brand's Omotesando store in Tokyo, Japan last year. A friend had got it for her while she was there.
"When I buy an item, I will choose only the one which I think is worth keeping for its beautiful packaging and texture," says Ms Goh, who buys most of her make-up on trips abroad. Her husband, a college director of a private school, has said to her: "I don't know when you will feel that you have enough make-up", but is still supportive of her hobby. They do not have children.
She uses 30 per cent of her collection. "I can't bear to touch the rest because they look so precious," she says. "Sometimes, I tell myself 'I'll use some of the pretty palettes today', but all I do is open them up, admire them, close the cases and use something else."
When the products expire - in general, lipsticks can be kept for up to 11/2 years; powders and pencils up to two years - she says she will keep them just for their packaging.
The first limited-edition item that got her started on this hobby was Nars' Pierre Hardy Boys Don't Cry Blush launched about two years ago. It featured gold cubic shapes embossed on coral-red powder. "That was when I realised how enticing the colours and designs of make-up could be," she says.
To find out what the latest collectible make-up items are, Ms Goh scours Instagram and Chinese social media site Weibo. "The Chinese are super amazing when it comes to collecting and they're up-to-date, especially with Japanese cosmetics," she says.
Her most expensive purchase is a Cle De Peau Beaute face palette from the 2014 Holiday Collection. Decorated in celestial motifs by fashion label Swash London, it cost her $270.
Besides cosmetics, Ms Goh also collects make-up brushes by Japanese artisanal brush-makers such as Hakuhodo and Chikuhodo. She estimates their value to be $5,000 in total.
Her collection can be viewed on her Instagram account @syloft. She befriended one of her 12,500 followers and this American friend and her now exchange beauty gifts with each other.
"She sends me limited-edition products of American cosmetics brands such as Hourglass Cosmetics and I mail over Asia exclusives such as those from Dior, as well as Japanese brands such as RMK and Lunasol."

This article was first published on September 10, 2015.
Get a copy of The Straits Times or go to straitstimes.com for more stories.