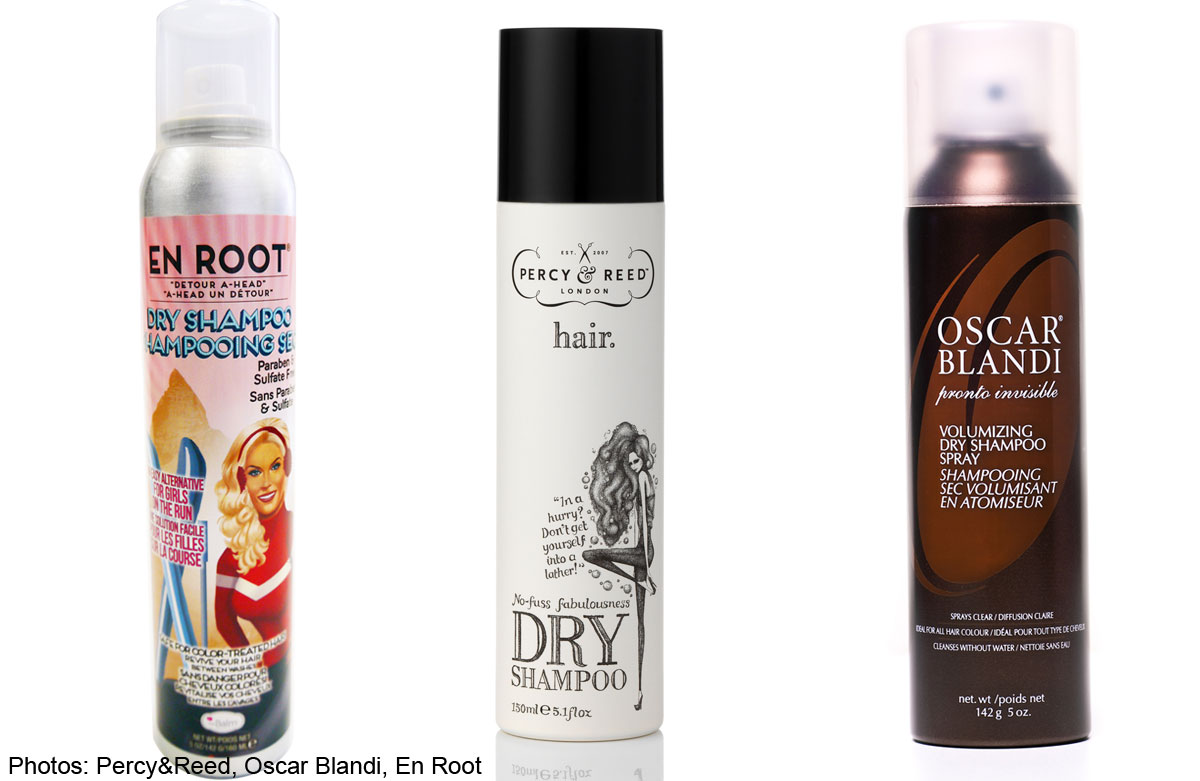 How can I keep my hair and scalp clean without washing it with water?
Powdered or spray dry shampoos are perfect for when you want to keep your scalp clean without washing your hair, such as when you have had a fresh perm or colour and want to let the chemicals settle into your locks, or when you want to extend a blowout, or when you are in a cold climate and there is no need for you to wash your hair every day.
Dry shampoo also allows you to add volume to your hair at midday, without the stiffness and stickiness of styling products.
It is quick and easy to use.
Just part your hair, then spray or sprinkle the powder onto your scalp. Repeat until the oiliest sections are covered.
Gently massage the powder into the scalp and wait for two minutes while the formula soaks up the excess sebum. Then flip your hair upside down and fluff the powder out with your hands. Use a hairdryer on the cool-air setting to help you get rid of the powder.
Finish by brushing your hair thoroughly.
If possible, use a quality boar bristle brush from brands such as Acca Kappa (from $71.80, available at Beauty Candy, 01-05B Cluny Court) or Mason Pearson (from £37.75 or S$79.60, www.mistrys.co.uk).
Boar bristles get rid of dirt clinging to your strands while untangling and distribute your natural hair sebum evenly to make your locks shiny.
Dry shampoo can also help you to get rid of stubborn product build-up. Just use it before a regular shampoo wash.
Here are my favourite tried-and-tested dry shampoos.
Alterna Caviar Anti-Aging Dry Shampoo
$40, from Sephora stores
It also protects hair from damaging UV rays.
Percy & Reed No-Fuss Fabulousness Dry Shampoo
$26, from Sephora stores
Spray this fine powder onto a brush, then run it through your hair to clean it. A complementary Dry Conditioner from the range also keeps hair hydrated and shiny.
En Root Dry Shampoo
$35.90, from Sasa stores
This shampoo comes in a spray can and it soothes, cools and revitalises the scalp with a tingling sensation.
Oscar Blandi Pronto Invisible Volumizing Dry Shampoo Spray
$39, from Sephora stores
Made with starch to get rid of greasiness and scented with lemon verbena to neutralise odour.

This article was first published on May 23, 2014.
Get a copy of Urban, The Straits Times or go to straitstimes.com for more stories.