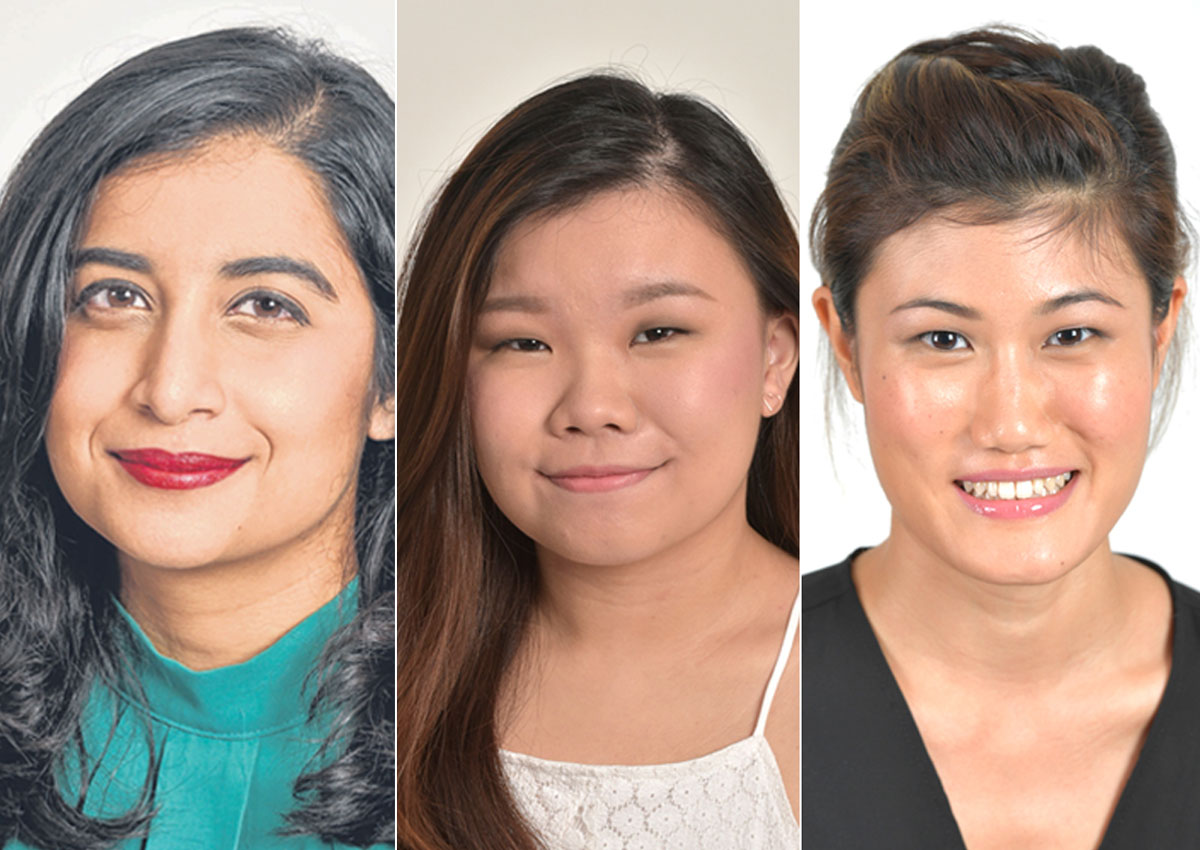 All it takes for those with double eyelids to seem as if they have bigger and wider eyes - if that is what they are going for - is a thin line of eyeliner with a winged tip, easily accomplished with a flick of the wrist.
Those with single eyelids or hooded lids - excess skin which obscures the eyelid crease, sometimes giving the appearance of drowsiness - do not have it so easy: Eyeliner has to be applied in a thicker bar along the lashline to be visible when the eyes are open.
For those with ivory or fair skin, finding darker shades for contouring to give their faces more dimension is a breeze - as contouring powders and creams in such shades are widely sold. But for those with medium to dark skin tones, contouring products that are dark enough to show on the skin are simply not available. Many have to learn to use highlighters for the same effect instead.
And while make-up tips for all the latest trends are widely available online, from wearing pastel lips to creating the perfect smoky eye, these may not be applicable for Asian features such as single eyelids, broader faces, flatter noses and yellow or darker skin tones.
The Straits Times speaks to several make-up artists and experts who offer tips and tricks - from creating the illusion of a crease on the eye with eyeshadow to using an orange-based concealer to hide dark eye circles on darker skin.
melheng@sph.com.sg
PRANEETHA NAIR, 25
Auditor
Ms Nair has dark eye circles and struggles to find the right shade of concealer.
"My dark eye circles are quite bad and it's not easy to find a concealer that can properly cover the circles and also match my darker skin."
She has a medium brown skin tone that she finds difficult to find foundation for as well.
Her skin colour also means that bold lip shades look great on her. But darker lip colours feather more easily and tend to look patchy after a long day.
Here are some tips on how to choose the right foundation, how to conceal dark circles on darker skin tones and how to prime the lips so bold lip colours last.
How to choose the right foundation for darker skin tones
It is always a chore picking out the right foundation. But do not be intimidated by the many shades available at cosmetics counters.
Ms Zann Thiang, 34, head make-up artist at local make-up consultancy 27A, says foundation should always be tested on the jawline and not on the hands or arms. "The skin on your arms is not the same shade as the skin on your face," she says.
Make-up artist Clarence Lee says those with darker skin tones should not select a lighter shade of foundation, thinking it could lighten their skin.
"When you have darker skin and you use a foundation that is too light, it will make you look grey, rather than fairer," he says, adding that those with brown or darker skin tones should pick a foundation with warmer tones, such as peach and coral brown hues. "This will give your skin a warmer, more lively look."
Rather than selecting Japanese or South Korean labels, which usually cater to those with ivory to fair skin, American and European cosmetics brands usually have foundation shades in tan or darker tones.
Step 1: Apply the foundation on your jaw and blend it in slightly.
Step 2: Look at it in natural light. If you cannot see where you tested it, it is the correct shade.
For more defined features: Contour with a highlighter
For those with darker skin, contouring products available are often not intense enough to show on the skin.
Mr Andy Remy Garcia, 32, chief make-up artist at YSL Beauty Singapore, says a highlighting cream or powder can be used to enhance the features instead.
"When you have darker skin, it can be difficult to find contouring products because they need to be darker than your skin. What you should do is use a highlighter to shape the face instead."
Step 1: Pick a highlighter with a gold hue as this helps to keep the skin looking natural and healthy. A highlighter with a silver shade will make the skin look ash-coloured and pallid.
Step 2: Apply it to the higher planes of the face - the brow bone, nose bridge and cheekbones - in light sweeping motions.This should be done after applying foundation, using a round tapered brush or fan-shaped brush.
For dark eye circles: Use orange concealer
Rather than a beige concealer, using one with an orange base will help counter blemishes on darker skin.
Ms Thiang says: "Those with darker skin should choose a concealer with a coral or orange hue."
Such colours also neutralise dark brown eye circles.
Applying the concealer correctly helps as well.
Step 1: On clean skin, apply a primer or base with a bronze tone. This will give the skin a warm, sunkissed look. A primer with a white base will make darker skin look ash-coloured.
Step 2: Dab the concealer under the eye in a downward triangle, with the tip reaching the cheekbone.
Step 3: Use a sponge or blunt brush to blend the product outwards and downwards towards the cheek. The triangle should be well blended out and no longer obvious.
For bold lips that last: Use concealer and a setting powder
Those with darker skin look great with bold red wine lips or deep purple shades that can make those with fairer skin look more mature. But darker lip colours also smudge more easily and it is more obvious when the colour becomes patchy.
Ms Thiang says: "Using lip liner will help to prevent the lip colour from feathering. For thinner lips, it also helps the lips look fuller if you apply it slightly outside the natural lip line."
Step 1: Lipstick holds best on a smooth surface, so make sure to prep your lips with lip balm.
Step 2: Use a lip pencil that matches your lipstick to line the lips and fill them in. The product will help the lipstick last.
Step 3: Apply the lipstick and blot with a tissue. Add another thin layer of lipstick.
Step 4: Finish the look with a light dusting of translucent powder. This will ensure that the lip colour stays on for hours.
JULIANA TAN, 23
Public relations associate
Ms Tan says having monolids makes eye make-up options limited.
"I feel I don't have a lot of variety for my eyes. I usually just apply a thick line of eyeliner so the make-up can be seen when I open my eyes."
She also has thin lips and sparse brows and struggles with making foundation last throughout the day.
Here are some tips on how to set foundation so it lasts in Singapore's humid weather, how to deal with sparse eyebrows and how to enhance single eyelids without thick eyeliner.
For humid weather: Translucent powder is your friend
Ms Zann Thiang, 34, head make-up artist at local make-up consultancy 27A, says setting foundation will help it last even in Singapore's warm weather.
"Using translucent powder over foundation helps it to stay. It is an additional step, but the pay-off is worth it," she says, adding that this can help foundation last through the day.
Perspiration should be dabbed off with a tissue in a tapping motion, instead of a swiping motion, so make-up is not wiped off.
Step 1: After applying foundation, lightly brush translucent powder over the face, concentrating on the T-zone and cheeks as these areas tend to produce more oil. The powder will give the skin a smoother look and remove excess oil.
Step 2: To lock in the foundation, use a make-up setting spray. Hold the spray bottle at arm's length above the face and spritz two or three times to cover the face evenly.
For monolids: Matte eyeshadows without winged tips
Those with single eyelids tend to have puffier lids. This means that eyeshadow with any kind of shimmer is a no-go. Glittery eyeshadow will catch the light and make such eyes look even puffier.
Instead, Clarins international artistic and training director Eric Antoniotti says darker matte shades - deep warm brown or dark blue, for example - when applied correctly, can make the eyes seem larger.
Ms Tina Oh, 43, training manager at South Korean label Laneige, says that instead of a winged tip, the eyeliner should be extended outwards a little in a straight line.
"A winged tip makes almond-shape eyes look sharp and fierce. It can also make the eyes look smaller."
Step 1: Apply a dark eyeshadow close to the lash line and blend upwards in a round shape on the lid.
Step 2: Take a lighter shade that is closer to the skin tone and apply it on the lid above the dark shade. Blend upwards towards the brow in a round shape following the natural curve of the eye. This will help visually open up the eyes.
Step 3: Apply eyeliner on the lash line and on the upper waterline. This will help the lashes look fuller.
Step 4: Extend the eyeliner slightly in a straight line following the angle of the lash line. This will give the eye a slightly wider look.
Step 5: Curl the lashes and apply mascara (below). This is essential to visually open up monolid eyes.
For sparse brows: Dark brown pencil and a natural shape
For Ms Tan's wider face, thin brows with a high arch would make her eyes look smaller and straight brows would make her face appear wider.
Ms Thiang says slightly thicker and bushy brows with a gentle arch are the most suitable.
"A slight curve in the brows helps to lift the eyes and make her face appear longer. Straight brows are a South Korean trend, but we should not follow trends blindly without knowing what suits the face."
Step 1: Find the point at which your brow arch should peak. Looking straight into the mirror, take a pencil and place one end at the side of your nose. Tilt the pencil outwards till it is above your iris. The point at which the pencil touches your brow is where the arch should start to curve downwards. Mark the spot lightly with a brow pencil as a guide for when you fill in the brows.
Step 2: Fill in the brows with a dark brown brow pencil. A black brow pencil will make brows look harsh and fake. Use light outward strokes to create natural-looking "hairs".
Step 3: Use a spooly brush to brush in the product for a softer look.
For thin lips: Prep the lips with balm and use gloss
Darker lip colours are a no-no for thin lips. They make them look smaller and also create a more mature look.
Laneige's Ms Tina Oh says that instead of dark burgundy or bold red shades, fresher pinks and reds with a glossy or frosted cream texture (below) are more flattering.
"These are lip colours with some shine and the reflective quality will help the lips look more plump and create the illusion that the lips are fuller."
Lips can also look thinner if they are dry, so moisturising the lips before applying lipstick helps.
Step 1: To plump up the lips and give them a moisture boost, coat them in a thick layer of lip balm or lip oil at the start of the make-up routine and let it soak in while you do the rest of your face.
Step 2: When you are ready to apply the lip colour, dab away the excess balm or oil. You will find that the lips feel much softer and smoother.
Step 3: Apply the lip colour, then add a little lip gloss to the middle of the lips to create more dimension.
Step 4: To visually plump up the lips even more, add a touch of highlighter just above the cupid's bow.
EUGENIA LIM, 24
News assistant at NBC Universal
Ms Lim has a strong jawline, oblong face, hooded eyes and tan skin tone with a yellow hue.
She says her hooded eyelids make it difficult for her to create a smoky eye look and that her sharp jawline elongates her face.
"I've always wanted to know how to draw attention away from my strong jawline," she says.
Here are some tips on how to apply make-up for her hidden double eyelids, draw the focus away from her strong jawline and enhance her cheekbones for a rounder, fresher look.
For yellow skintones: Use a lavender base
Make-up artist Clarence Lee says a make-up base in a lavender shade can be used to counter a sallow skin tone as the pastel colour neutralises the colour yellow.
"It could be a lavender primer or a colour corrector with pink or lavender undertones. This will brighten up the skin colour," he says.
Mr Eric Antoniotti, international artistic and training director at French skincare label Clarins, says the primer could have luminous pigments, which can help to add radiance to the skin.
"The base or primer could have pigments that reflect light. These will brighten the skin and give it a natural glow."
Mattifying primers can also be used on oily skin to help control shine. The make-up base or primer should be applied at the start of the make-up routine.
Step 1: On clean skin, apply the make-up base lightly all over the face with the fingers. Blend it into the skin in an outward sweeping motion.
Step 2: Add a little more of the base on the cheeks and T-zone and blend it in. The areas should look brighter. The result - a less sallow look.
For better-looking skin: Apply foundation correctly
Applying foundation well is like having a good canvas to work on.
Ms Lyia Halim, 34, senior event artist from cosmetics label M.A.C, says that for those who have wider or longer faces, this is especially so since they have more surface area to cover.
"You can easily create a natural look with liquid foundation and the right brush technique."
Step 1: Use an oval brush (below) to apply the foundation. Squeeze a pea-size amount onto the brush and start with a light sweeping motion all over the face. Cover the cheeks, nose, forehead and chin.
Step 2: Use the brush to blend the product in a circular buffing motion. This disperses the foundation for sheer coverage. Slightly more foundation can be added if more coverage is needed.
Step 3: Press the brush firmly in a stamping motion all over the face. This sets the foundation and helps it to last longer.
For hooded eyelids or monolids: Create a crease
M.A.C's Ms Lyia says that the best way to flatter hooded lids or single eyelids is to create the illusion of a crease with eyeliner and eyeshadow.
"This look is easy to create quickly. It makes the eyes appear more open and creates more depth on the lid."
Step 1: Apply an eyeshadow primer (below) or base. This is the key to preventing eyeshadow from smudging or creasing. Colours always smudge on hooded lids, even if they are labelled waterproof. A base is a must.
Step 2: Take a brown kohl eyeliner and draw a straight, solid line across the middle of the lid. The line should be visible just above the eye when it is open.
Step 3. Use a pencil brush to blend the product in a left and right buffing motion. The colour should blend naturally towards the lash line and not extend past the outer corner of the eye.
Step 4: Use a lighter brown shade of eyeshadow to fill in the rest of the lid.
For a strong jawline: Focus on the centre of the face
Instead of contouring Ms Lim's cheeks and making her features sharper, Ms Lyia says using a little highlighter and blush on her cheeks can draw attention to them and away from the strong jaw.
"For her longer face, the focus should be on the eyes and cheeks. This will also visually pull the eye away from her chin."
The result - fuller-looking cheekbones and a fresher look.
Step 1: Take a cream highlighter, squeeze a pea-size amount onto the palm of the hand and let it warm up. This will help the product "melt" into the skin.
Step 2: Use fingers to tap and blend the highlighter onto the apples of the cheeks.
Step 3: Apply blush in a U-shape from the ear towards the nose. This will help shape the apples of the cheeks and create a softer and fuller look.

This article was first published on March 16, 2017.
Get a copy of The Straits Times or go to straitstimes.com for more stories.